History, excitement highlight Mother's Day
Felix notches 2,000th strikeout, Beckham walks off thinking of mom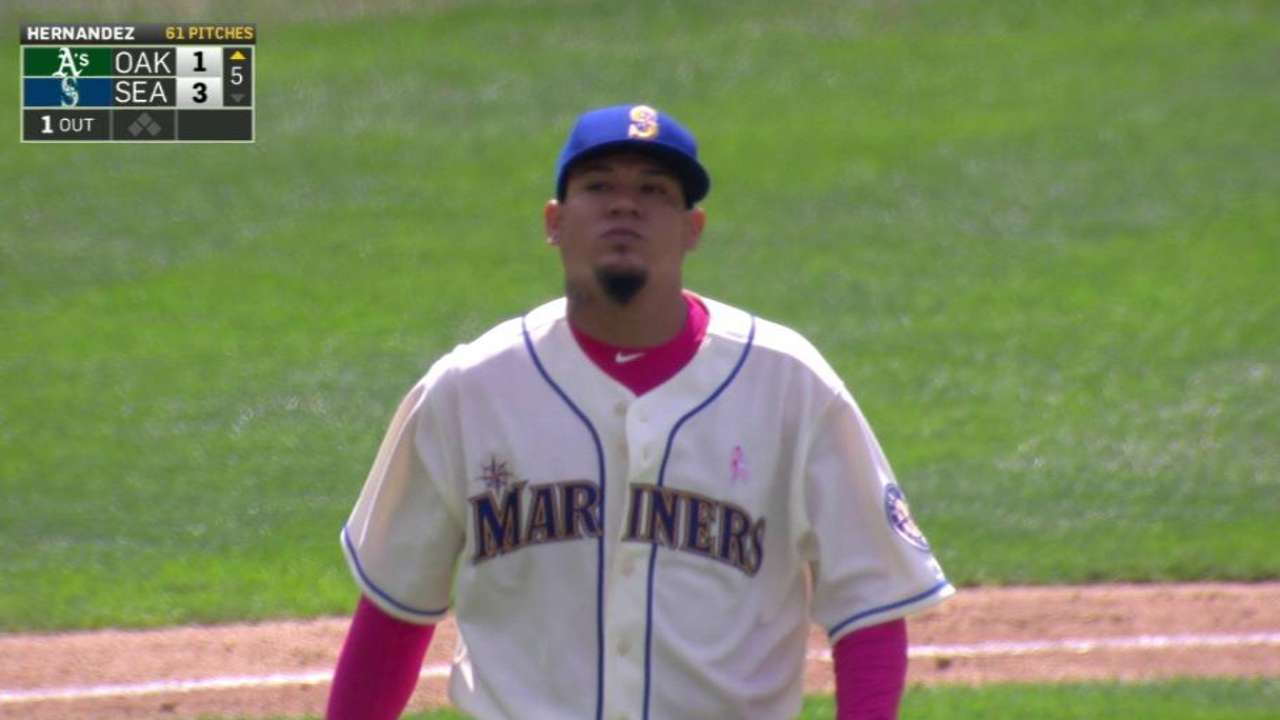 Moms are magical, so it's no surprise that Mother's Day around the ballparks of Major League Baseball brought about memorable moments for players and fans in its own unique, very pink way.
The annual holiday to honor the women who gave us life also serves as an opportunity to raise awareness and funding for breast cancer research. That has brought pink to the baseball field on this day, and it's become very popular.
On Sunday at 15 stadiums around the country, players wore pink wristbands and clothes beneath their uniforms, they swung pink bats, and some had wristbands and other accessories adorned with the symbolic color.
And some just had Mom in mind as they went out and did great things on the diamond.
In Seattle, Mariners starter Felix Hernandez recorded the 2,000th strikeout of his career against the Oakland A's.
"This is Mother's Day, so it's pretty special for me," Hernandez said. "My mom's in Venezuela and I miss her so much. I just want to go out there and trying to help the team to win. Just dedicated this game to my mom and my wife."
In Chicago, White Sox infielder Gordon Beckham swung a pink bat with his mother on his mind and didn't connect for any hits. That is, until it really mattered. Beckham ended up singling off Reds super-closer Aroldis Champan lining a 100-mph fastball into center field to win the game.
"Mom was very fortunate today," Beckham said. "I was about to throw that bat through a window somewhere. But it came through."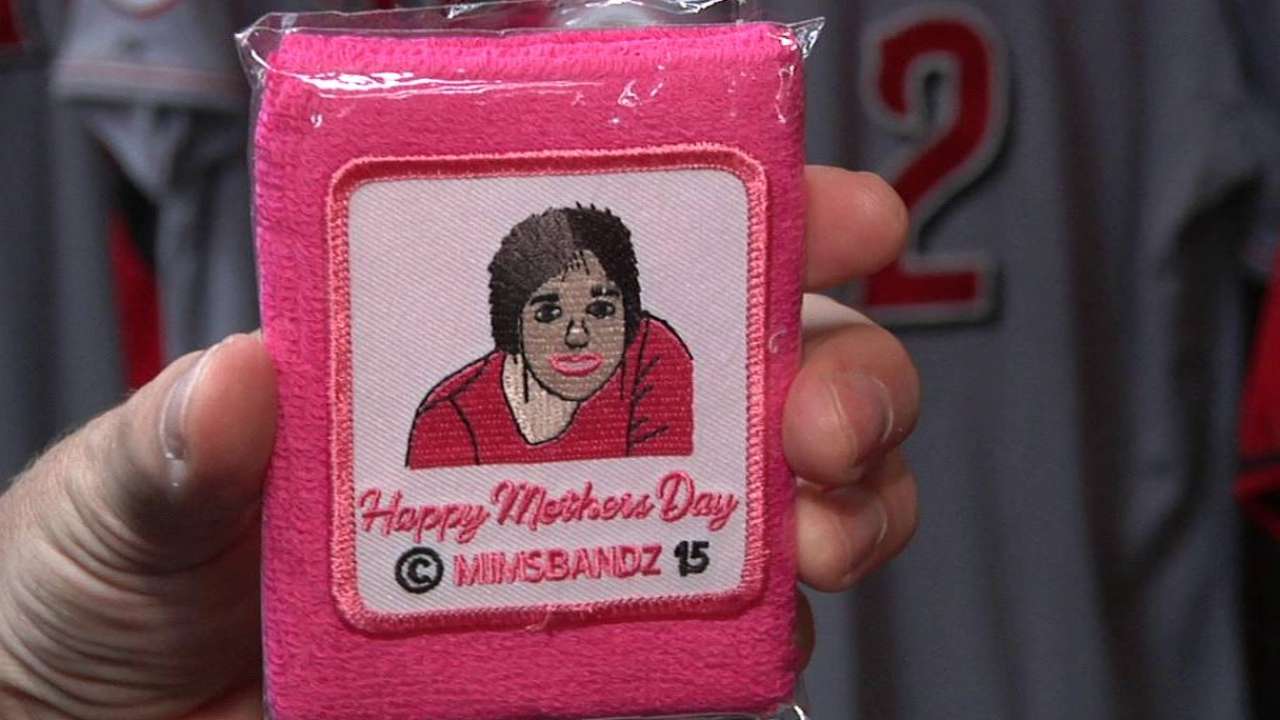 The Reds got into the tradition, too, with third baseman Todd Frazier having wristbands made with his mother's face pictured on them and Cincinnati shortstop Zack Cozart hitting a game-tying double in the ninth inning with his pink bat.
In Cleveland, Indians outfielder David Murphy texted with his mom before his team's game against the Twins, and then he had four hits in the Tribe's 8-2 victory.
"I'll give her a call, probably on the way home," Murphy said afterwards. "It's fun for her when I'm successful, period. But it does make it a little sweeter on Mother's Day."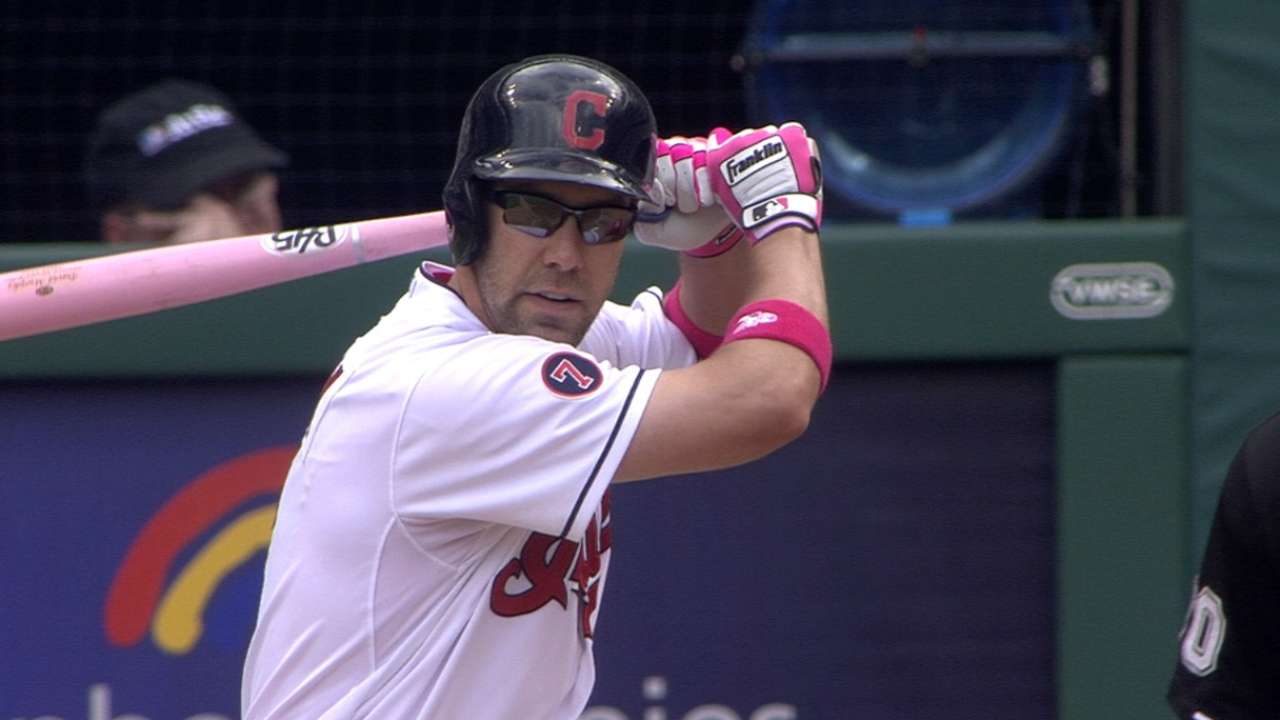 Murphy wasn't the only one doing damage. The members of the Indians that used pink bats combined to go 13-for-26 with four extra-base hits, six runs and eight RBIs.
"I know a lot of people have been affected by breast cancer," Murphy said. "Obviously, Major League Baseball is a pretty thriving industry. Whether it's through TV or through radio or through Twitter, it's something that gets a lot of notoriety. So, any time Major League Baseball can support something like breast cancer, hopefully we can raise support and raise awareness."
The Blue Jays saw the Major League debut of reliever Ryan Tepera, who pitched in front of his parents on Mother's Day.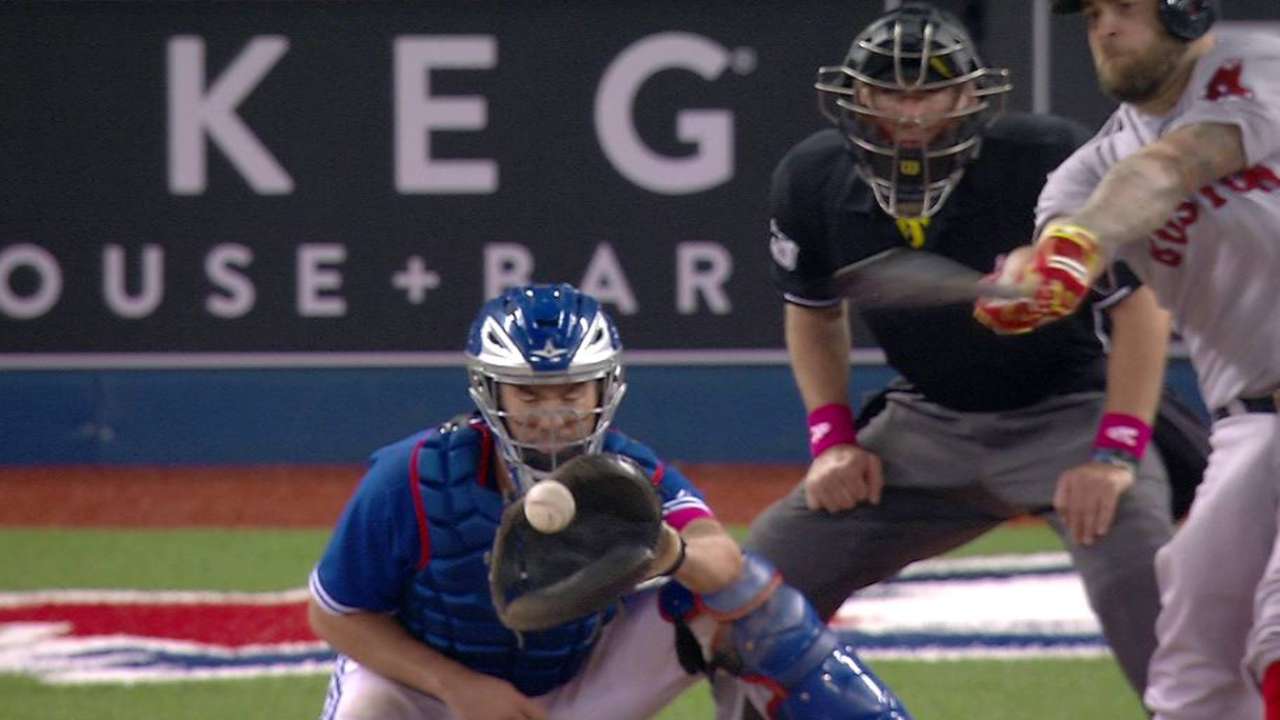 "It was a great Mother's Day gift," Tepera said. "I just saw her, she was actually crying, tears of joy. It was cool to have both of them here, my mom and dad."
The Red Sox were in Toronto, but packed their pink bats. Pablo Sandoval homered with one and Mookie Betts tripled with one.
"For Mother's Day? For breast cancer? C'mon," Sox designated hitter David Ortiz said. "We all have family related to that. That's something we need to support. For my mom, breast cancer, I would dress pink all day."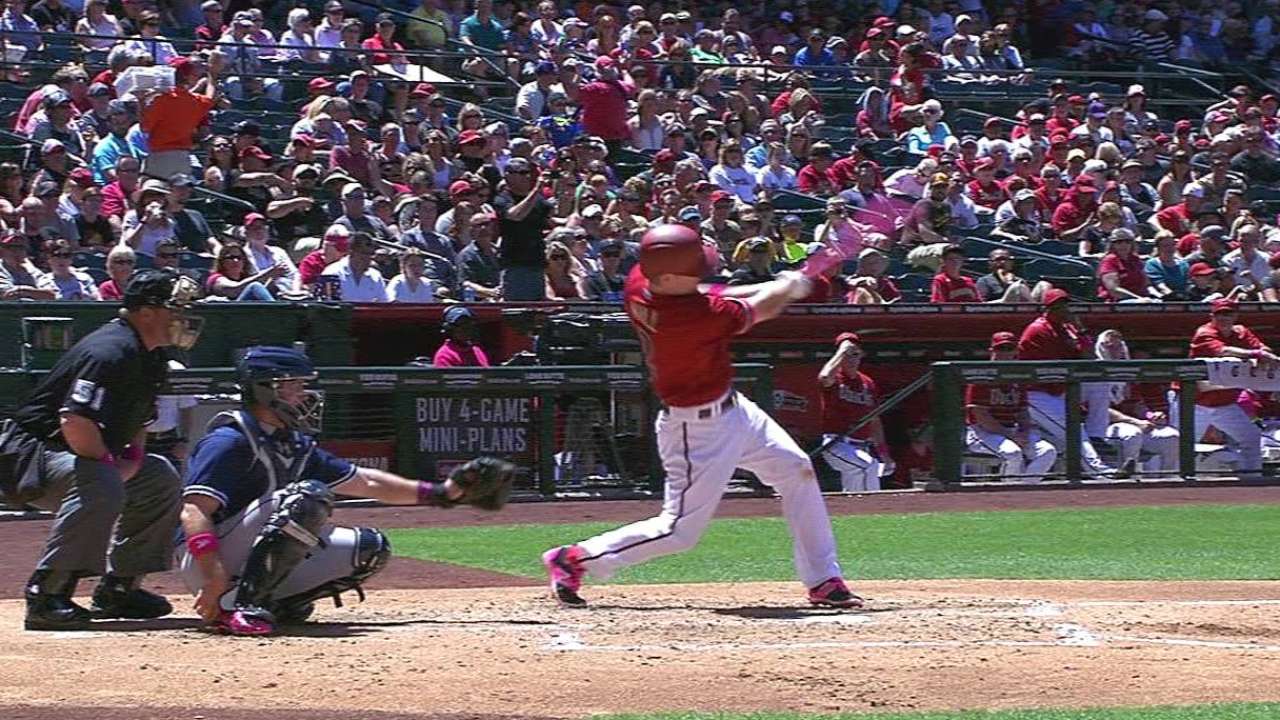 In Phoenix, D-backs second baseman Aaron Hill hit a solo homer in the third inning with a pink bat.
"It's just special," D-backs manager Chip Hale said. "We are able to raise money for the research. It's a neat thing to be able to do."
In Anaheim, 11 of the Angels' 12 position players had pink bats. The only one who didn't, catcher Carlos Perez, was just called up to the Major Leagues on Monday. He said he would have borrowed a pink bat from a teammate if he had gotten into the game.
The Cubs were in Milwaukee and have plans for a "Pink Out" night Monday at Wrigley Field, but rookie third baseman Kris Bryant was experiencing a Major League Mother's Day for the first time.
"It's definitely cool -- the pink bats, the pink shoes," Bryant said. "It all represents something special. It helps me realize that there's more to this game than baseball and it's important to have a good family life. I have a great mom back home who supports me and supports all that I do. I'll be playing hard for her today."
In San Francisco, Marlins outfielder Christian Yelich singled with a pink bat a year after homering with one, and both times his mother, Alecia, was in attendance.
"I think it's cool," Yelich said. "It's always nice to play in front of your family, especially having your mom there on Mother's Day. It happened last year, too, which was cool."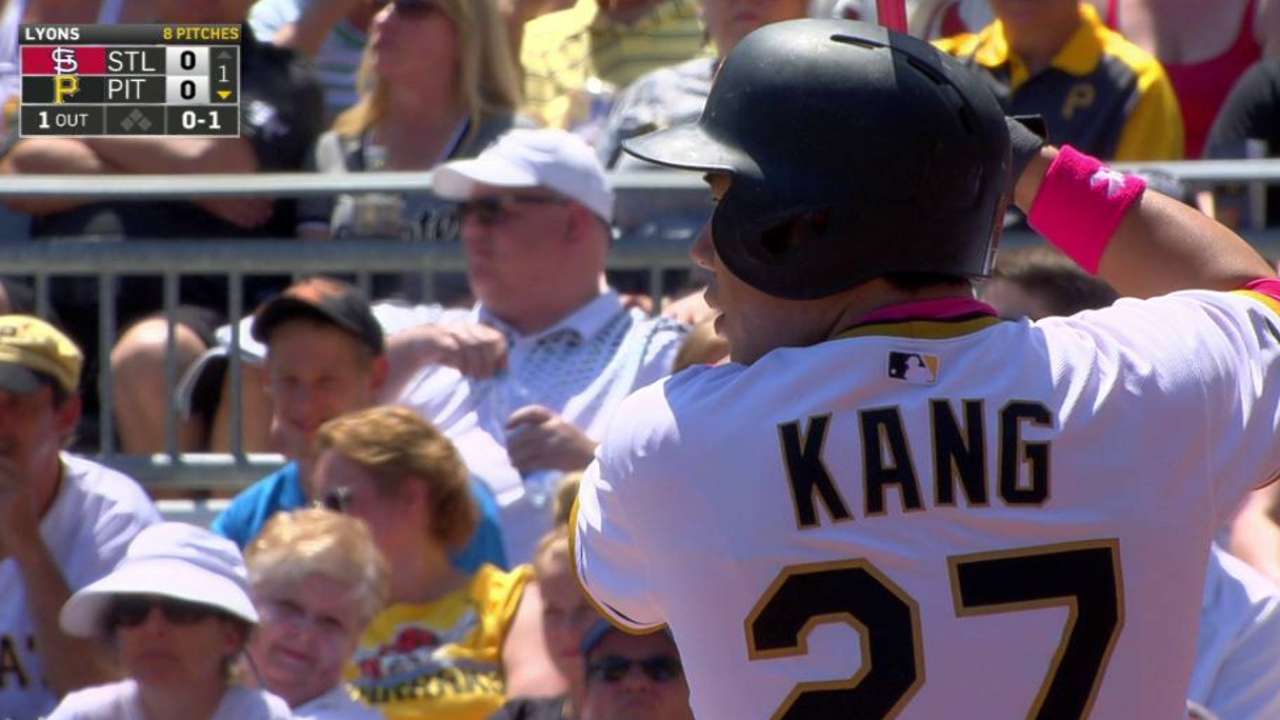 Other pink highlights from Sunday included Twins second baseman Brian Dozier making the first splash of the day with a pink bat, crushing a leadoff homer while also sporting a pink undershirt and pink wristband, and Pirates rookie shortstop Jung Ho Kang using a pink bat to hit his second career homer in the first inning vs. the Cardinals and later adding what proved to be the game-winning RBI single in the seventh.
Outfielder Curtis Granderson put the Mets in front for good on Sunday with a go-ahead, two-run homer using a pink bat in the fifth inning, and D-backs outfielder A.J. Pollock hit a pink-bat solo shot of his own.
Doug Miller is a reporter for MLB.com. Follow him on Twitter @DougMillerMLB. This story was not subject to the approval of Major League Baseball or its clubs.