Moustakas expected back for Texas series
Royals third basemen was placed on bereavement list Friday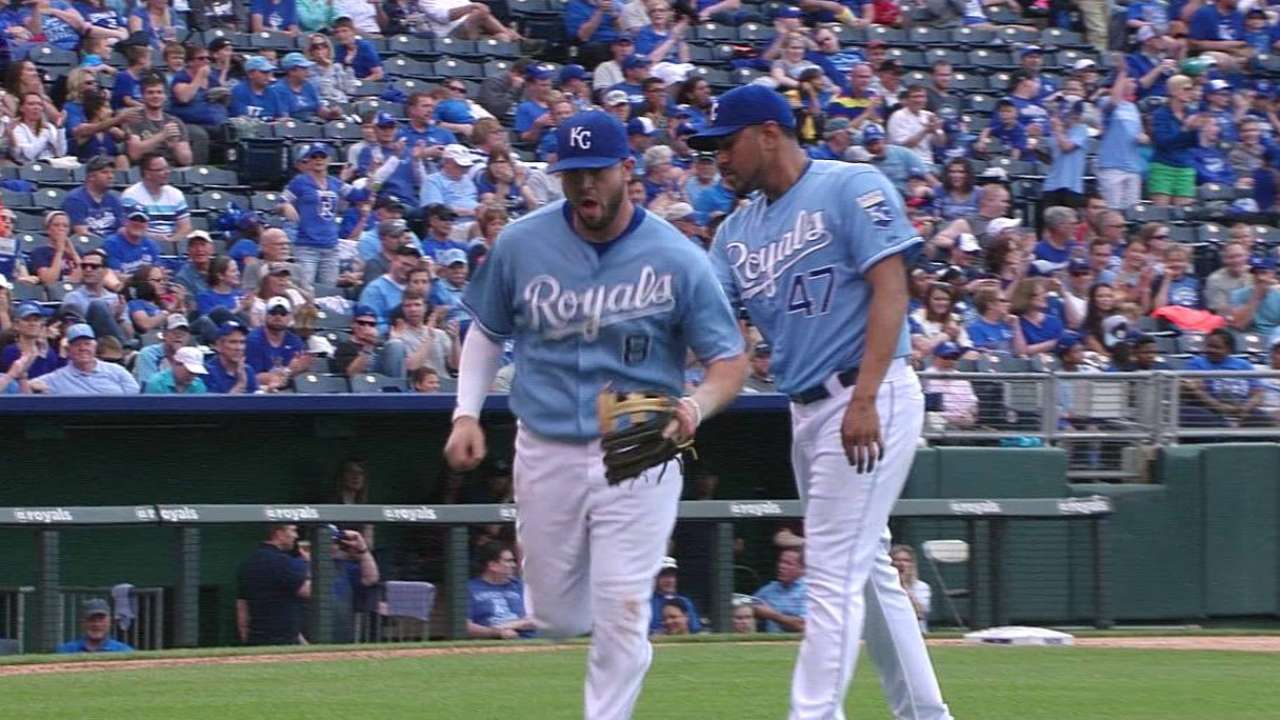 DETROIT -- Royals manager Ned Yost said third baseman Mike Moustakas will probably rejoin the team in Texas on Monday.
Moustakas was placed on the bereavement list Friday after the Royals arrived in Detroit.
Moustakas is hitting .327, second-best on the Royals, and has three homers and 10 RBIs.
Worth noting
• With Jason Vargas on the disabled list, Yost likely will go with right-hander Chris Young again Friday. There just aren't many options.
"I've got him penciled in, yes," Yost said.
• Right-hander Edinson Volquez, who left his last start early because of a blister on his right thumb, had a bullpen session Sunday and reported no issue with the blister. In fact, Volquez said he had a "really, really good" session. Volquez expects to make his next start Tuesday.
• The Royals likely will have to make a decision on right-hander Joe Blanton, who has been at Triple-A Omaha, but has an opt-out clause in his contract if he isn't on the 25-man roster by Friday. The Royals believe Blanton could be a solid addition to the staff, but he is out of options and the Royals would have to make room for him on the 40-man roster.
Blanton could be used in long relief instead of Yohan Pino, but Pino has done well in that role. And if Blanton were added and then had to come off the 25-man roster, he would have to be designated for assignment.
• The Royals likely are still two to three weeks away from getting Alex Rios (fractured hand) back. Rios is in his fourth week of healing, and Royals trainers believe it is a four- to six-week healing process.
"No doubt [Rios] is missed," Yost said. "We want to get him back. But it's a process."
While Paulo Orlando had a hot start in right field, his is hitting only .239 now.
"I don't look at the averages too much," Yost said. "I just ask, 'Can he help us win ballgames?' And he has."
Jarrod Dyson, who has been platooning with Orlando, was hitting .214 entering Sunday's game.
Jeffrey Flanagan is a reporter for MLB.com. Follow him on Twitter at @FlannyMLB. This story was not subject to the approval of Major League Baseball or its clubs.