Price's next start pushed back two days
Verlander hopes to throw light bullpen session Tuesday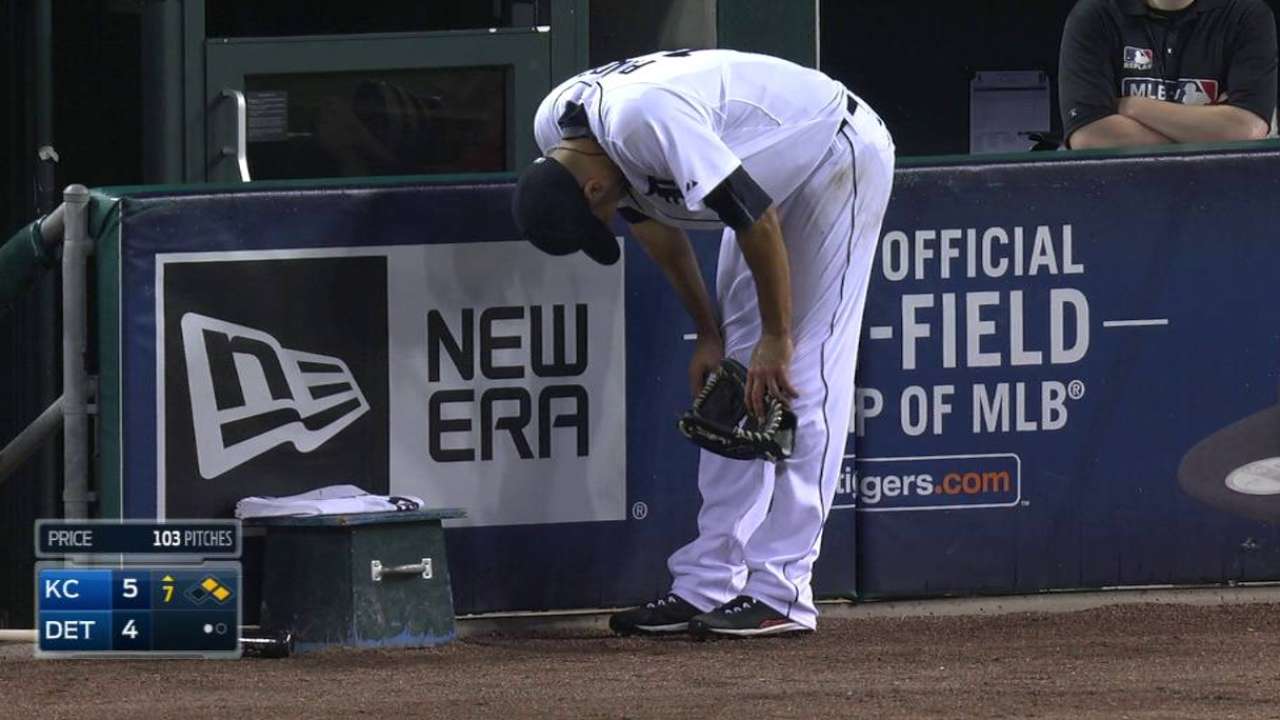 DETROIT -- David Price will get two extra days before his next start. The Tigers ace will take the mound Saturday at St. Louis, giving him seven days of rest after he suffered a mild right hamstring strain Friday night against the Royals.
Price played catch Sunday and said he felt good, according to manager Brad Ausmus. They decided not to take the chance.
"Just figured we'd give him a couple extra days," Ausmus said Sunday. "He said if he had to go on his regular turn, he could."
Thanks to Monday's off-day, he doesn't. Anibal Sanchez and Shane Greene will move up a day in the rotation order to start Thursday against the Twins and Friday at the Cardinals, respectively, but both get to start on their regular four days' rest.
Price gets extra rest, but he also gets extra risk. By starting in St. Louis, he'll be playing under National League rules, meaning he'll have to bat.
"I told him, 'I might have a tie a rope around you so you don't run too hard,'" Ausmus said. "He said, 'I don't hit the ball where you need to run.' He was smiling when he said it."
The Cardinals are one of three teams Price has never faced in his career, along with the Cubs and Padres. He's 9-10 with a 3.54 ERA in 22 career starts against the National League, allowing 144 hits over 152 1/3 innings with 38 walks and 156 strikeouts.
While Price gets more time this week to prepare for his start, Justin Verlander could soon be throwing off a mound again. Verlander threw long toss from 120 feet Sunday, as well as some fastballs, changeups and sliders off flat ground to Ausmus.
"Initially I wasn't planning on catching," Ausmus said. "I was just going to watch, but then I said, 'What the heck? I'm just standing here.'"
Verlander will have Monday off, along with the rest of the team, but is hoping to throw a light bullpen session Tuesday.
"I wouldn't call it a full bullpen," Verlander said, "probably just getting off the mound, getting used to the slop again before I really throw one."
In other Tigers injury news:
• The Tigers and catcher Alex Avila were still waiting on a second opinion on his left knee, hoping to hear more on Monday. Avila has been diagnosed with a loose body in the knee, which could require a procedure to remove. Avila had tendinitis in the left knee in 2012, but has no history of tears or surgeries.
• Reliever Bruce Rondon also threw long-toss out to 120 feet Sunday, as well as fastballs with some strength behind them.
"So far, so good," Ausmus said.
Jason Beck is a reporter for MLB.com. Read Beck's Blog and follow him on Twitter @beckjason. This story was not subject to the approval of Major League Baseball or its clubs.