Mauer, Twins swing pink bats for Mother's Day
Sporting pink coincides with raising breast cancer awareness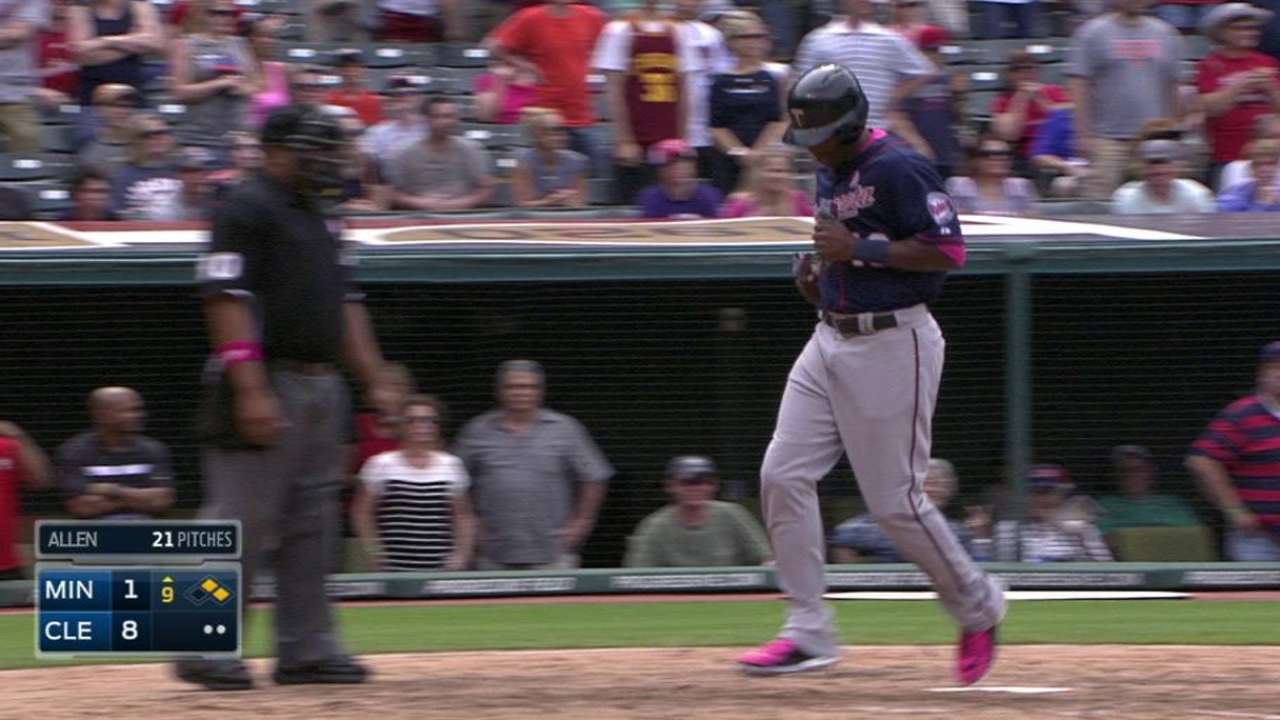 CLEVELAND -- All around the league on Sunday, fans of Major League Baseball were seeing pink.
To raise awareness for breast cancer, players used pink bats, as well as other accessories such as gloves, sneakers, wristbands and more. All of the pink equipment is later autographed and auctioned off to benefit Komen for the Cure, the most highly-funded breast cancer organization in the United States.
"It's nice to see all the players show support on a day like today," Twins first baseman Joe Mauer said.
Mauer sported the pink bat, a pink undershirt, a pink wristband and sneakers in support of breast cancer awareness. In previous years, players who wanted to use the pink bats were required to use Louisville Slugger models, a Major League Baseball partner which helped create the breast cancer initiative in 2006.
This year, though, MLB allowed players to use pink bats made by any MLB-approved manufacturer, like Rawlings, which is what Mauer uses.
"I'm glad that this year they're kind of letting the guys, no matter what company they're with, go out there and show support," Mauer said before the Twins' 8-2 loss to the Indians.
The breast cancer awareness day for MLB coincides with Mother's Day, a day about which Twins outfielder Torii Hunter feels strongly.
"This is a day when we recognize all the mothers out there and all the mothers that stood in the gap for other mothers," Hunter said. "The title mother, it means more than just birthing a child. The title mother means the love, the tough love, the discipline, the nurturing.
"All those things that a mother does. When you grow up and you leave your home, your mother will always love you. She lets go of your hand but she always loves you. She's always going to be there for you. That's a true mother."
August Fagerstrom is an associate reporter for MLB.com. This story was not subject to the approval of Major League Baseball or its clubs.