Chapman 'did prove he's human' with rare loss
Closer breaks 28 1/3-scoreless-inning streak as Reds fall to White Sox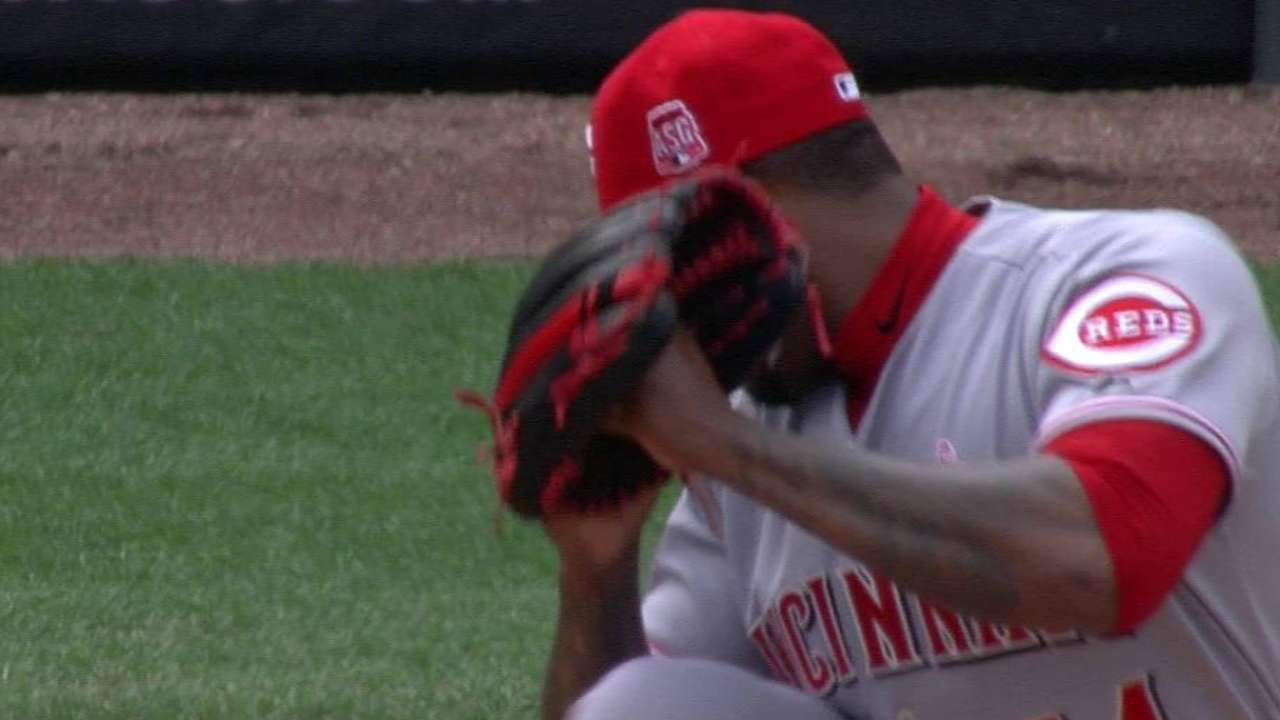 CHICAGO -- On Sunday, the White Sox showed that there is a difference between improbable and impossible against Reds closer Aroldis Chapman. After notching two outs in the ninth inning of a tied game, Chapman usually is good to finish it off. This time, however, he could not deliver a third out.
The White Sox collected three straight two-out singles, with Gordon Beckham's hit to right-center field scoring the game-winner in a 4-3 walk-off loss for Cincinnati.
"Things can happen. They made really good contact," Chapman said through translator Tomas Vera. "You could tell. With the men on base, they made real good contact. Those are normal things that are going to happen."
Chapman's streak of 28 1/3 scoreless innings, dating back to last season, ended in a crash landing. He last gave up a run on Aug. 17, 2014, at Colorado -- when he gave up four runs -- in an infamous loss. He surrendered three hits for the first time since May 3, 2013, vs. the Cubs.
In the ninth inning vs. the White Sox, Chapman struck out Jose Abreu with a 102-mph fastball and got Adam LaRoche to hit a routine groundout. Avisail Garcia delivered a single to center field and Alexei Ramirez lined a single to center field, as well. A wild pitch in the dirt moved both runners into scoring position.
On a 2-2 count to Beckham, Chapman's 100 mph fastball was lined to right-center field to end it.
"Luckily I was able to get enough of it and get it over the infielder's head and get in the outfield. Better luck than good sometimes," Beckham said.
"It was a high pitch, but I think it was a great pitch," Chapman said. "To me, it was a really good pitch, but he was actually behind. But he made contact."
It wasn't a good day for the Reds' pitching staff, which gave up a season-high seven walks. Starter Michael Lorenzen wasn't sharp while lasting only five innings. That meant the struggling bullpen had to cover at least four innings. In the seventh, Tony Cingrani began with two four-pitch walks and allowed a run. Jumbo Diaz gave up a leadoff single and a run in the eighth to make it 3-1.
But the Reds stayed in it as White Sox closer David Robertson blew a save and his own scoreless streak of 12 innings in 12 games on Zack Cozart's two-run double. With Chapman on in the bottom of the ninth, manager Bryan Price liked his team's chances. Despite the Reds' bullpen issues, Chapman had always been reliable.
"He did prove he's human. He's been phenomenal this year," said Price, after his team ended up with a 5-5 road trip. "He's been our most reliable guy out of the 'pen. I think we all felt good getting into their extra-inning bullpen guys with [Todd] Frazier potentially leading off the top of the 10th, if we could hold it there, that we could get two innings out of Chappy and win that ballgame. It just didn't pan out that way."
Mark Sheldon is a reporter for MLB.com. Read his blog, Mark My Word, and follow him on Twitter @m_sheldon. This story was not subject to the approval of Major League Baseball or its clubs.