Richards worried about wins, not no-hitters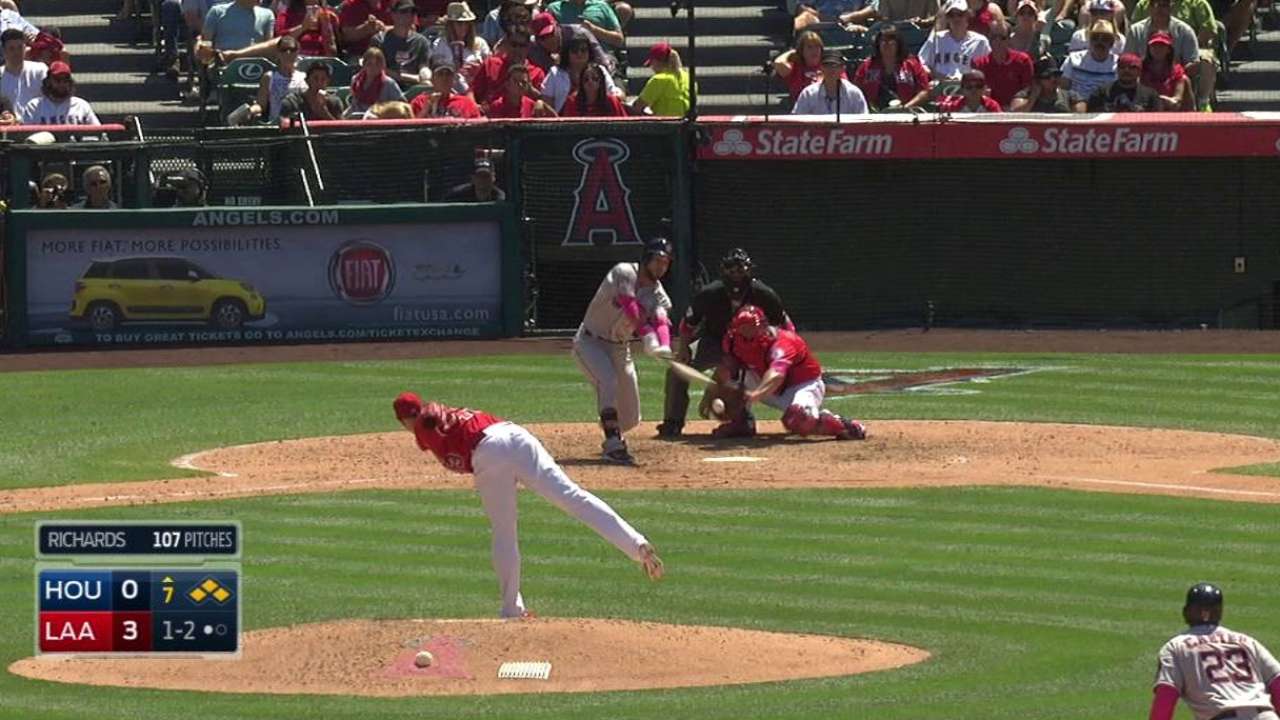 ANAHEIM -- Garrett Richards was eight outs from a no-hitter against the Astros on Sunday, but the Angels right-hander said he wasn't thinking about one.
Winning the game was more important to him.

"I don't think you should start thinking about [a no-hitter] until you go out for the ninth inning," said Richards, who lost his no-hitter on a Jason Castro single with one out in the seventh and lost his shutout when he hit Preston Tucker with an 0-1 pitch with the bases loaded with two outs in the inning,
He got the 3-1 victory when relievers Fernando Salas, Joe Smith and Huston Street got the last seven outs for a combined one-hitter at Angel Stadium. The Angels split the four-game series with the first-place Astros.

"Every inning, I'm worried about throwing quality strikes, getting ahead of guys and getting guys out," Richards said of his every-start approach. "For me, the more simple, the better."

Richards (3-1) struck out 10 in 6 2/3 innings, but he also walked four. His pitch count soared in the final two innings; he'd thrown 60 through five, but was at 110 when Salas was summoned to get what manager Mike Scioscia called probably "the biggest out of the game, [Evan] Gattis with the bases loaded."

Catcher Chris Iannetta said that Richards "was the same as always. He has the ability to do it every night. Whether he does or not, it's based on his command.

"He was really focused."

Scioscia said Richards' "stuff was really, really good today. Some things started to unravel as his outing got a little longer. He had a real hard seventh inning, and just couldn't get through it."

Even had Richards got out of the seventh with the no-hitter intact, Scioscia said, the starter wouldn't have gone out for the eighth because of his pitch count.

"A no-hitter is special," Scioscia said. "But I can't imagine we'd run anybody out to throw 130 pitches, even though that's something special. It's a risk.

"I think he was going to stay in that game as long he had pitches, and was throwing well. But, at some point, you don't want him to have to try to force a pitch into a zone, or hang one in a zone."

Richards walked one batter in the sixth, and the first two in the seventh. After he struck out Colby Rasmus, Castro rolled a 2-2 slider into left field for a clean single to load the bases.

"The slider he hit into left field? It was the thrid time around the lineup. He had seen the fastball and the slider," Richards said. "I left one up, and he did a great job of hitting it. Tip my cap to him. He's a good hitter, and a good guy."

Richards said he strives to limit his walks, but he's past the point of being dismantled mentally by them especially when they come in deep counts. Four-pitch walks are another matter.

"To me, 3-2 walks, you don't get anything for your pitches, but you're battling," he said.

"The guys played great behind me, and [Iannetta] called a heck of a game."
Earl Bloom is a contributor to MLB.com. This story was not subject to the approval of Major League Baseball or its clubs.