Utley hoping first double can help reverse course
Veteran second baseman raises average to .116 with 1-for-3 day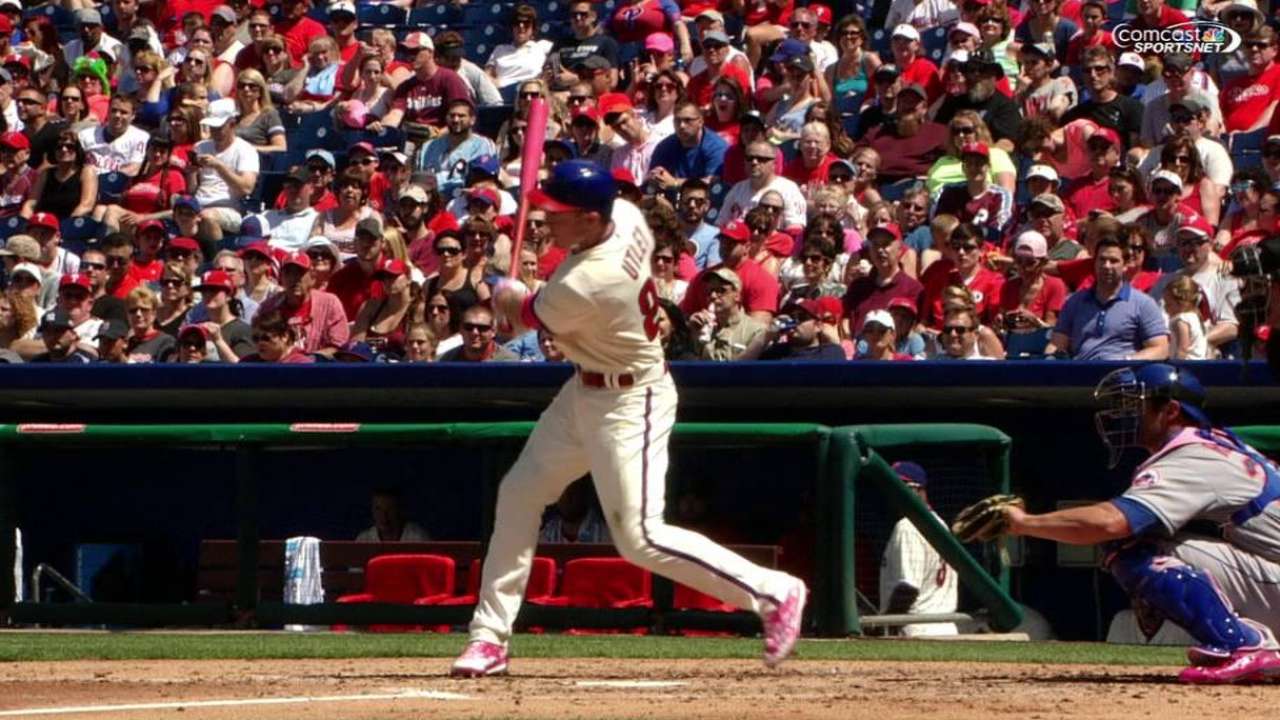 PHILADELPHIA -- Chase Utley said wryly late last month that he had not smashed any batting helmets out of frustration because of his slow start. The same could not be said for his bats.
"Bats? The helmets are still alive," he said.
Utley had been quiet since. Phillies manager Ryne Sandberg benched him two games last week in an effort to clear his mind. But Utley's batting average dropped to an unfathomable .099 following an 0-for-4 effort Friday against the Mets at Citizens Bank Park, which gave him the lowest batting average among MLB qualified hitters through a team's first 30 games since 1914. He probably heard the loudest boos of his career that night.
"I've seen better days," Utley said after Sunday's 7-4 loss to the Mets. "But you can't change the past. You try to move forward, make some adjustments and see what happens."
Utley hit a pinch-hit single Saturday and went 1-for-3 with a double and hit by pitch Sunday to raise his average to .116. It was Utley's first double of the season.
"Chase is gaining on it," Phillies manager Ryne Sandberg said. "It's small steps. Some balls are falling in, so that's a good sign for him. Maybe he can get a nice little hitting streak put together."
Utley's .101 batting average on balls in play is last out of 180 qualified hitters in baseball. The average big leaguer entered Sunday with a .295 BABIP. Utley's career BABIP is .301. Those numbers indicate Utley has run into some bad luck, although BABIP also factors in the opponents' defense.
"I'm not one to make excuses," Utley said. "I feel like I've swung the bat better than the numbers indicate, but I feel like I haven't swung the bat as well as I can."
Utley has hit .216 with 15 doubles, three triples, 10 home runs, 66 RBIs and a .611 OPS in 564 plate appearances since May 28, 2014. So, Utley's slump is not just a five-week thing. But the Phillies obviously hope the past two days are enough to get things turned in the right direction.
"Any time you have some hits, it's a good thing," Utley said. "Confidence is a big thing in this game and that's what I'm trying to keep."
But Utley also would not mind a few breaks, too.
"Hitting some balls where nobody is playing will be good," Utley said. "That would be beneficial. But I'm just trying to stay positive. As a professional athlete, results build confidence. And when you don't have those results, it's hard to keep that confidence going. So it's just a matter of going up there, putting a good at-bat together and seeing what happens."
Todd Zolecki is a reporter for MLB.com. Read his Phillies blog The Zo Zone. Follow him on Twitter. This story was not subject to the approval of Major League Baseball or its clubs.