Melancon on upswing, but keeps balanced perspective
After rough start to season, closer notches seventh save in Bucs' win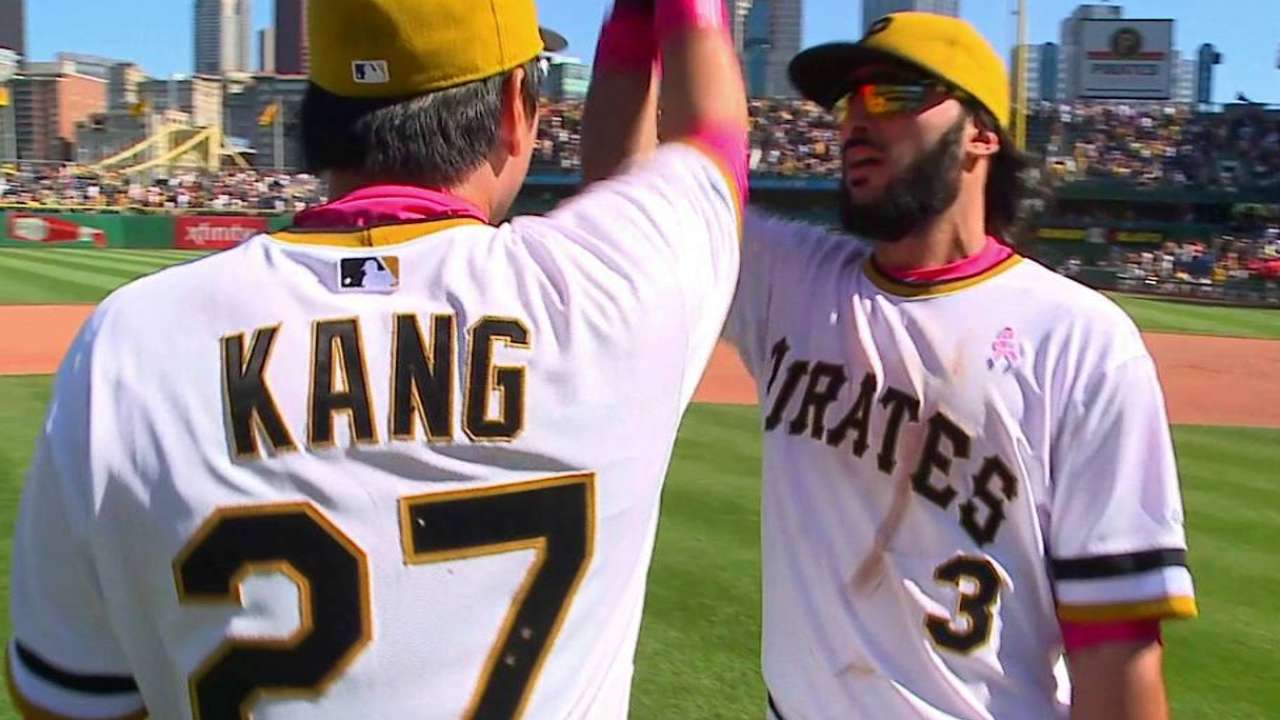 PITTSBURGH -- From the perspective of Sunday's 4-3 getaway victory over the Cardinals, it is interesting to remember the questions bouncing off PNC Park's walls the last time the Pirates were leaving town.
"Would Jung Ho Kang benefit from spending some time in Triple-A?"
"Would the Bucs benefit from having someone other than Mark Melancon close games?"
To bring you up to date, since then, Kang has hit .429, including Sunday's two biggest hits.
And Melancon has been virtually flawless in his eight outings since, converting five consecutive saves while facing a total of only 28 men to get the 24 outs.
"It was good to see [Melancon] finish things off," manager Clint Hurdle said. "It's a vote of confidence for the team. They believe in him, and when he goes out there to get things done, he's got to feel better about how things finish.
"He's incrementally getting a little bit better every time out."
Following his April 21 outing against the Cubs on the last homestand, he owned an ERA of 8.53 for his first seven appearances; Sunday sent the figure down to 3.77.
"You can go to all sorts of data and analyze it, and does it even matter?" Melancon asked, questioning the significance of small insets in a 162-game picture. "I mean, really ... It matters, don't take me wrong, it matters a lot, I don't mean it like that.
"But we can't dissect things so much that we get in the way of ourselves. [Bad games] are bound to happen at some point, and when they happen in a row, it's unfortunate. But those are the times you learn the most. They really create character and make you who you are.
"Unfortunately, I've had a lot of those in my career, and I feel I've rebounded well. So it doesn't scare me off from wanting to succeed in the future."
Melancon once again was the end-game in Hurdle's successful bullpen gambit. When the Jared Hughes-Tony (The Iceman) Watson-Melancon chain closes out games, the Pirates now are 6-2.
"That works out pretty well for us," Hurdle said of the sequence. "Mark's going to be stubborn. He'll pitch his game. If he gets beaten, it will be with what he believes in."
Thus, with the potential tying and go-ahead runs both aboard via singles and one out, Melancon did extended battle with the lefty hitting Jason Heyward on the closer's own terms. He kept mixing cutters with curves, which Heyward kept fouling off, until he broke off one that missed Heyward's bat.
"His curve plays," said Jordy Mercer, who watched that battle from shortstop. "He keeps it in the zone. It's hard to lay off. You saw the Heyward strikeout."
Two pitches later, after Pete Kozma bounced to first, it was over.
Tom Singer is a reporter for MLB.com and writes an MLBlog Change for a Nickel. Follow him on Twitter @Tom_Singer. This story was not subject to the approval of Major League Baseball or its clubs.