Rockies' bat girl exemplifies fighting spirit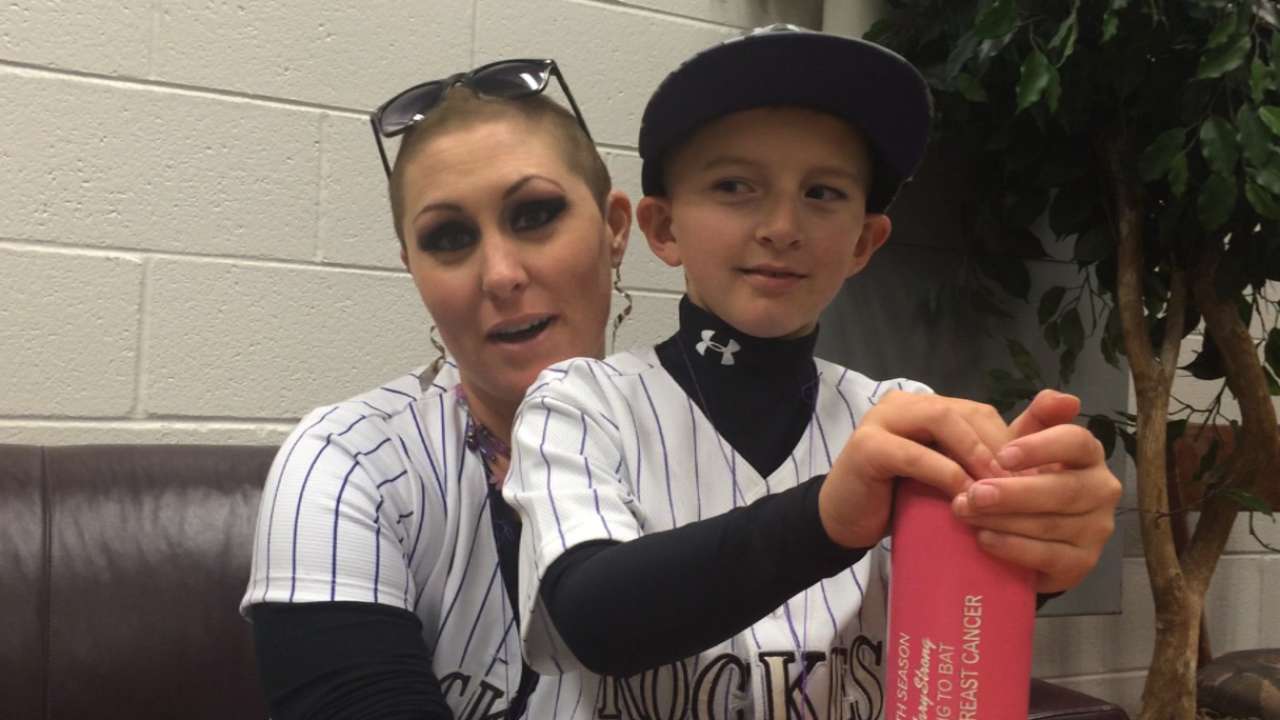 DENVER -- Mary Dabbs of Fruita, Colo., called upon her positive spirit to defeat her unbelievably bad fortune.
On Sept. 5, 2014 at age 32, Dabbs was diagnosed with Stage 2 breast cancer, even though she had tested negative for the cancer gene. Doctors told her she'd have had a better chance hitting the lottery than getting cancer under those circumstances. But rather than wait for better luck, she shaved her head -- first into a mohawk, then completely -- and went to work fighting.
"I started doing work with the American Cancer Society -- I had a big fundraiser at our local brewery because I love to drink beer -- and I think we raised $500 or $600," Dabbs said. "And that was right before my surgery, right after chemo.
"I still went to my son's baseball practices. I tried to do everything I still did before, despite all of it. Even on bed rest, I would go to his practices and just kind of lay down, relax in the car. Just hanging out with my family or going up to Glenwood Springs, we went to the hot springs a couple of times. Everything I normally would do before, I tried to keep going."
Dabbs' aggressive attitude -- continuing an active life despite going through a double mastectomy, being sick from having an overdose of chemotherapy and being ordered bed rest -- were among the reasons she was chosen as the Rockies' winner of the 2015 MLB Honorary Bat Girl contest.
Dabbs, with her husband, Shane, and her 7-year-old son, Ryder, plus other family members, including her mom, Linda Hupert, attended Sunday's Dodgers-Rockies game at Coors Field, where Dabbs was honored.
Dabbs was told on March 9 that she is cancer-free, but there are complications from the surgery, and she'll have at least one more surgery. But Dabbs is pushing as hard as possible. Before making the 3 1/2-hour trip for Sunday's game, she exercised on an elliptical machine. She's looking forward to being cleared for upper-body exercises.
"I'm a huge baseball fan," Dabbs said. "I love the Rockies. I'm just really excited to have my story known. It's important to let people know you can still be strong and beautiful and still rock it, even though you're faced with cancer and surgeries and mastectomies and no hair. I try to portray that message to the general population. Don't let it get you down. Keep smiling."
Thomas Harding is a reporter for MLB.com. Follow him on Twitter @harding_at_mlb, and like his Facebook page. This story was not subject to the approval of Major League Baseball or its clubs.