Dickey's knuckler not fooling hitters of late
Blue Jays vet gives up two more home runs
TORONTO -- The swing-and-miss knuckleball that R.A. Dickey turned into such a lethal weapon has gone missing in action over the past couple of weeks, and it's left the veteran Blue Jays starter searching for answers.
Dickey struck out at least seven batters per nine innings from 2012-14, but his numbers this year are way down. That has caused some issues, because when he gets ahead in the count, the putaway knuckleball hasn't been there and it's opened the door for hitters to do some damage.
The 40-year-old Dickey didn't record a strikeout for the second consecutive start during Sunday's 6-3 loss to Boston and has a total of four punchouts over his previous four outings.
"This pitch in a 162-game season, 34 starts every year, you have little mini seasons within the season," said Dickey, who dropped to 1-4 with a 5.00 ERA. "This last [four]-game stretch has been a very odd one for me. Striking out four guys in [four] outings is very bizarre for me.
"There are certainly some things I need to take away from that and try to get better from, or figure out why I'm not getting the swings and misses I normally get. Eight innings, three hits in the middle of that, a couple of mediocre outings and this one was kind of a poor outing. It's all about making adjustments ... you have to really keep your head up and keep searching for answers and grinding it out."
Though Dickey prides himself on being able to miss a lot of bats, this isn't exactly uncharted waters for the former Cy Young Award winner. It's somewhat reminiscent of his first two years with the Mets, when Dickey averaged slightly more than five strikeouts from 2010-11.
Dickey believes there are some similarities between those two seasons and the one he is going through. The goal is to find a way to increase those swing-and-miss numbers, because while generating weak contact is the No. 1 priority, strikeouts are something he needs to have in his arsenal.
One thing that has been a consistent problem for him since joining the Blue Jays in 2013 is his tendency to give up home runs. Dickey has allowed 68 over that span, which is the most in the Major Leagues. Dan Haren is second with 61.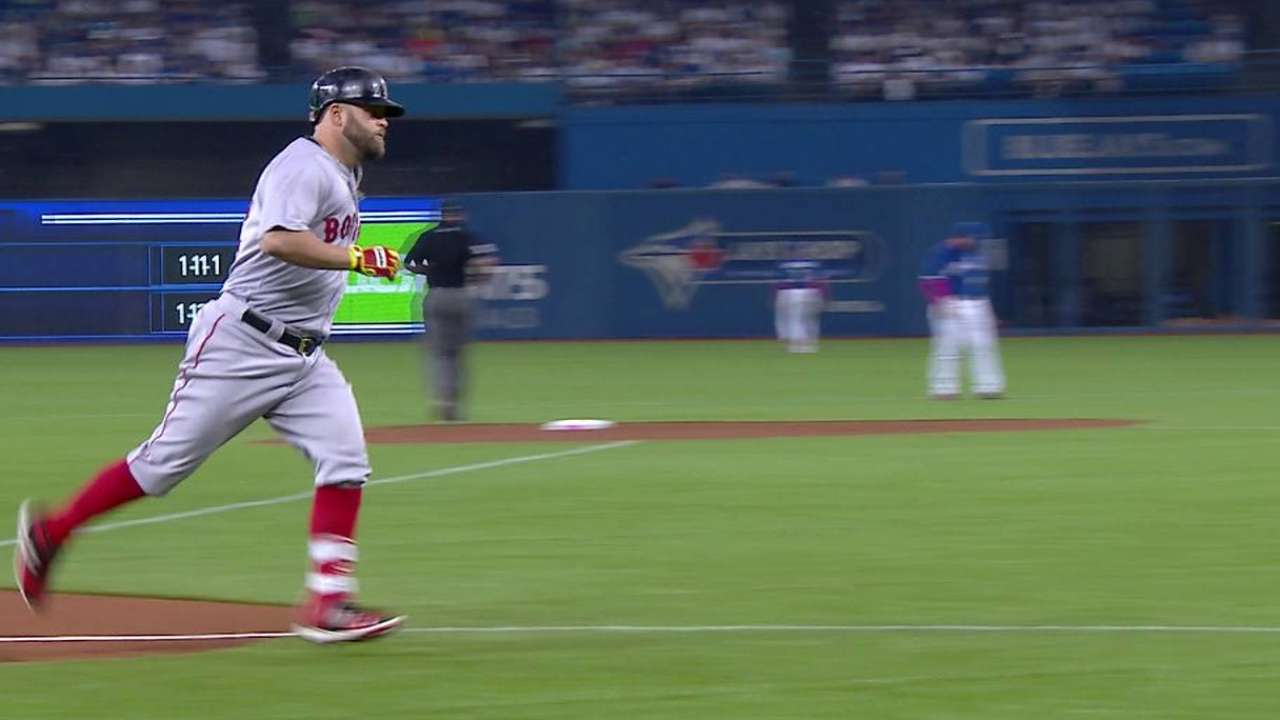 The long ball was how Boston did almost all of its damage Sunday. Mike Napoli hit a three-run homer in the first and Pablo Sandoval added a two-run shot in the fifth. Those two pitches spoiled what could otherwise have been a solid outing and those are the type of results that Dickey has grown tired of seeing.
"I'm very frustrated," Dickey said. "I'm tired of saying I'm one poor pitch away from a good outing, every outing. Both of the home runs came with two outs. The home run to Sandoval was actually a fairly good knuckleball. I thought the one to Napoli was not a good one.
"I find myself in that place often, at the first of the year here, saying if I could have one pitch back, it would be a much better result. But that being said, the thing that I need to do is just get back to working and it'll turn for me."
Gregor Chisholm is a reporter for MLB.com. Read his blog, North of the Border, and follow him on Twitter @gregorMLB. This story was not subject to the approval of Major League Baseball or its clubs.