Statcast tracks Teixeira's range, stellar grab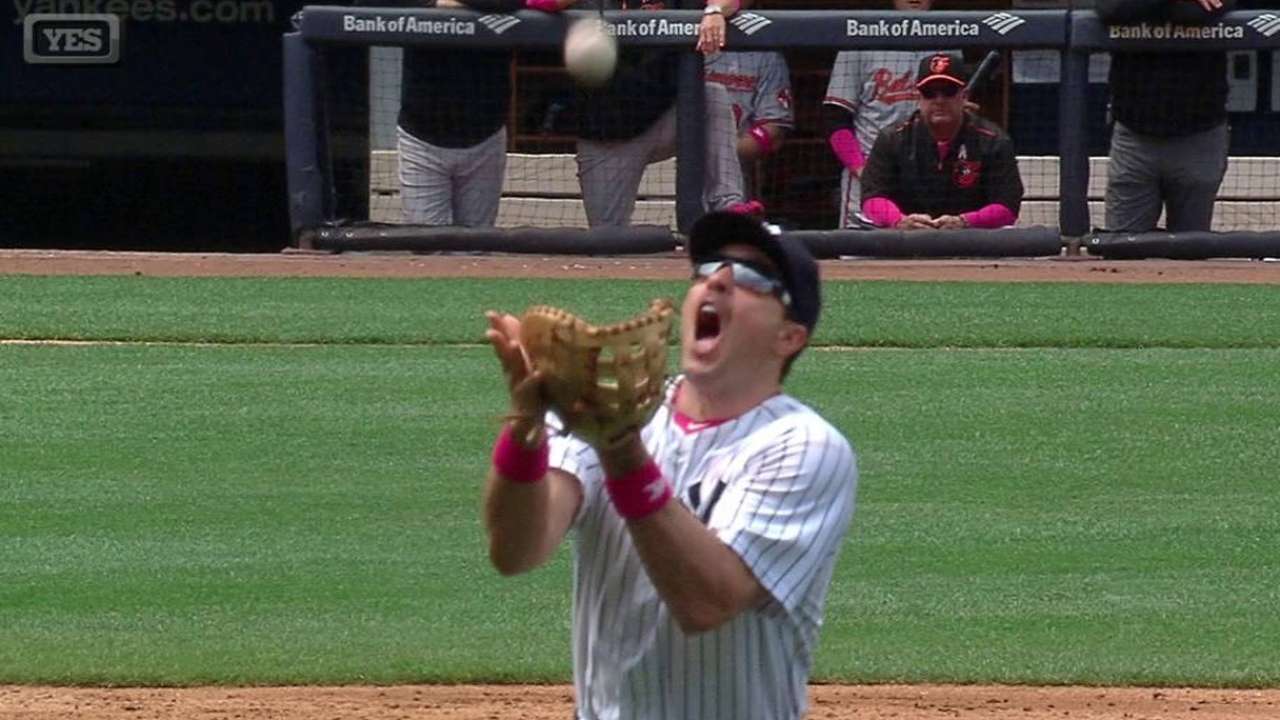 Yankees starter Michael Pineda did plenty to help his own cause by racking up 16 strikeouts in Sunday's 6-2 victory over the Orioles, but first baseman Mark Teixeira certainly pitched in when called upon for some defensive help.
On one of the rare occasions in which the Orioles were threatening against Pineda, Teixeira made a highlight-reel grab to take a hit away from Adam Jones. Though the ball was hit into shallow right field -- an area in which the second baseman often calls off the first baseman -- Statcast™ helps explain why it was Teixeira who ultimately made the over-the-shoulder grab.
With runners on first and second and only one out, Jones hit a blooper toward shallow right field that logged a 1.752-second hang time. Teixeira reacted almost immediately, registering a .084-second first step time compared to a slightly slower .117-second first step from second baseman Stephen Drew.
Though Drew obviously reached a higher maximum speed of 17.623 mph (compared to Teixeira's 15.129 mph), the fact that he reacted a fraction slower -- on top of already being positioned closer to second base for a possible double play -- meant it was up to Teixeira to make the play.
• Get acquainted with glossary of Statcast™ terms
The five-time Gold Glove Award winner was up to the challenge, making the basket catch to help thwart a potential O's rally. Without that lightning quick first step, however, it may not have been possible.
Paul Casella is a reporter for MLB.com. This story was not subject to the approval of Major League Baseball or its clubs.