Maldonado delivers Mother's Day walk-off for Crew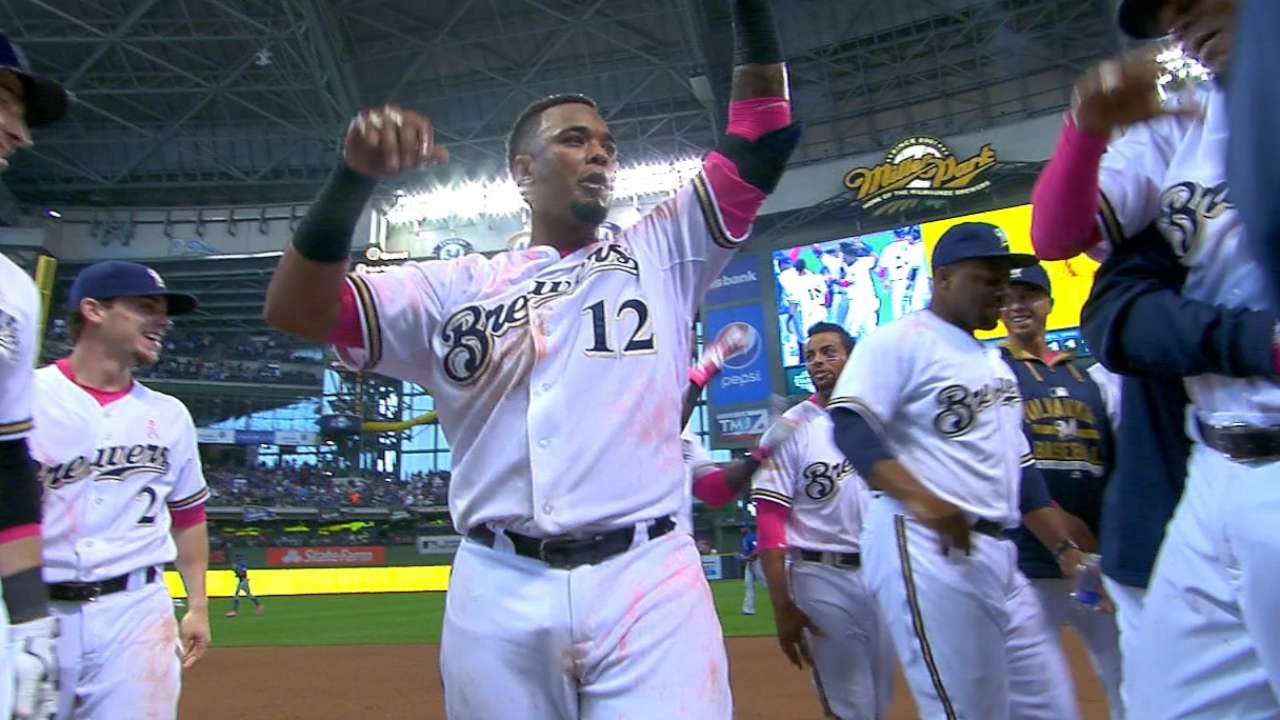 MILWAUKEE -- It wasn't quite Bill Hall with a pink bat circa 2006, but the Brewers were able to author another Mother's Day walk-off.
Martin Maldonado and Elian Herrera teamed for back-to-back home runs in the seventh inning before Maldonado, with his mother cheering in the stands, delivered a long single in the bottom of the 11th for a 3-2 win over the Cubs at Miller Park in Sunday's rubber match.
Since losing each of their first seven series to start the season, the Brewers have won a pair of three-game sets against the Cubs and split a four-game series with the Dodgers, boosting their record back to 10 games under .500 at 11-21.
"A walk-off win is pretty special," Maldonado said. "[New Brewers manager Craig] Counsell says all the time that everything is about winning games."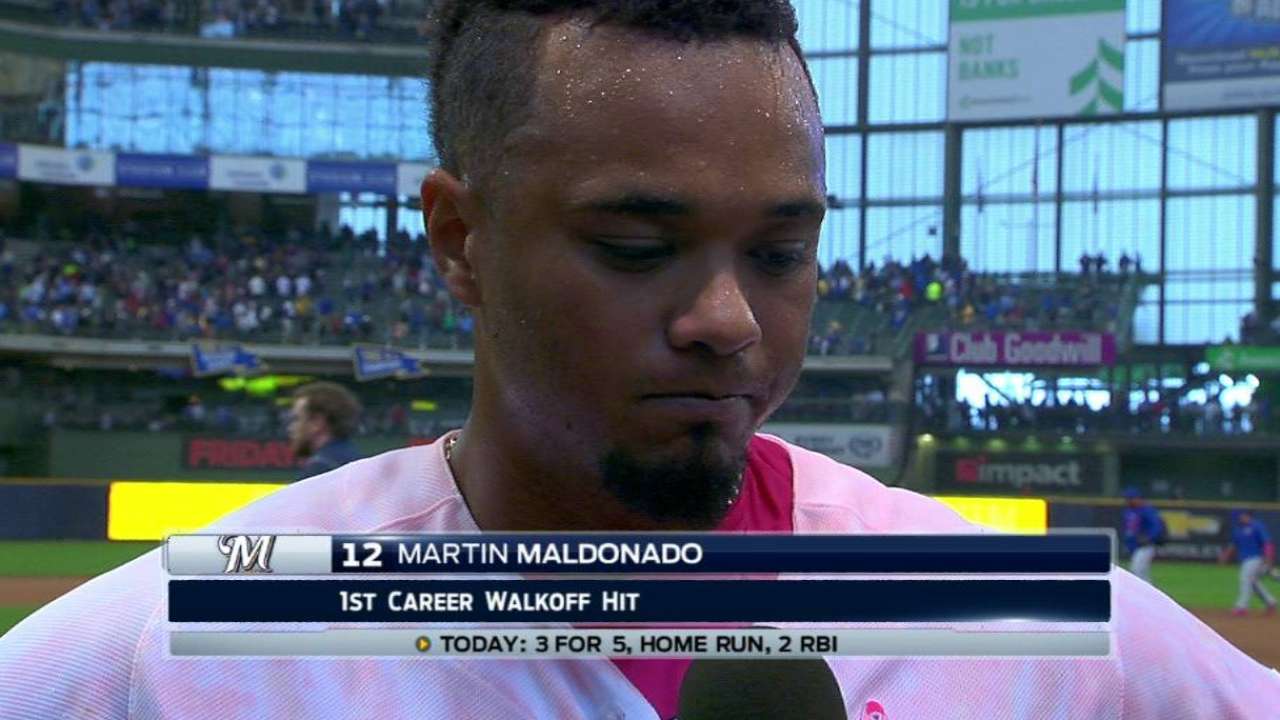 Ryan Braun doubled off Cubs reliever Jason Motte to open the 11th inning before the Brewers loaded the bases with one out for Maldonado. With mom Jeanette Valdes looking on, Maldonado punched a winning single to the right-field warning track.
Brewers starter Matt Garza pitched his finest seven innings of the season and surrendered only three Cubs hits, including Miguel Montero's solo home run in the sixth. But Garza was saddled with a no-decision when the Cubs rallied to tie the game on Anthony Rizzo's eighth-inning double.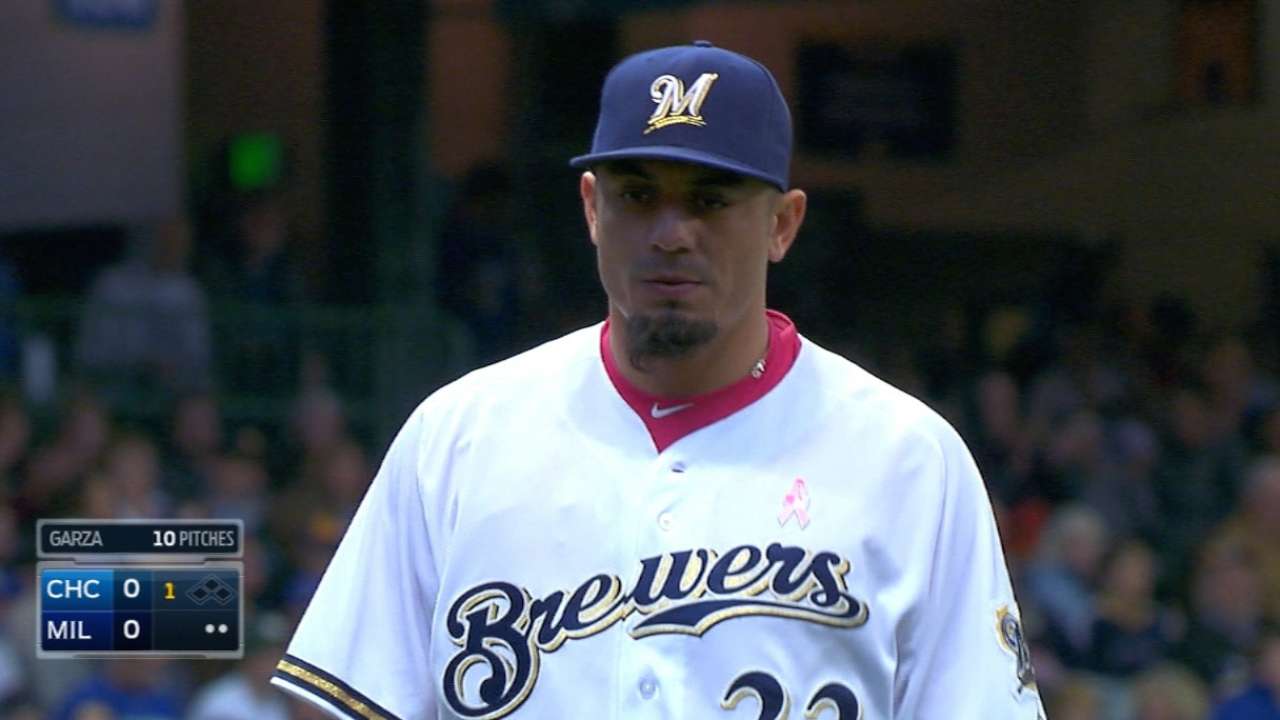 MOMENTS THAT MATTERED
Inning-ending interference: The Cubs' Dexter Fowler appeared to reach on a 10th-inning fielder's choice, but it was ruled an inning-ending double play for interference on David Ross for his slide into second base. Cubs manager Joe Maddon argued, with no success. More >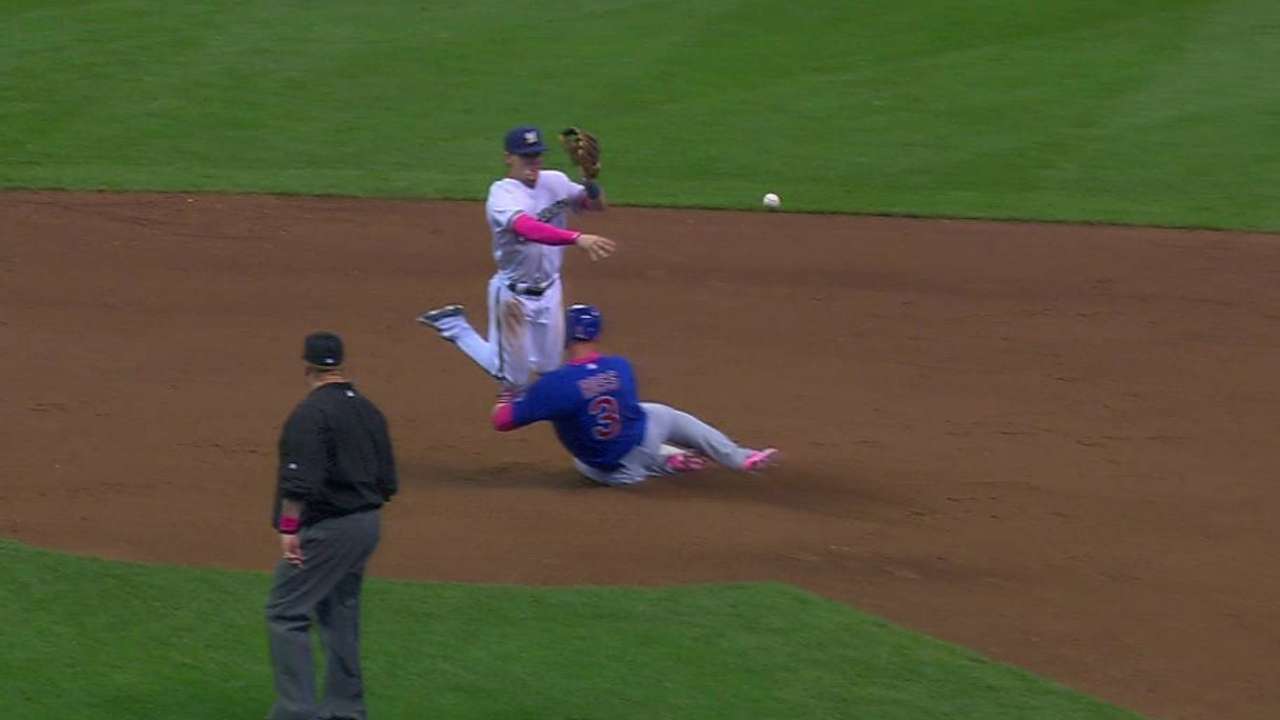 Play at the plate: Chicago tied it at 2 in the eighth when Fowler scored from first on Rizzo's two-out double to right. It appeared to be a close play at home, but Maldonado was unable to handle the short-hop relay throw from second baseman Scooter Gennett.
Back-to-back jacks: The Brewers picked a prime time to hit their first back-to-back home runs of the season. Trailing by a run entering the bottom of the seventh inning, Maldonado tied the game by catching up to an inside fastball from left-hander Zac Rosscup, and Herrera gave the Brewers their first lead three pitches later by connecting with a nearly identical pitch.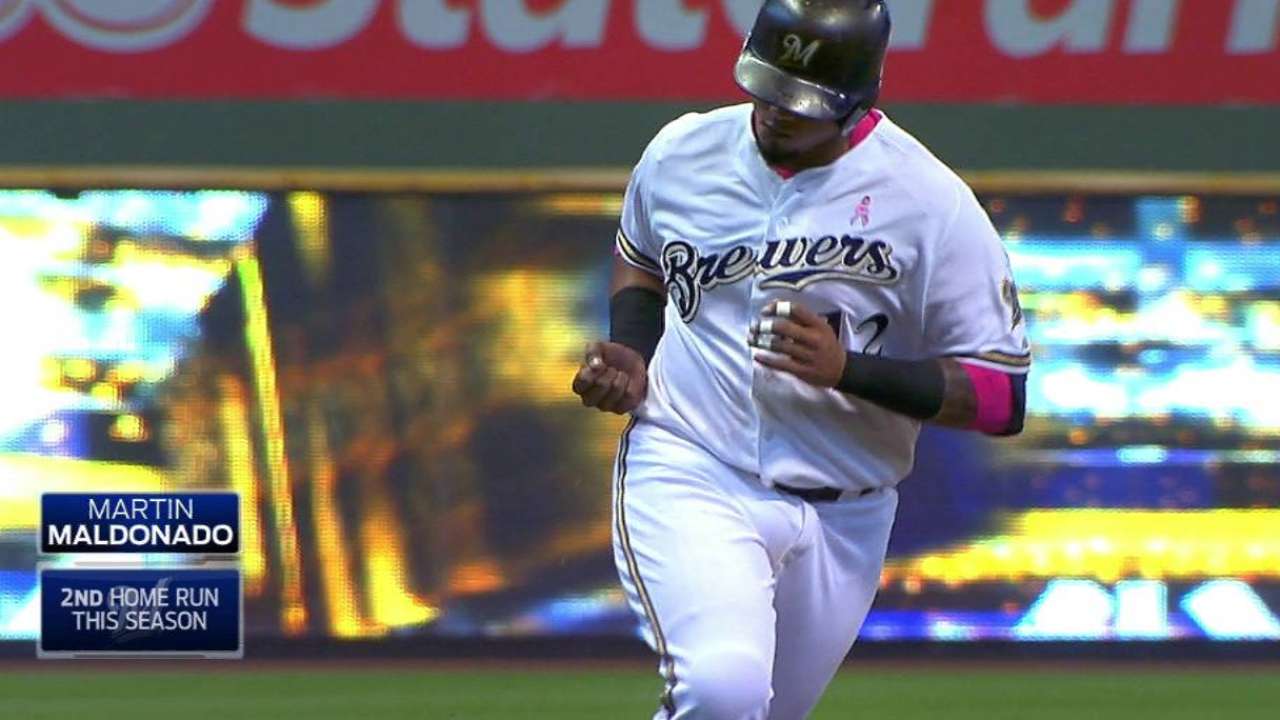 "I really felt strongly about 'Cup' right there," Maddon said. "That's one thing I didn't see coming -- there was a couple homers from the bottom of the batting order against him. He's been throwing the ball so well. So, you've got to give them credit. That's what put them up."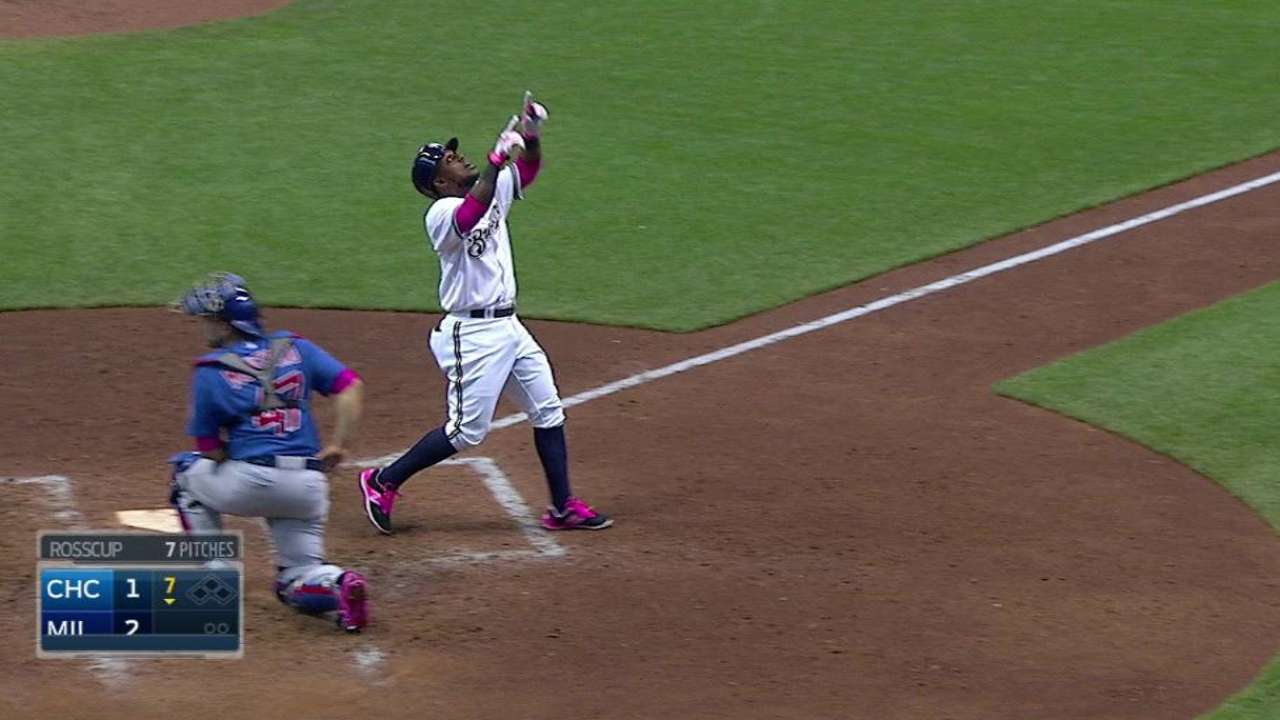 Montero's homer: Until Montero's sixth-inning homer, Garza had allowed just two singles, although he had walked three. Montero, like the Brewers' Herrera and many other players Sunday, was using a pink bat as part of MLB's support of the fight against breast cancer. More >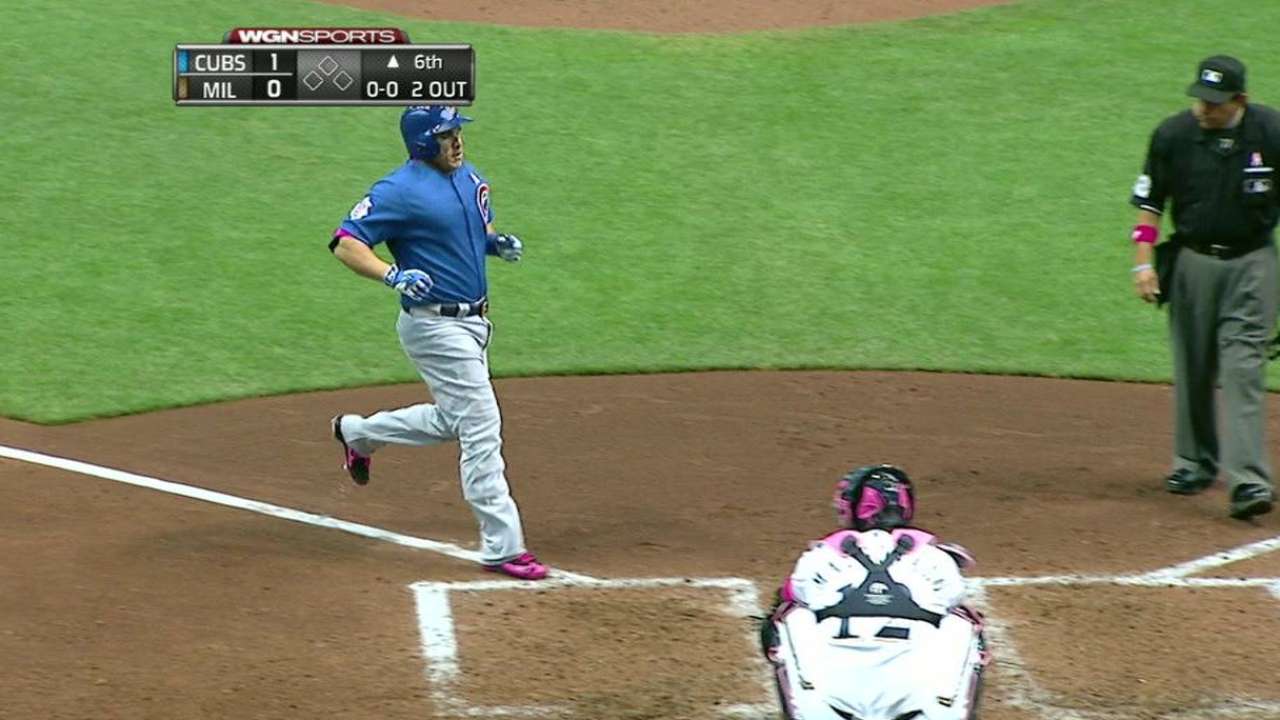 Run-saving play: The Cubs threatened to score first in the third inning, putting runners at the corners with two outs for Montero, who hit a sharp grounder toward left field. But Brewers shortstop Jean Segura made a slick back-handed stop and flipped the baseball to second for an inning-ending forceout.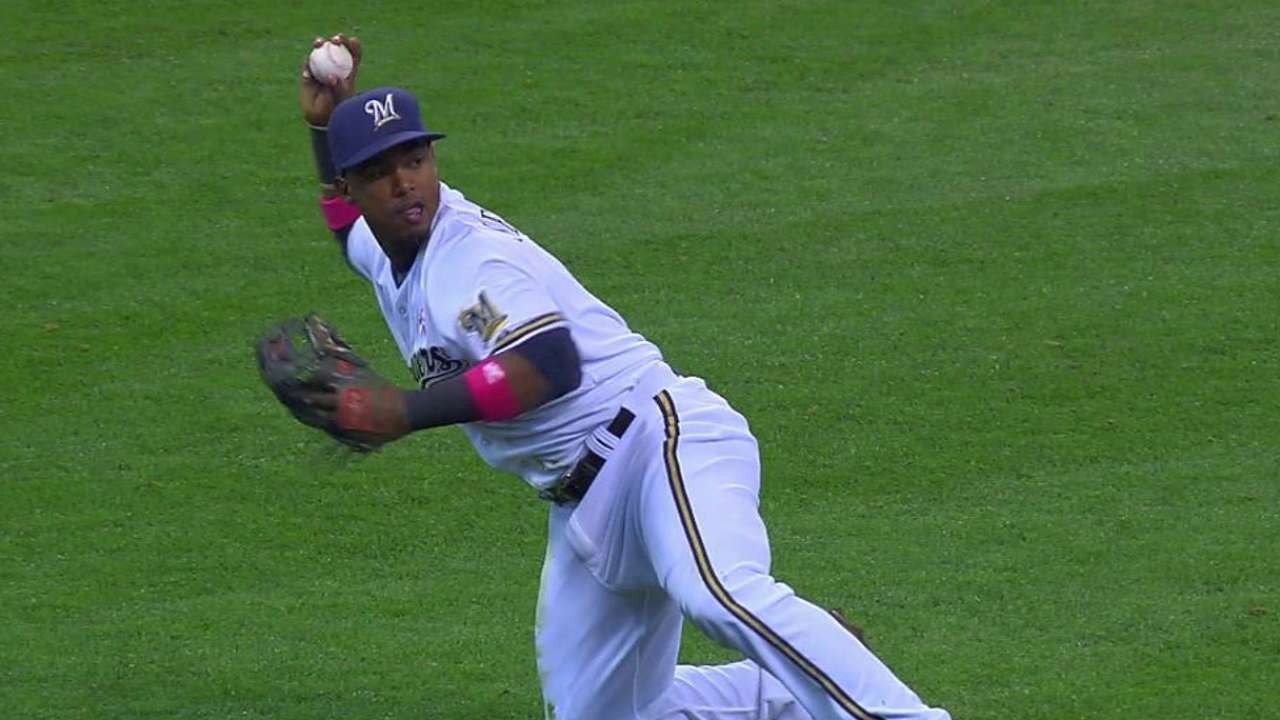 "Huge. It was huge," Garza said. "I thought it was a for-sure hit, and all of a sudden he blasts it to Scooter. That got everything going again. It was good to see."
QUOTABLE
"I don't know if I imagined what I'd be like. We've had some fun games. Winning is a lot better than losing. It is going to be a challenge, I know that. If there's a part I'm enjoying it is the challenge in front of that group. It gets you excited to try to help the group tackle that challenge."
-- Counsell, on his first week as a Major League manager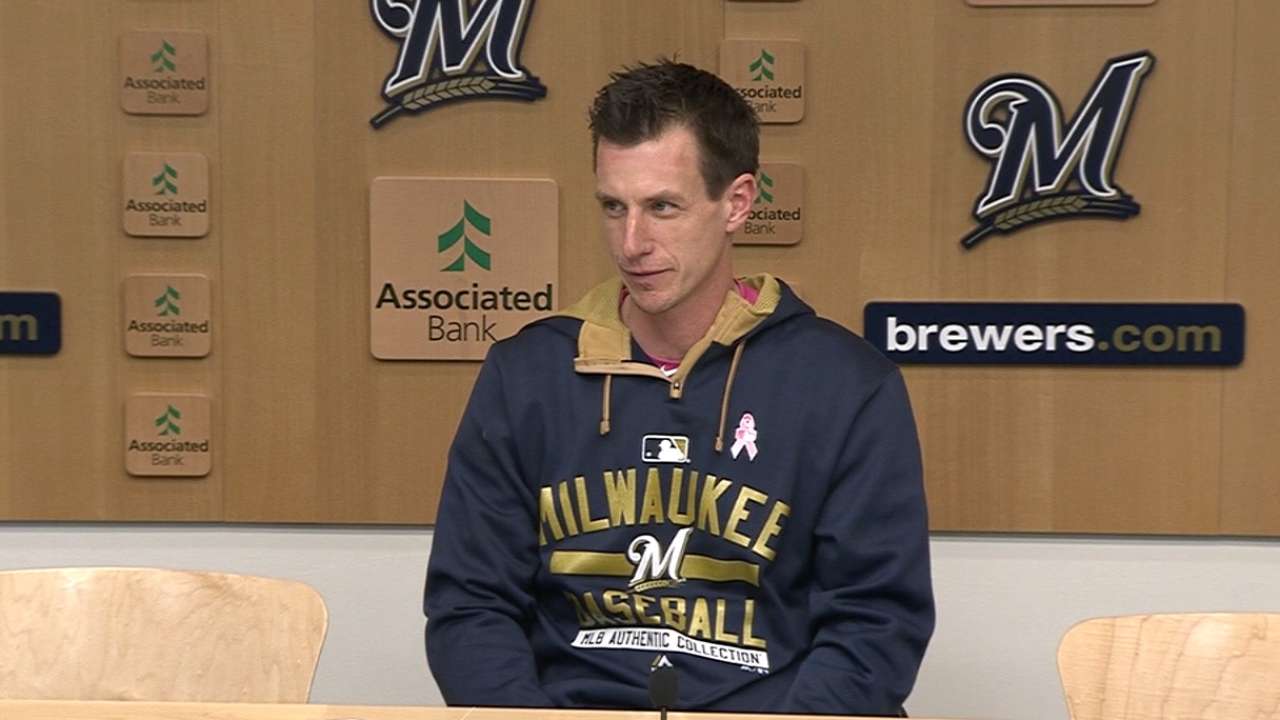 SOUND SMART WITH YOUR FRIENDS
Rookie second baseman Addison Russell's hitting streak was snapped at 12 games. He walked, struck out, lined out on a nice running catch by Braun in right field to lead off the eighth and then struck out again in the 10th. It was the longest hitting streak by a Cubs rookie since Mike Fontenot's 12-gamer in 2007.
UPON REVIEW
Counsell won his first managerial challenge in the second inning, when the umpires overturned an out call at first base on Maldonado's two-out bunt. While the umpires awaited word from New York on whether Maldonado beat the throw to first base (he did), they chatted with Maddon, who might have been considering a challenge of whether the baseball struck Maldonado after he bunted. But Maddon apparently did not issue that challenge, and the Brewers went on to load the bases, but did not score.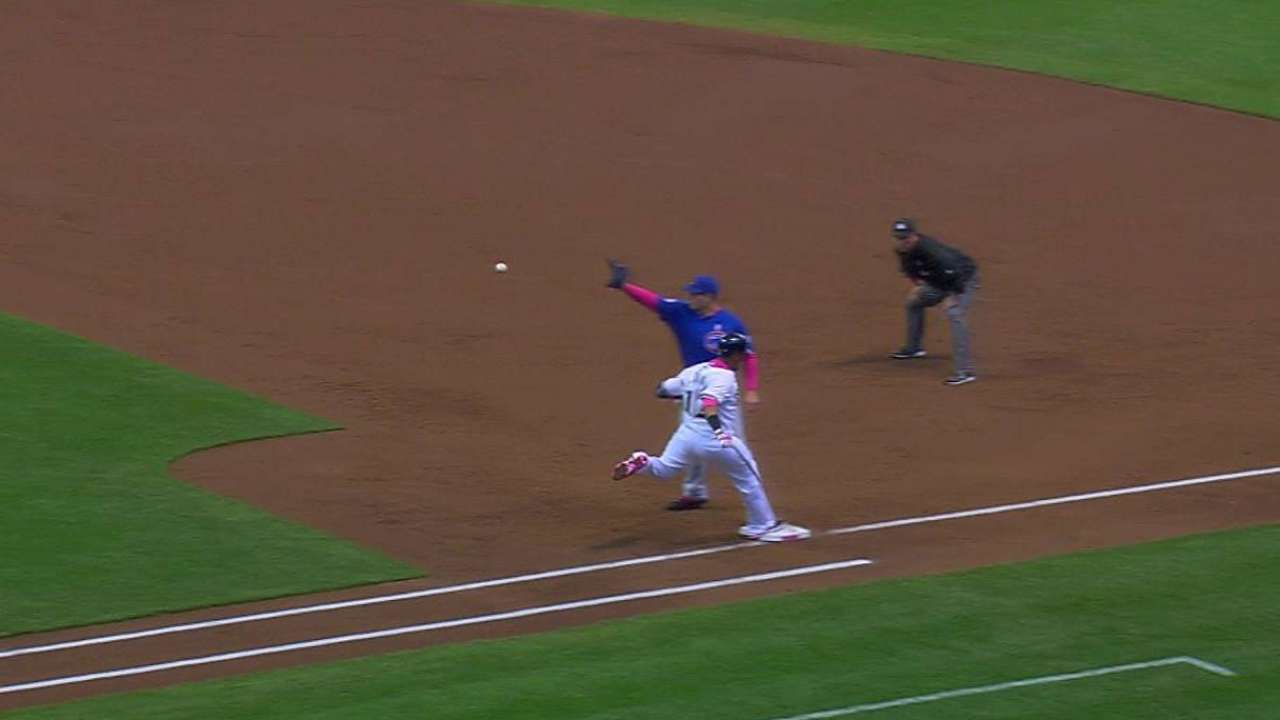 Counsell would have liked to challenge again in the 10th inning, when pinch-hitter Hector Gomez's line drive hit the white chalk just beyond third base. By rule, because the play happened in front of third-base umpire Tom Hallion, who called it foul, the Brewers were unable to challenge.
"When the ball hits past the bag, you are just judging white line. It does make sense to me to look at that rule, for sure," Counsell said. "That's all they are judging. They are not judging if it went over the bag. You can get white line right."
WHAT'S NEXT
Cubs: Chicago opens a seven-game homestand on Monday night with the first of four games against the Mets at 7:05 p.m. CT. Jon Lester (2-2) has made only one other career start against the Mets -- on June 27, 2006, at Fenway Park as a 22-year-old rookie. He pitched five innings and earned the win.
Brewers: Milwaukee stays home to host Chicago's other Major League club, the White Sox, who haven't visited Miller Park since 2009. The only Brewers regular left from that season is Braun, though Counsell got a start in the series. Wily Peralta's first pitch is scheduled for 6:20 p.m. CT.
Watch every out-of-market regular season game live on MLB.TV.
Adam McCalvy is a reporter for MLB.com. Follow him on Twitter at @AdamMcCalvy. Jim Hoehn is a contributor to MLB.com. This story was not subject to the approval of Major League Baseball or its clubs.