Kimbrel's saves streak ends at 35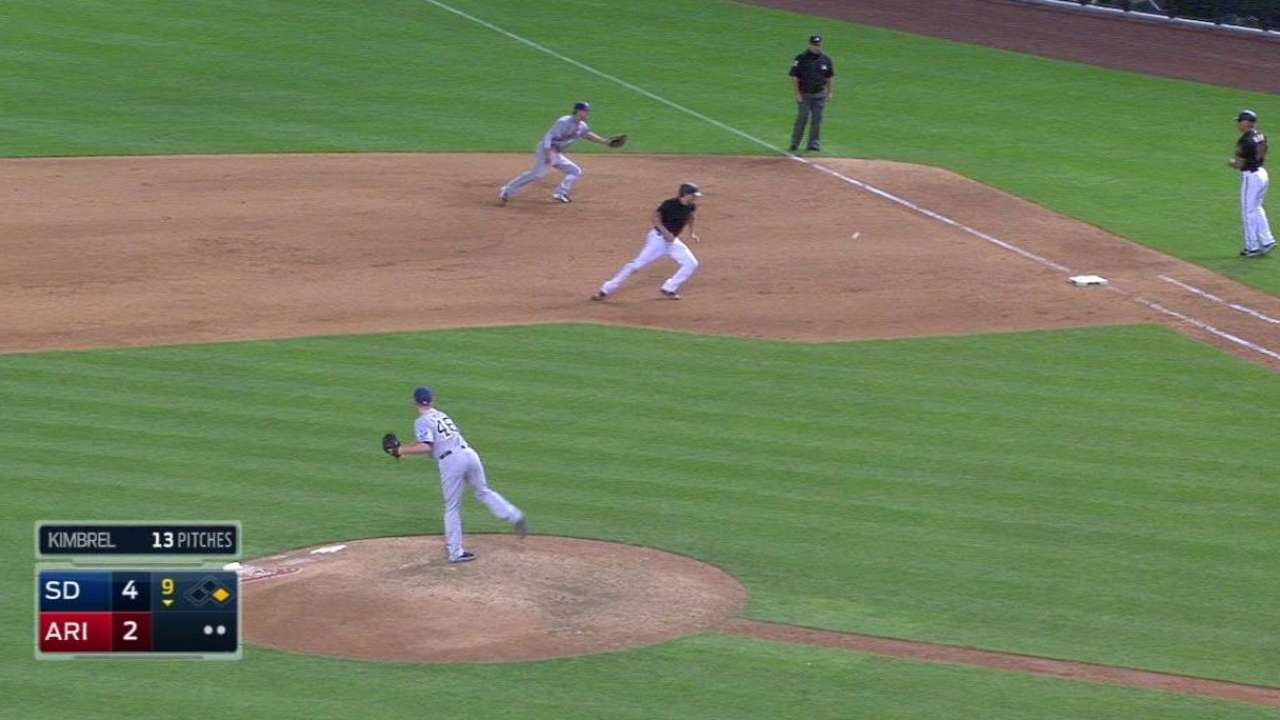 PHOENIX -- Craig Kimbrel's streak of 35 consecutive saves ended in strange fashion on Saturday night. The Padres stellar right-handed closer was down to the last strike before the proverbial roof caved in.
"Obviously I want to convert every opportunity I get," Kimbrel said on Sunday in the clubhouse, only hours before the Padres closed a four-game series against the D-backs at Chase Field. "I guess now it's time just start a new one."
The D-backs wound up tying the score with two runs in the ninth off Kimbrel, but the fact the Padres came back and won, 6-4, in 12 innings on the strength of Justin Upton's eighth homer of the season cleared away all the ills.
The nexus of Kimbrel's problems was a 1-2 pitch to Padres catcher Jordan Pacheco with two out and nobody on. Instead of powering it by him with a fastball, Kimbrel chose to try and get Pacheco to bite on a breaking ball a little out of the zone.
"It was actually a pretty good pitch," Kimbrel said. "He just didn't offer at it. I think he did go around, though, but you know how that works."
Kimbrel ultimately lost Pacheco, walking him on a full-count pitch. With pinch-hitter Aaron Hill at the plate, Kimbrel said he lost focus and attempted to throw over to first base. With the Padres leading, 4-2, that run meant nothing at the moment. Wil Myers, a novice at first base making only his second start at the position, wasn't near the bag when the throw skipped through for an error, Pacheco taking second base.
"That was just me not paying much attention, I guess," Kimbrel said. "Out of the corner of my eye I saw how big a lead he had, but I forgot that Wil had backed off the base. That was just me having a mental lapse there. At that point he could have gone all the way around to third. I'm just focusing on the guy at the plate."
Hill, that guy at the plate, singled hard to right, Pacheco stopping at third. That brought up another pinch-hitter, Danny Dorn, and again Kimbrel recorded two quick strikes. But on the third pitch, Dorn doubled down the right-field line, scoring both runners and tying the score.
"It was a fastball down and in," Kimbrel said. "You can't be throwing it there.
"My stuff was good," he added. "I just didn't execute on a couple of pitches. That's what it came down to. It doesn't matter how well your stuff is working if you just don't execute the pitch."
It all turned out well in the end. It was his first blown save after nine conversions for the Padres since the trade a day before the start of the season that brought him to San Diego from Atlanta. The other 26 in a row were recorded last season for the Braves, dating back to this past June 20. He blew four saves in all for the Braves last season.
"I'm obviously disappointed anytime I give up any runs," he said. "But the team won yesterday and that's all that really matters."
Barry M. Bloom is a national reporter for MLB.com and writes an MLBlog, Boomskie on Baseball. Follow @boomskie on Twitter. This story was not subject to the approval of Major League Baseball or its clubs.