White Sox honor Honorary Bat Girl Huffmaster
Two-time cancer survivor advises cancer patients to never give up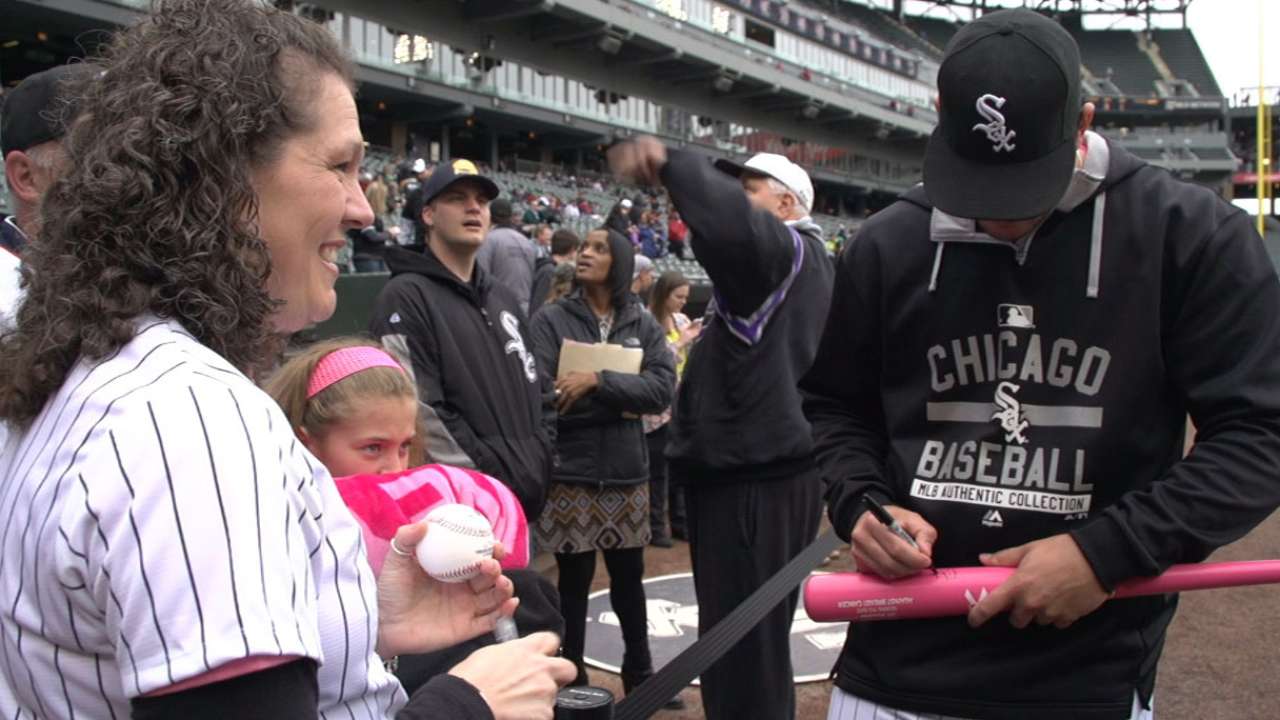 CHICAGO -- Jody Huffmaster of Lyons, Ill., stood on U.S. Cellular Field prior to Sunday's series finale between the White Sox and Reds, and she really couldn't believe she was standing on the home field of the White Sox.
"Oh my gosh. This is such an honor," said the 45-year-old Huffmaster with a broad smile. "I'm so excited to be able to be in front of everybody. This is very cool."
Huffmaster was on the field for Mother's Day to be recognized as the White Sox winner of Major League Baseball's Honorary Bat Girl contest, which recognizes baseball fans who have been affected by breast cancer and who demonstrate a commitment to eradicating the disease. She was nominated for this honor by her brother-in-law, John Running, but was surprised upon finding out she won.
The two-time breast cancer survivor is a die-hard White Sox fan and was looking forward to meeting everyone and anyone. The lone minor problem was her favorite player, Paul Konerko, retired at the end of last season.
On April 1, 1999, the then-29-year-old Huffmaster was diagnosed with breast cancer. She underwent a lumpectomy, eight rounds of chemotherapy and 36 radiation treatments. She was declared cancer free.
"When I first got told I had breast cancer, I was in shock," said Huffmaster, who was an office manager for a surgeon at the time of her first diagnosis. "I was only 29, but I said, 'You know what? I'm going to kick this in the butt and I'm going to beat it.' I'll do whatever I have to do to make it happen."
After beating cancer, Huffmaster got married to her husband, Rodney, and gave birth to her daughter, Miranda. But 14 years later, in January 2013, through a self-breast exam, Huffmaster found another lump. This time, she underwent a double mastectomy along with more chemo to treat the cancer's return.
"It was six months after my mammogram, and I felt a lump," Huffmaster said. "I called right away, and I just knew it was breast cancer again. It felt like the same as the first time.
"Scary, especially now having a child. Again, I never gave up. I was very positive about it and said, 'I want to beat this and kick its butt again.'"
She beat cancer again and was even more relieved to know through genetic testing that she was not a carrier and did not pass on the breast cancer gene to her daughter. Huffmaster became involved with the AVON Walk to End Breast Cancer, and in June of this year, she will be taking part in the event for a seventh time.
As part of her team, "Mommies on a Mission," Huffmaster has raised $132,989. She has personally raised $18,079. The heroic and strong Huffmaster also provides inspiration to others taking on the same battle against this hideous disease.
"I would tell them to stay positive, never give up," said an emotional Huffmaster of her advice for any cancer patient. "Keep the faith, and they will be fine."
Scott Merkin is a reporter for MLB.com. Read his blog, Merk's Works, and follow him on Twitter @scottmerkin. This story was not subject to the approval of Major League Baseball or its clubs.