Just-in time: Turner leads Dodgers over Rox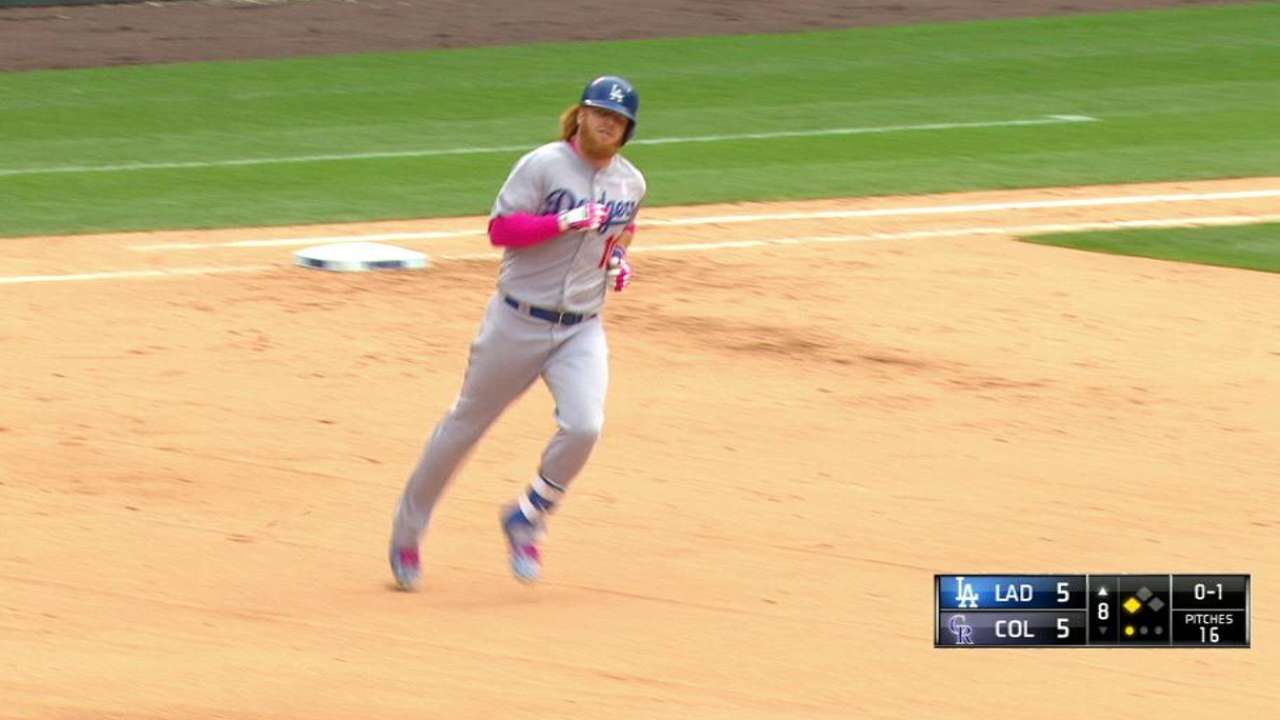 DENVER -- Justin Turner's two-run homer in the eighth inning lifted the Dodgers to their 11th victory in the last 15 games, 9-5 over the Rockies at Coors Field in a Sunday afternoon game played in cold weather -- after four inches of overnight snow was removed.
Turner's fifth homer of the season came off reliever Scott Oberg (1-1) to break a 5-5 tie, spark a four-run inning and send the Rockies to their ninth straight loss. While the Dodgers are a season-best 10 games above .500, the Rockies are in their longest skid since they dropped nine straight from Sept. 15-23, 2012.
"It was a breaking ball and I made sure I stayed in the middle of the field with it, the big part of the field," said Turner, whose shot was caught in the Dodgers' bullpen by reliever Adam Liberatore. "I hit it OK, but didn't think it was a home run."
The Rockies scored five runs in the fourth against Dodgers ace left-hander Clayton Kershaw for a 5-2 lead. But Rockies starter Jorge De La Rosa, who walked in a run in the fourth, walked the first three batters of the fifth before watching Adrian Gonzalez tie it with a three-run double. De La Rosa walked six in four innings pitched -- marking the 19th time in 28 games that the starter lasted 5 2/3 or fewer innings -- and the Rockies walked 10. The walk total was the Rockies' highest since May 15, 2012 at San Francisco.
"You feel like you get five off of Kershaw -- you know you have to work hard to get five off of him -- we have to play a complete game. We have to pitch better, get some clutch hits," Rockies manager Walt Weiss said.
MOMENTS THAT MATTERED
Double trouble: The Dodgers turned doubles by Alex Guerrero and Gonzalez into runs. Guerrero's leadoff double in the second inning was followed by Chris Heisey's single and Kiké Hernandez's fielder's choice grounder. Gonzalez doubled with one out in the fourth, and with two outs, De La Rosa issued three consecutive walks, the last to A.J. Ellis for the second run.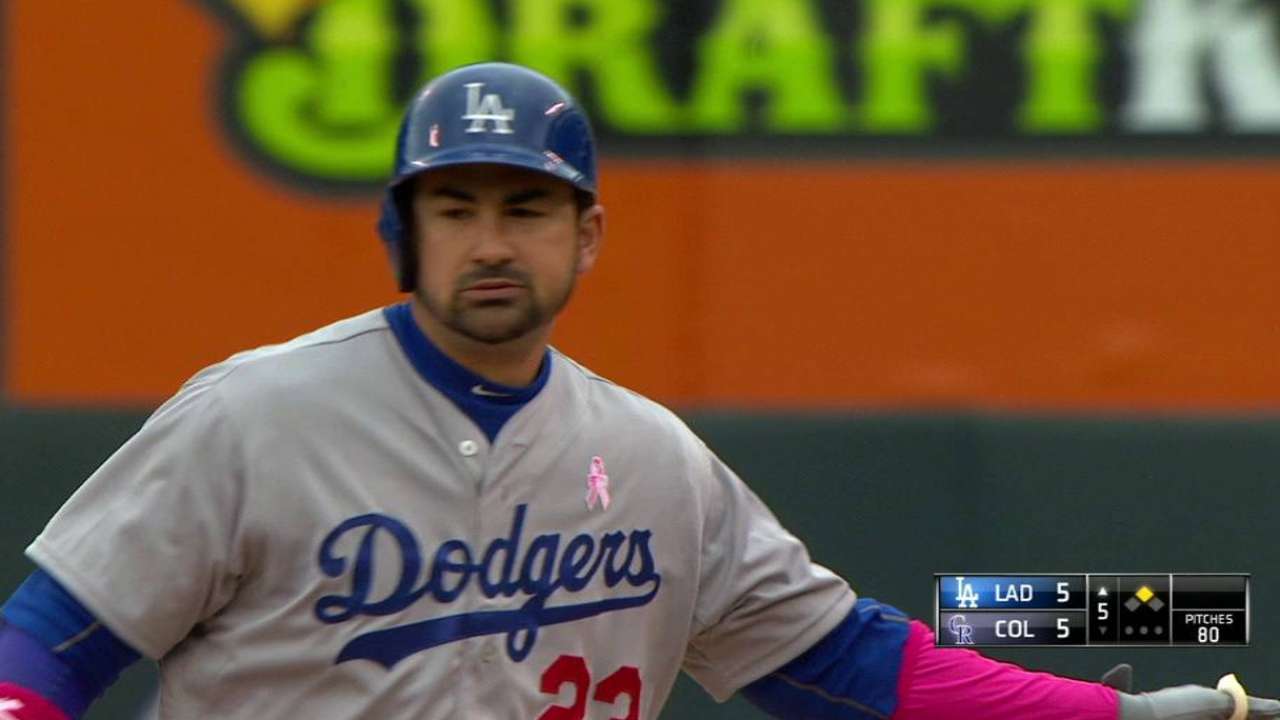 It pays to have bat control ... : De La Rosa kept his cool after his rough top of the fourth. With two outs in the bottom of the inning, De La Rosa came up with runners on second and third and chopped Kershaw's low, 2-2 fastball for a single to center field. De La Rosa's hit was the biggest in a five-run inning -- the Rockies' biggest inning of the season.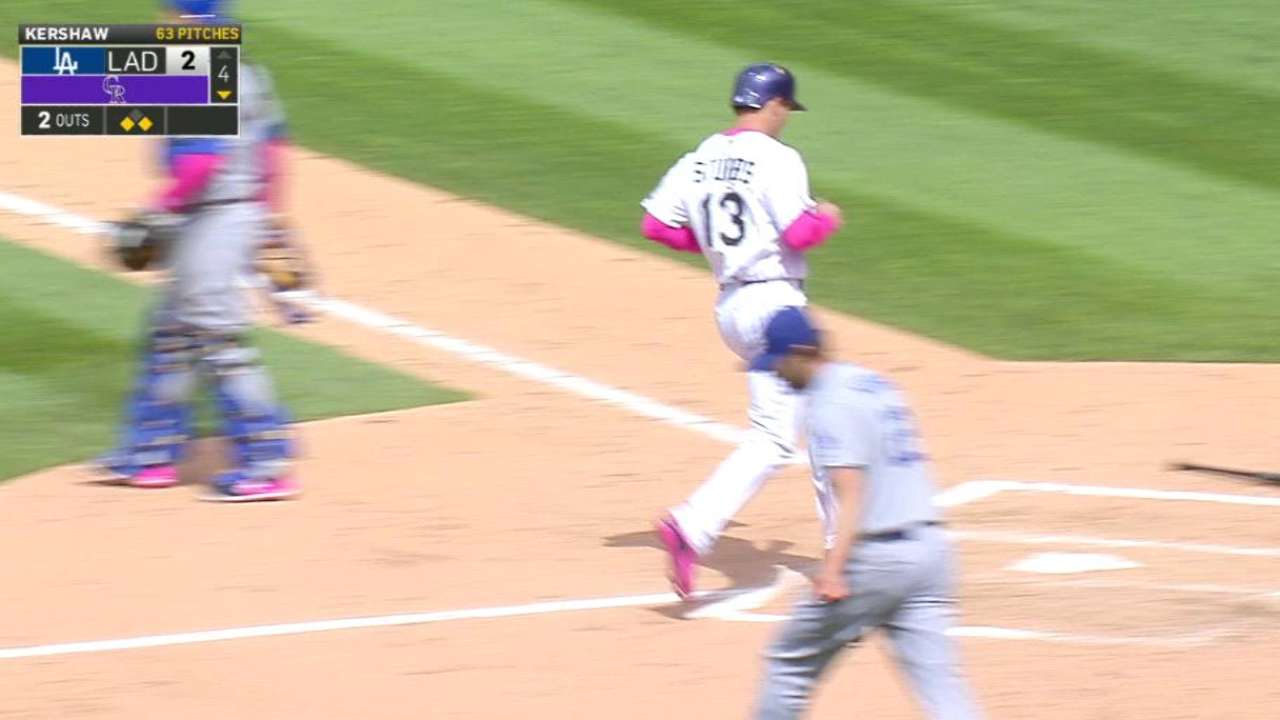 ... But poor pitch control doesn't pay: De La Rosa negated his big hit in the top of the fifth by walking the first three hitters on 16 pitches, then serving up Gonzalez's bases-clearing double that tied the game. That was it for De La Rosa.
"You're not trying to go out and walk the bases loaded after you score five -- that's not really the plan on anybody's part," catcher Nick Hundley said. "When that happens in front of the hottest hitter in the game right now [Gonzalez], it compounds on itself and it's not very conducive to winning."
Baez earns a win: Taking over for Kershaw with two outs in the bottom of the sixth and the bases loaded, rookie reliever Pedro Baez (1-0) struck out Troy Tulowitzki to keep the game tied at 5.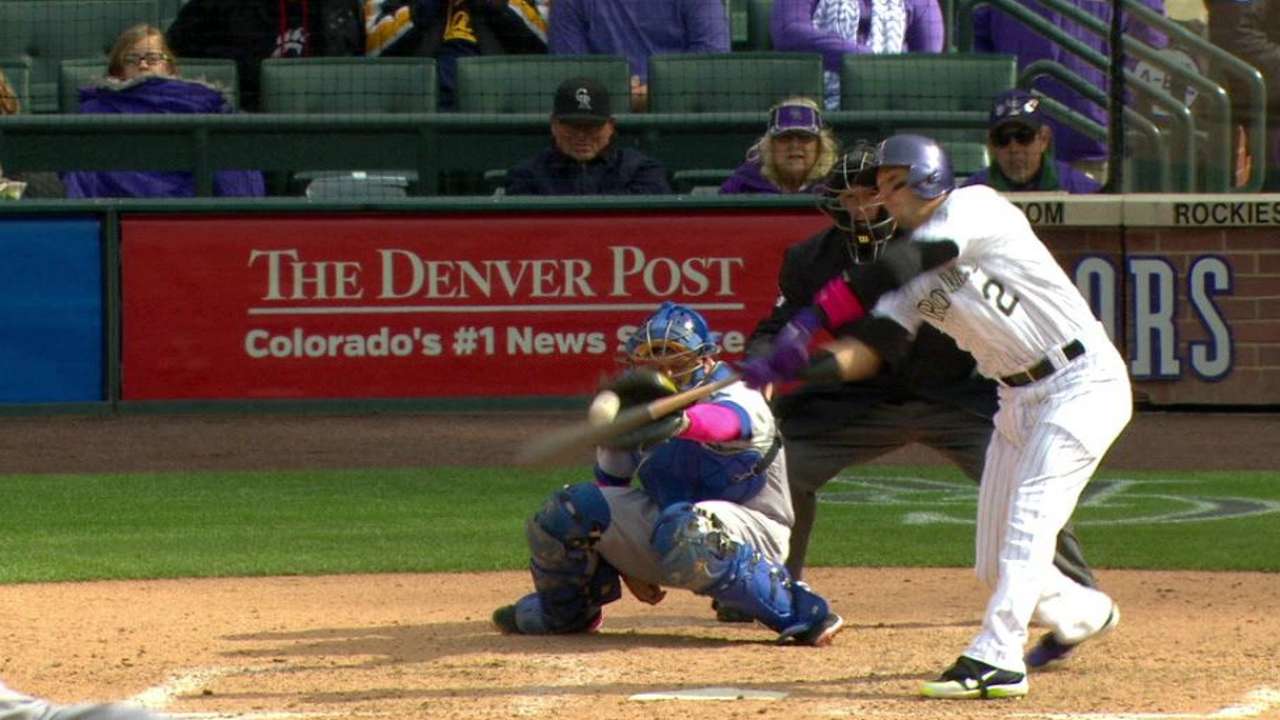 "He continues to grow," Dodgers manager Don Mattingly said of Baez. "He's been better with his location and his breaking ball is sharper. He's picked up a two-seamer and we've got confidence he'll throw strikes to bring him in that situation and still not have him give in."
QUOTABLE
"There wasn't a lot of wind. It was sunny. It's almost worse in San Francisco" -- Kershaw, on pitching in the cold.
"I'd much rather have a 12-game win steak," -- Hundley, on his career-best 12-game hit streak.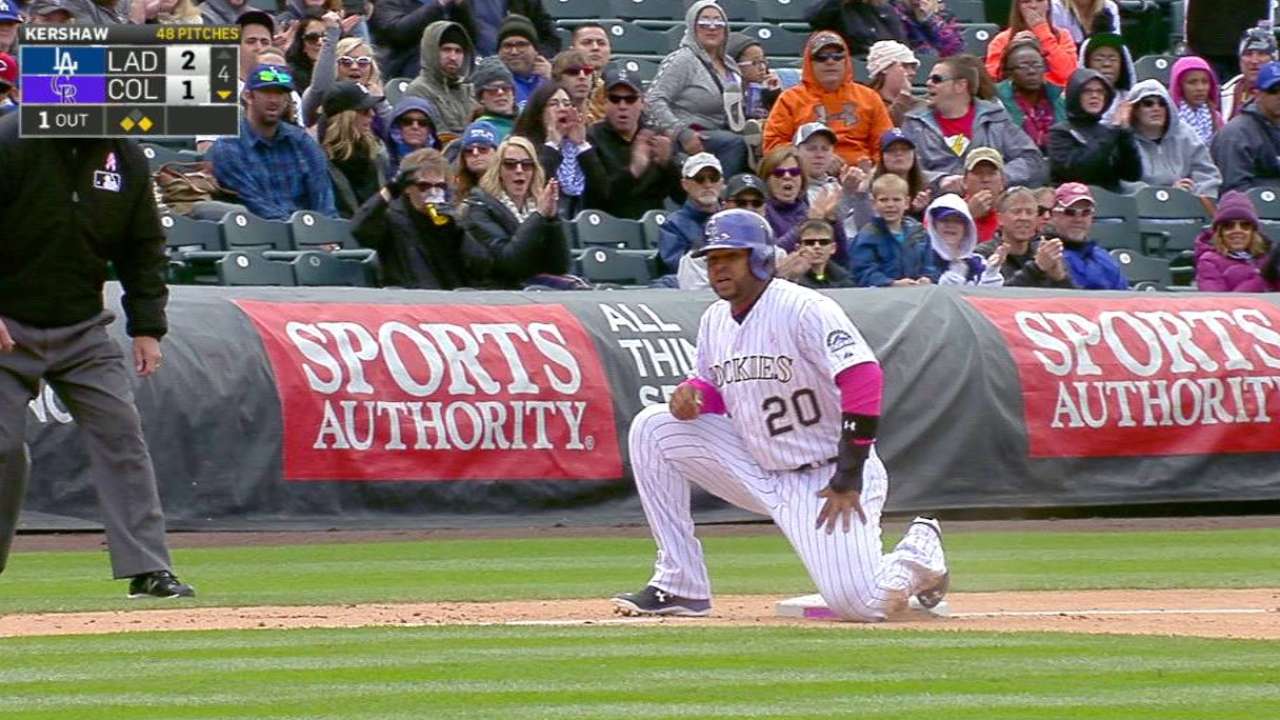 REPLAY REVIEWS
• The Dodgers' Jimmy Rollins was ruled out at first base to end the third by the narrowest of margins by first-base umpire Clint Fagan. Dodgers manager Don Mattingly challenged the play, but the call stood.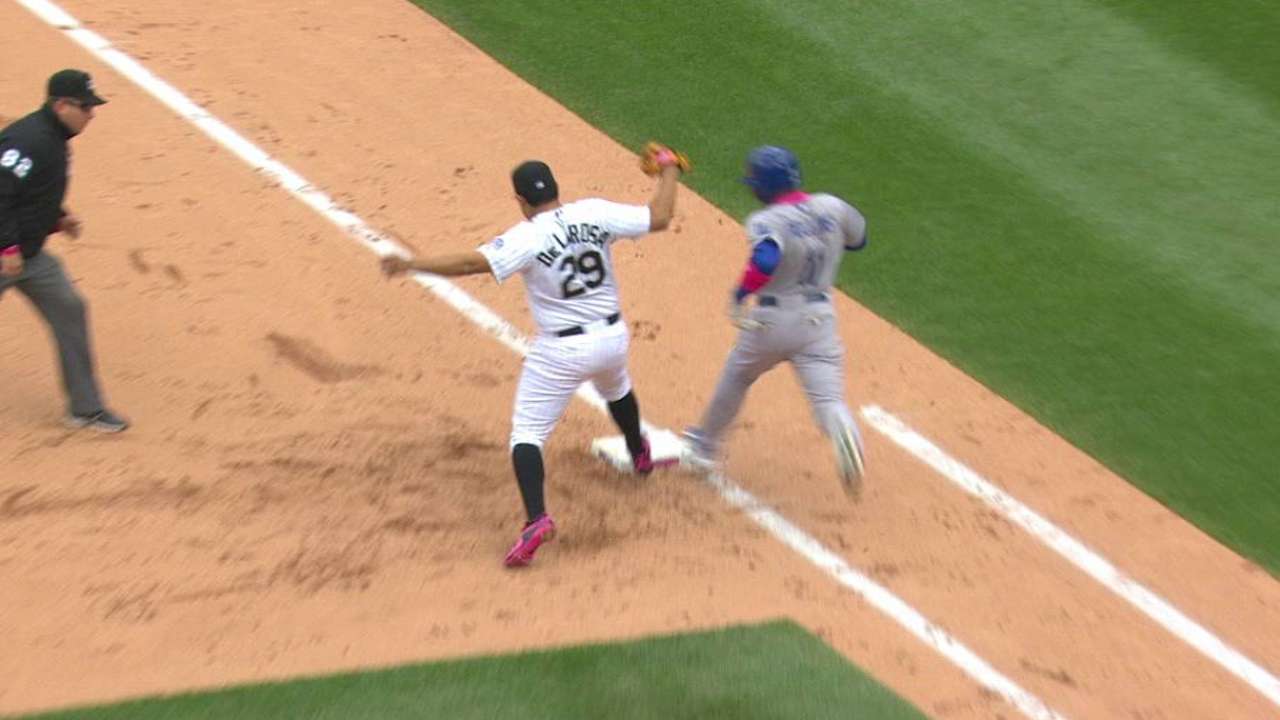 • With the game tied at 5, two on and two outs in the sixth, Rockies third baseman Nolan Arenado fielded Howie Kendrick's grounder and barely beat a sliding Joc Pederson to the bag. Third-base umpire Tim Timmons ruled Pederson safe at first, but Weiss challenged, and the call was overturned.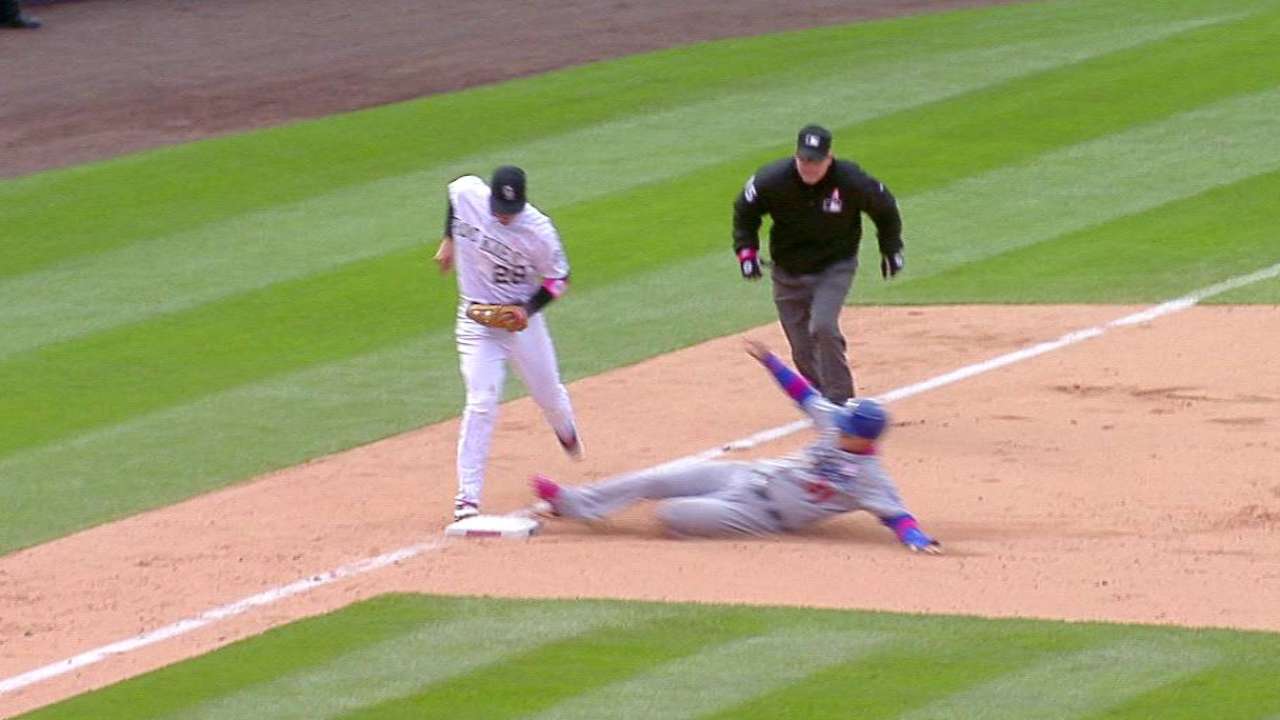 WHAT'S NEXT
Rockies: On seven days' rest, Rockies righty Kyle Kendrick (1-4, 8.37 ERA) will face the Angels and lefty C.J. Wilson (1-2, 2.70) on the road on Tuesday at 8:05 p.m. MT.
Dodgers: Zack Greinke will attempt to go 6-0 for this year and extend his two-season win streak to 11 when he starts Monday night against the Marlins in the opener of a seven-game homestand at 7:10 p.m. PT.
Watch every out-of-market regular season game live on MLB.TV.
Ken Gurnick is a reporter for MLB.com. Thomas Harding is a reporter for MLB.com. Follow him on Twitter @harding_at_mlb, and like his Facebook page. This story was not subject to the approval of Major League Baseball or its clubs.