Brewers Honorary Bat Girl throws out first pitch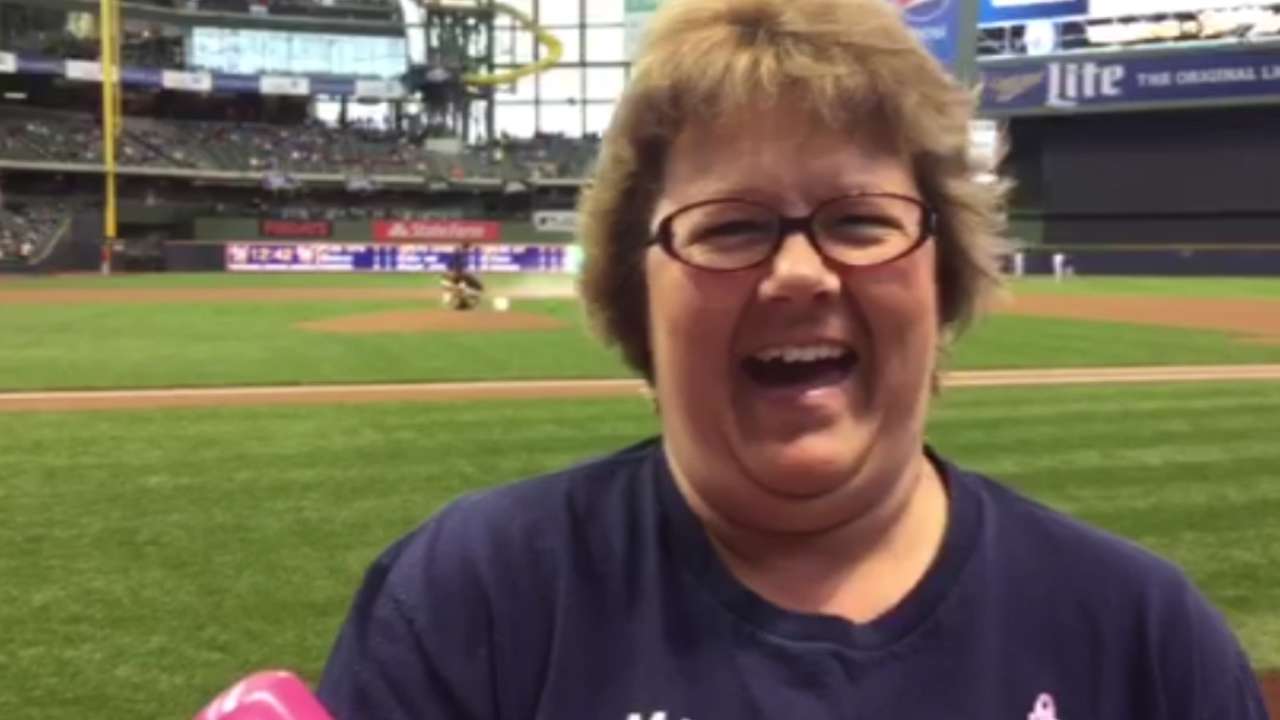 MILWAUKEE -- You don't beat breast cancer twice without more than a little courage, but Brewers fan Johanna Kretschmer was nevertheless battling butterflies as she prepared to throw the ceremonial first pitch on Mother's Day at Miller Park.
"I'm nervous and my hands are cold," Kretschmer said with a laugh. "So I'm kind of afraid."
Kretschmer, of Burlington, Wis., was the Brewers' Honorary Bat Girl on Sunday, part of Major League Baseball's effort to recognize fans who have been affected by breast cancer or have demonstrated a commitment to eradicating the disease.
Her daughter, Kristin, submitted a winning essay to earn her mom the honor.
"My mom has been battling breast cancer on and off for a while, and it was really hard for me because I have the gene myself," Kristin Kretschmer said. "So seeing my mom go through everything, I really wanted to do something special for her. This is the best way I knew how. I never dreamed she would win, but I'm really happy she did."
The Honorary Bat Girl program was introduced in 2009 to raise additional awareness and support for the annual "Going to Bat Against Breast Cancer" initiative celebrated on Mother's Day. In seven years, thousands of unique testimonials have been submitted throughout baseball and more than two million fan votes have been cast.
After Kretschmer delivered her first pitch to Brewers coach Joe Crawford, the Cubs and Brewers played in pink at Miller park. Players and on-field personnel wore the symbolic pink ribbon on their uniforms and pink wrist bands. Some wore pink cleats and swung pink bats. Commemorative base jewels and dugout lineup cards were pink. Even the baseball had pink stitching and lettering.
Many authenticated, game-used Louisville Slugger pink bats from Mother's Day games will be auctioned exclusively on MLB.com to benefit the fight against breast cancer.
Adam McCalvy is a reporter for MLB.com. Follow him on Twitter at @AdamMcCalvy. This story was not subject to the approval of Major League Baseball or its clubs.