White Sox deciding how to utilize Rodon
Chicago's top prospect transitioning into big league rotation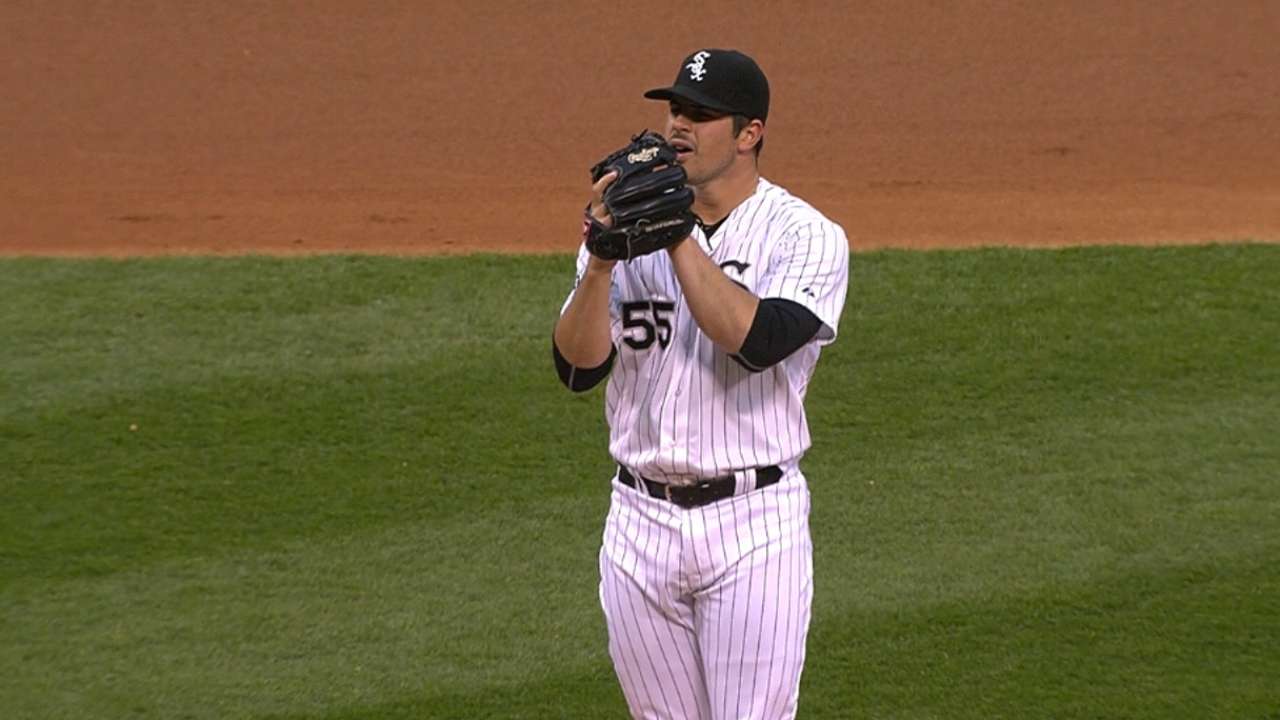 CHICAGO -- A decision has not officially been announced as to whether Carlos Rodon's next outing will be out of the bullpen or as a starter. But White Sox manager Robin Ventura stated Sunday that Rodon definitely won't be working in the upcoming three-game Brewers series after throwing 108 pitches Saturday night during his first Major League start.
"He'll need some days off," Ventura said.
Rodon had breaks in between his three previous relief outings, having thrown 60 pitches on April 21, five pitches on April 29 and then 63 on May 2. So this four-day absence from game action, factoring in Thursday's off-day, is not unusual.
There's little question, though, that Rodon best helps the White Sox as part of the rotation. He fanned eight over six innings against the Reds, all of the swinging variety, showing off that wipeout slider and a fastball that touched 99 mph.
Rodon knows he's a starter going through the transition of moving into a big league rotation. But managing first-year innings for the team's top prospect per MLB.com remains a concern for the White Sox as they move forward.
If he remains in the rotation through the end of the season, Rodon would have somewhere around 25 starts ahead of him. An average of six innings per start puts Rodon near 160 innings total, which is the unofficial target total that makes sense for the southpaw. Then again, if the White Sox return to contention, they would want Rodon in the mix in September and not to have to shut him down.
"Right now, he's just pitching. I think that's where he's at. He's happy to be here in the big leagues," said Ventura of Rodon. "And he has the ability. That's why he's here.
"You're also somewhat protecting the amount of usage you're going to get out of him over the course of the year, so there's some factors that go into it for him and his learning curve and things like that. There's more to it than he's just ready to go."
Ventura mentioned that Hector Noesi, who left Saturday's first game after 1 2/3 innings when he was hit by a Billy Hamilton line drive about the right hip, could be available out of the bullpen Sunday with the middle relief a little taxed. As an example, Scott Carroll and Dan Jennings weren't available for the series finale.
Sunday also marked Jose Quintana's side day, meaning he was available for an inning if needed. The White Sox thought about making a move to add a fresh arm but decided they could get through until Monday.
The temporary move of Jose Abreu to third base for Interleague Play at a National League ballpark probably won't be happening in Milwaukee. Abreu fouled a ball off of his left foot Saturday, and his mobility is slightly hampered.
Scott Merkin is a reporter for MLB.com. Read his blog, Merk's Works, and follow him on Twitter @scottmerkin. This story was not subject to the approval of Major League Baseball or its clubs.