MLB.com Columnist
Tracy Ringolsby
Bryant's homer should be the first of many
When a player goes deep for the first time is no indication of future power prowess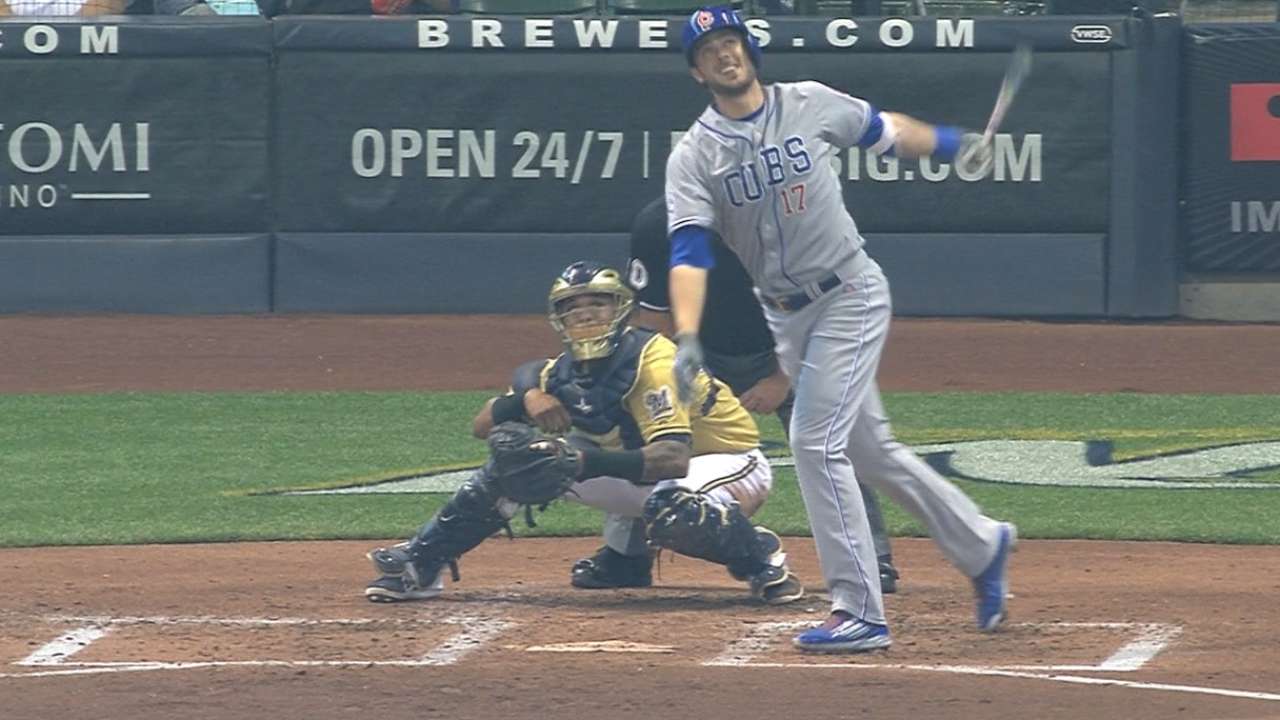 The baseball world can relax. Cubs third baseman Kris Bryant has delivered -- finally.
It took Bryant 74 at-bats, but in the third inning on Saturday, he hit his first Major League home run -- a two-run shot off Brewers right-hander Kyle Lohse, which gave the Cubs a short-lived 3-2 lead. Milwaukee eventually won the game, 12-4.
Bryant, though, won a reprieve from the daily scrutiny of a sports world waiting for the highly-acclaimed prospect who hit 43 home runs in the Minor Leagues in 2014 to clear the fences for the first time in the Majors.
Not that when he hit that home run will determine how good Bryant can be. The second player taken in the 2013 First-Year Player Draft has displayed plenty of skills that bode well for his future. Even with only one home run, he had 17 RBIs over his first 21 big league games. Yes, Bryant struck out 30 times over his first 94 plate appearances -- 76 at-bats -- but he also hit .276 and had drawn 17 walks.
Is Bryant the next Mickey Mantle or Hank Aaron or Barry Bonds? Only time will tell.
What the past, however, makes perfectly clear is that "chicks may dig the long ball," but when a player hits the first one of his Major League career doesn't really reveal much of anything.
There have been 115 players who hit a home run in their first big league at-bat, including Eddie Rosario of the Twins just last Wednesday. The list includes two eventual Hall of Famers: Earl Averill (who finished with 238 home runs) and Hoyt Wilhelm (a knuckleball pitcher who never hit another home run in 431 additional at-bats).
Wilhelm is among 22 players who homered in their first career at-bat but then never hit another home run. And he is one of 10 pitchers in that group, which also includes Tommy Milone, currently with the Twins.
Averill's 238 home runs rank sixth for a player who homered in his first big league at-bat, behind Gary Gaetti (360), Carlos Lee (358), Jermaine Dye (325), Will Clark (284) and Tim Wallach (260).
Luke Stuart was the first player to hit a home run in his first at-bat (on Aug. 8, 1921 with the St. Louis Browns) and never hit another home run. Stuart and Johnnie LeMaster are the only players to hit an inside-the-park home run in their first Major League at-bat. LeMaster finished with 22 home runs in 3,191 at-bats.
And then there is Duane Kuiper, who had one home run in 3,379 career at-bats. The Indians' second baseman connected off White Sox right-hander Steve Stone in the first inning on Aug. 29, 1977, in his 1,382nd at-bat.
At the other extreme are the droughts that the elite home run hitters in history suffered through before finally going deep for the first time in their careers.
Alex Rodriguez, who last week hit No. 661 of his career to move ahead of Willie Mays into fourth place on the all-time home run list, went 102 homerless at-bats to begin his career before connecting off Royals right-hander Tom Gordon on June 12, 1995, for No. 1.
Mantle, the all-time leader among switch-hitters with 536 homers, hit his first off Randy Gumpert of the Chicago White Sox on May 1, 1951, in his 49th at-bat. That was just 27 days before Mays, who connected in his 13th at-bat for No. 1 off Hall of Fame left-hander Warren Spahn.
Get the picture? Aaron, whose long-standing record of 755 home runs was broken by Bonds, hit No. 1 in his 26th at-bat, while Bonds, who finished with 762 in his career, hit No. 1 in his 25th at-bat.
Now, Babe Ruth -- the Sultan of Swat, who made home runs an expectation instead of an outlier -- did hit his first home run in his 18th at-bat, on May 6, 1915, off Yankees pitcher Jack Warhop, who also gave up Ruth's second home run, on June 2, 1915. At the time, though, Ruth was a pitcher for the Red Sox, who didn't make him a full-time hitter until 1919, the year before he was sold to the Yanks.
In Ruth's first five full big league seasons -- all with the Red Sox -- he had 49 total home runs. In his first campaign with the Yankees in 1920, he hit 54, and followed that up with 59 in '21.
Roger Maris finished with 275 home runs in his career, but he became a power-hitting sensation with the Yanks in 1961 -- when he hit 61 home runs, breaking the record at the time of 60 that was held by Ruth. Maris hit the first home run of his career in his second game and 10th at-bat, an 11th-inning grand slam for the Cleveland Indians off Jack Crimian in Detroit on April 18, 1957.
Angels outfielder Mike Trout, who was the latest sensation before Bryant even signed a pro contract, was homerless in his first 38 at-bats before hitting No. 1 off Mark Worrell in Baltimore on July 24, 2011.
Bryce Harper, a teen sensation when he debuted with Washington in 2012, didn't hit No. 1 until he connected off Padres right-hander Tim Stauffer on May 14, 2012, in his 54th at-bat. That's the same Harper, who went into Sunday with six home runs and 12 RBIs his past three games.
That's 20 at-bats quicker than Bryant hit the first one of his career, not that it matters. History has proven that.
Tracy Ringolsby is a columnist for MLB.com. Read his blog, Write 'em Cowboy. This story was not subject to the approval of Major League Baseball or its clubs.