Phillies honor cancer survivor on Mother's Day
Roni Storti a longtime fan, active in fundraising and awareness efforts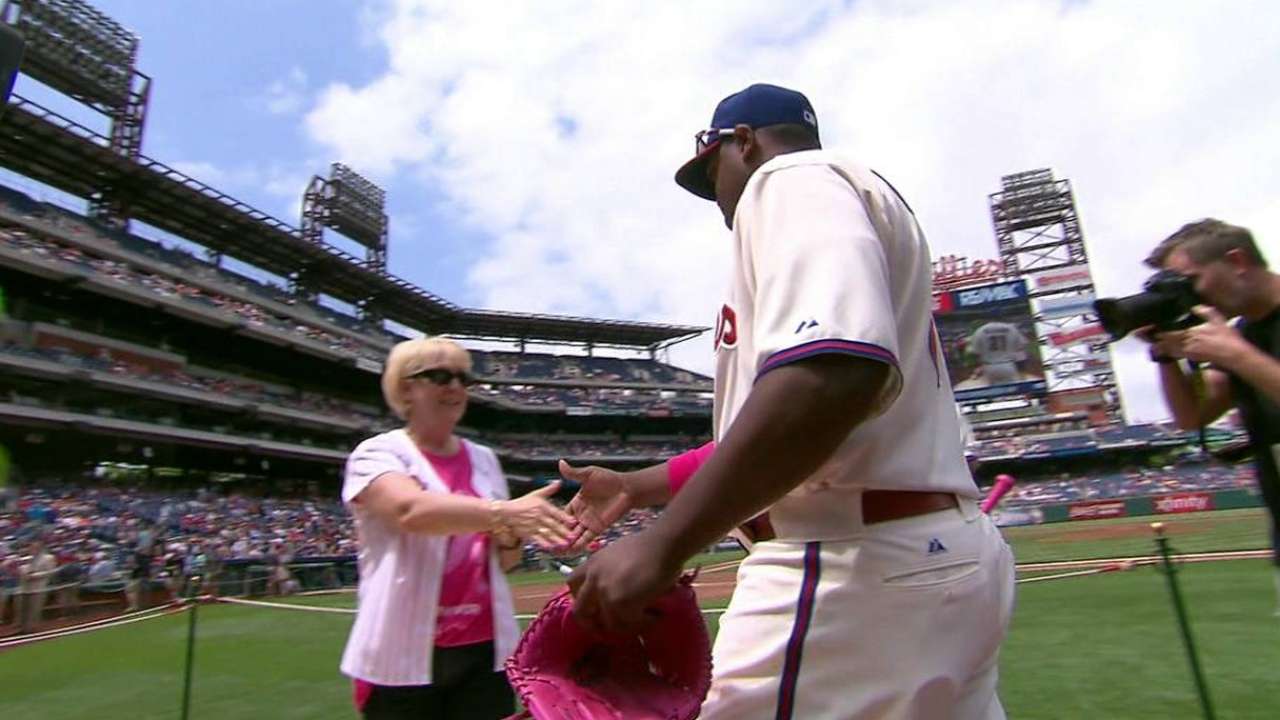 PHILADELPHIA -- The Phillies honored breast-cancer survivor and longtime fan Roni Storti as the team's Honorary Bat Girl on Sunday before their game against the Mets. The tribute was part of MLB's annual Mother's Day "Going to Bat Against Breast Cancer" campaign.
Storti, a native of Trappe, Penn., was diagnosed with breast cancer in 2009. She is now cancer-free but hasn't distanced herself from the disease, working to raise awareness and funds to find a cure. She has participated in events for the American Cancer Society, Unite for Her and Susan G. Komen Race for the Cure.
"Roni Storti is an inspiration when it comes to going to bat against breast cancer," said Mary Ann Moyer, the Phillies' director of community initiatives. "Roni is committed to the cause, and we are honored to have her as our Honorary Bat Girl."
Storti said she was both excited and nervous about the opportunity, and she understands that what she's doing is about much more than her story.
"The opportunity to represent breast-cancer survivors is bigger than I am," Storti said. "It's amazing. To be a survivor is amazing. To represent them, I can't even say."
She said that as a lifelong fan, this was pretty close to a perfect day -- but one thing could make it even better.
"They're going to need to win," she said.
Nick Suss is an associate reporter for MLB.com. This story was not subject to the approval of Major League Baseball or its clubs.