Twins' offense thriving without star power
Molitor credits discipline, clutch hitting for success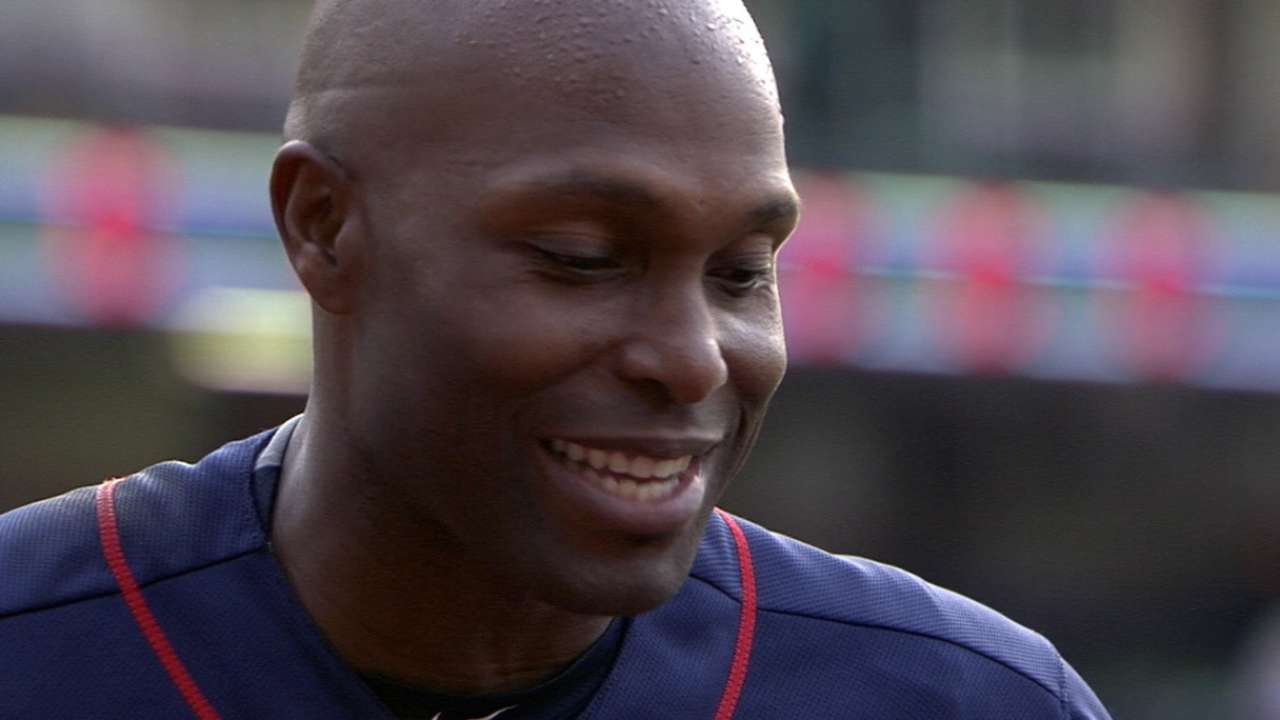 CLEVELAND -- When a team hires a new manager, often times a fresh staff of new coaches comes along with him.
Yet, the first thing first-year Twins manager Paul Molitor did was to retain hitting coach Tom Brunansky, who has been with the team in that capacity since the beginning of the 2013 season.
He saw something in Brunansky last year. He saw how a team with limited star power or veteran experience was able to finish seventh in the MLB in runs scored. Only four players received enough plate appearances to qualify for the batting title, yet it seemed whoever the Twins plugged into their lineup did their job, and the team kept scoring.
"I saw the relationship he has with the players and the trust factor," Molitor said. "I see the time that he puts in, and the knowledge that he has to offer. In addition to knowing guys' swings and game plans, there has to be a connection to the players. I think all these guys put a lot of faith in him. It was hard to argue with what our offense did last year."
The Twins added veteran Torii Hunter in the offseason, but apart from that, this year's lineup is similar to last year, in that there's nobody that jumps out as an All-Star type slugger. Yet, once again, the Twins find themselves near the top of the leaderboard in runs scored.
"It's kind of a cumulative body of work of all your players," Molitor said. "I don't know if we have league leaders in many categories … but a theme as of late that our offense has picked up has been that it's been spread out as much as it has been."
They racked up 16 hits in a victory over Cleveland on Saturday. Another 13 came in a win on Friday. They've scored a season-high 13 runs twice in the month of May. On the surface, it might be tough to imagine where all this offense is coming from. On the other hand, it's impossible to argue with the results.
Perhaps it stems from a refined approach at the plate. The Twins aren't beating teams by hitting the ball out of the park. Their isolated slugging percentage of .122 ranks 23rd in the Major Leagues. Rather, they're beating teams by stringing hits together. Never giving up on an at-bat. Getting the big hits at the right time.
"Your offense looks so much better when you get two-out hits," Molitor said. "It's really changed the dynamic of some of these games we've played."
With runners in scoring position, the Twins have an OPS of .826 -- eighth-best in MLB. On Saturday, 11 of their 16 hits came with two strikes. The Twins credit Brunansky and veteran Joe Mauer, who's long been one of the league's most disciplined hitters, for the trickle-down approach rubbing off on the team's youngsters.
"When you have your veteran players showing you how to do it day in and day out, I think people are watching and paying attention to that," Molitor said. "Just instilling the mindset that with runners in scoring situations, at-bats are valuable. You're only going to get so many. You hate to squander any of them. The less you give away, the better it's going to bode for the end result."
August Fagerstrom is an associate reporter for MLB.com. This story was not subject to the approval of Major League Baseball or its clubs.