MLB.com Columnist
Bill Ladson
Robinson, Scherzer admiring Harper's development
Outfielder is 6th player with three walk-off homers by age 22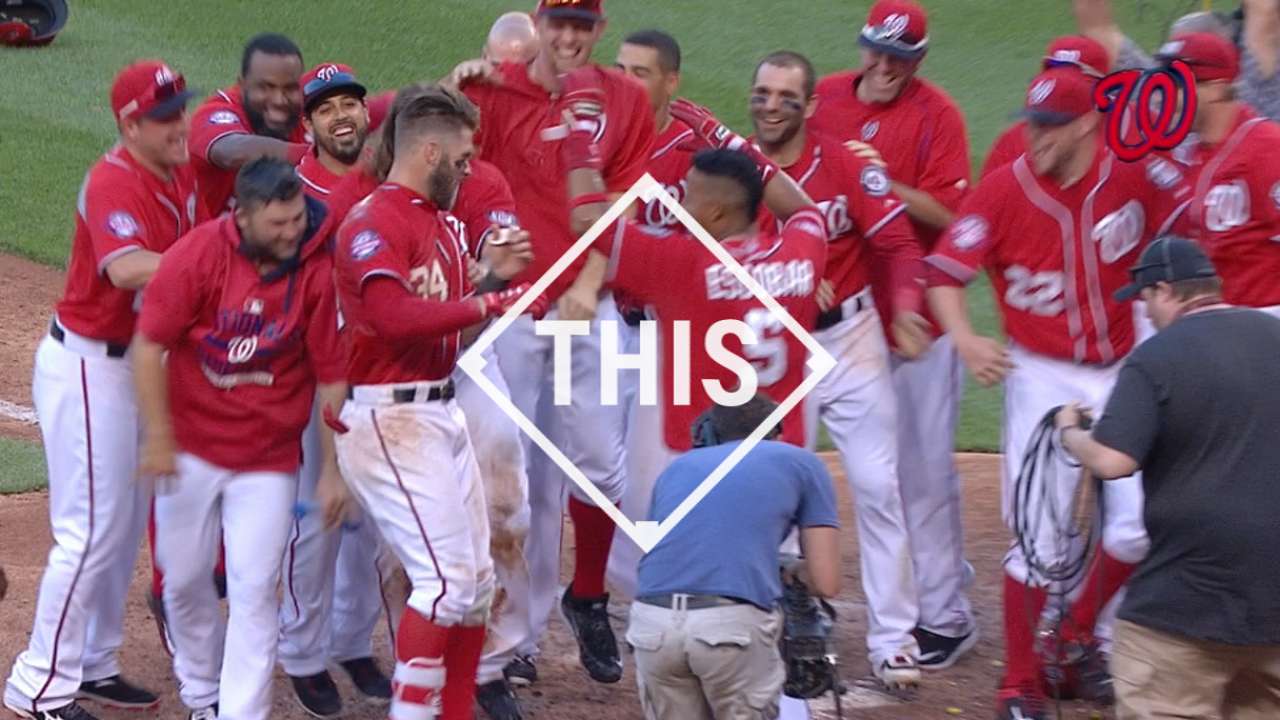 WASHINGTON -- Nationals right fielder Bryce Harper has put on a show at the plate this week, going 10-for 16 (.625) with six home runs and 13 RBIs following Sunday's 5-4 win over the Braves. The last player to hit six home runs in three games was then-Dodgers first baseman Hee-Seop Choi from June 10-12, 2005.
Among Harper's admirers are Hall of Famer Frank Robinson and Nationals right-hander Max Scherzer.
Harper joined Robinson and four other players -- Tommy Davis, Eddie Murray, Juan Gonzalez and Ryan Zimmerman -- to have three walk-off homers by age 22.
Robinson remembered all the hype that came with Harper after he was drafted in the 2010 First-Year Player Draft. Robinson now sees Harper as a better hitter compared to when he first came to the Major Leagues in 2012.
"It took him a couple of years to get his feet off the ground," Robinson said. "I think he now understands the pitchers in the league what they are trying to do to him. He made some adjustments. He is the real thing. I think you're going to see a lot of exciting things out of this young man for a lot of years."
During his career, Scherzer has seen a player like former teammate Miguel Cabrera go on a home run tear. While Harper is not the same player as Cabrera, Scherzer has seen a difference in Harper from the start of the season until now.
"He is getting better in front of our eyes. He is a better now than he was at the beginning of the season,"Scherzer said. "He is understanding to be patient. When he is up in the count -- 2-0, 3-1 -- the pitcher might pitch him down and away. That's not a home run situation. He drives the ball to left. We saw that Saturday. We saw that a couple of other times where he is not being overly aggressive in those situations.
"He is taking what's given to him and take his knock to left. That's big time tough -- understanding situations like that and using some baseball IQ and continuing to have success. His power is his strength. That's the stuff that allows him to be great."
Scherzer also said that Harper is playing great defense in the outfield. In the seventh inning Saturday, for example, the Braves had a runner on second, when Nick Markakis hit a ball to deep right field. The ball was over Harper's head, but he managed to make a nice running catch to end the inning.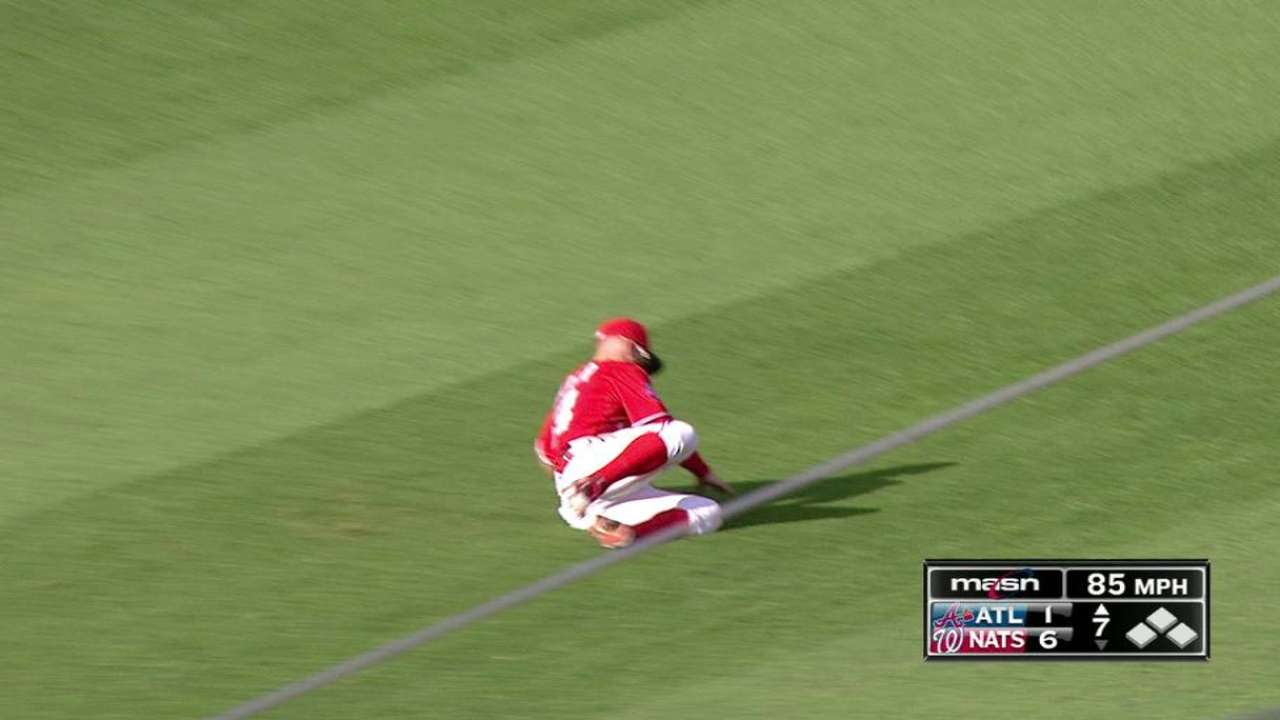 "That's what been great. We were about 30 games into the season when we were talking about how he hasn't made any mistakes," Scherzer said. "He hasn't had a dropped ball or made an error. He is making all the plays. He is also going out there and showing his range. He is really doing a great job of covering the line, going back on balls and preventing doubles. He is doing a great job in right."
Bill Ladson is a reporter for MLB.com and writes an MLBlog, All Nats All the Time. He also can be found on Twitter @WashingNats. This story was not subject to the approval of Major League Baseball or its clubs.