Yanks central to bat girl's fight against cancer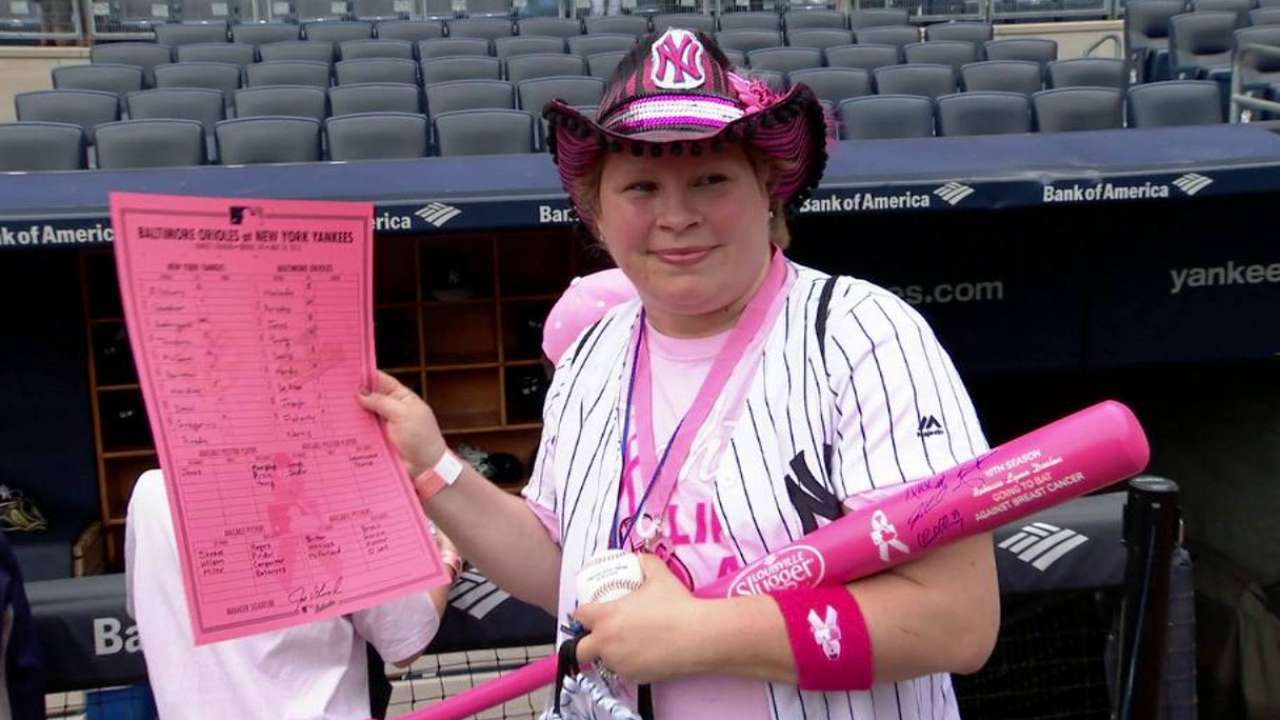 NEW YORK -- The day she was diagnosed with Stage IV metastatic breast cancer, Rebecca Doolen made a decision.
Doolen could see that her four children were scared. To be honest, she was scared, too.
She knew that for the family to deal with the diagnosis and the treatment to come, it was important to keep their lives as normal as possible.
For Doolen, who lives in Utica, N.Y., normal meant watching the Yankees. She fell in love with the team long ago, soon after she fell in love with Bronx-born Everaldo DeJesus, who would become her husband. They would watch the games together, and eventually their four children would watch with them.
Sunday, Doolen was watching from up close. On Mother's Day, she was the Yankees' honorary bat girl, recognized in an on-field ceremony before the game against the Orioles.
"What an honor," she said, just before Yankees manager Joe Girardi handed her a pink official lineup card. "To be honored by the Yankees? To me, Major League Baseball is the Yankees. I'm here to represent women all over the world."
Doolen was diagnosed in February 2014, and had a double mastectomy a month later. She has eight weeks to go in a 52-week chemotherapy regimen, but she was told two weeks ago that a test showed no evidence of disease.
"This is my seventh-inning stretch," she said.
Masahiro Tanaka makes it a happy Mother's Day for some decked-out #Yankees fans. #PinstripePride pic.twitter.com/XVCetxV1jj

— New York Yankees (@Yankees) May 10, 2015
Doolen, 43, has been active in fundraising for breast cancer research. She participated in the walk hosted by "Making Strides Against Breast Cancer."
As she did it, though, baseball was never far from her mind, or from her family.
"We counted down the days of my chemo, right along with counting the days to Spring Training and to Opening Day," Doolen said. "You build a team when you're fighting breast cancer. Just like the Yankees, I built the best team. I picked the best doctors in my area. I picked the best support groups, along with my friends and my family.
"And then, when you have the Yankees behind you, you don't think you can lose. Little by little, you find yourself coming out the other end."
As Doolen watched batting practice on the field with her children, various Yankees players stopped by to sign autographs. In addition to the pink lineup card, Doolen had a pink bat, engraved with her name.
She had her picture taken with several players, including Masahiro Tanaka, whose presence attracted photographers from Japan, as well.
"We love Tanaka," she said. "I know he doesn't sign that many autographs, so we were honored that he signed for us."
Doolen likes to joke with her husband that their marriage spanned Derek Jeter's entire Yankees career. There's no doubt that the team has been a part of their lives, and a part of her battle to fight breast cancer.
"Just like the Yankees, I'm going to win," she said. "I'm going to beat this thing. Losing is not an option."
Danny Knobler is a contributor to MLB.com. This story was not subject to the approval of Major League Baseball or its clubs.