Campbell proud to serve as Honorary Bat Girl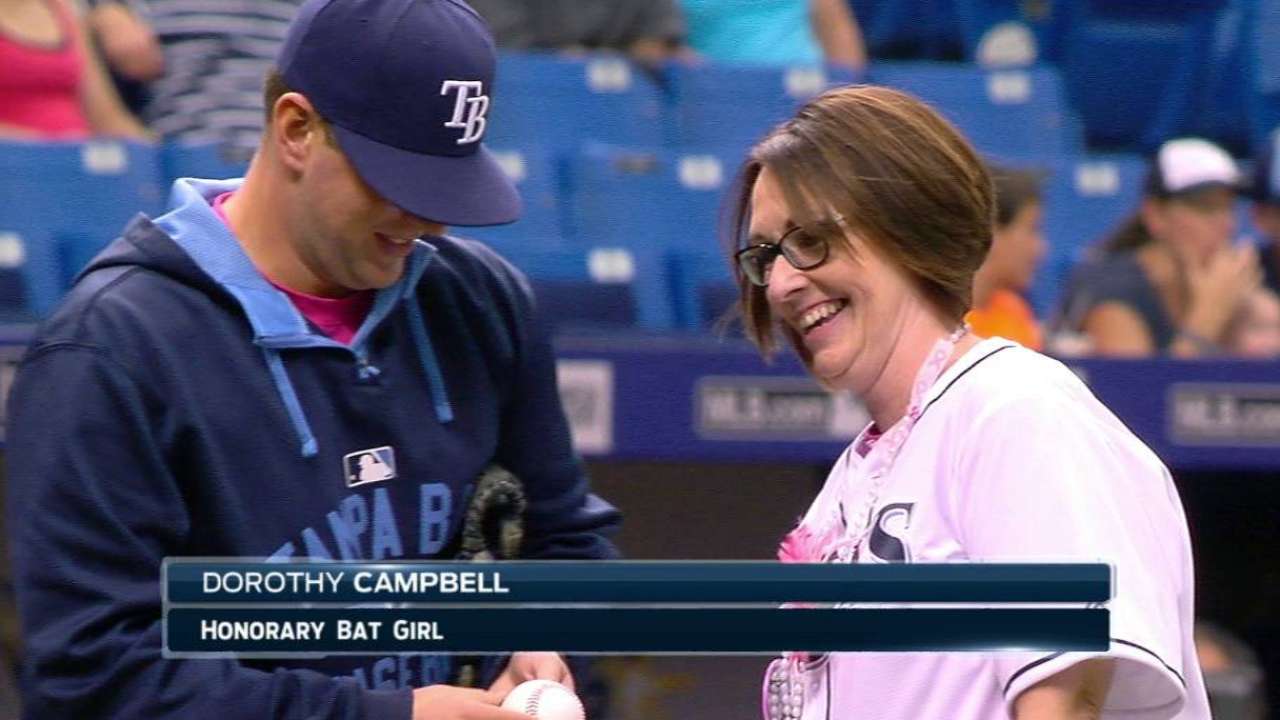 ST. PETERSBURG -- The Rays honored Dorothy Campbell of New Port Richey as their Honorary Bat Girl for 2015 prior to Sunday's series finale against the Rangers.
"It's a really cool honor," Campbell said. "We've been life-long baseball people. My grandmother got me involved in baseball coming down here to see the Clearwater Phillies. We relocated from Philadelphia just to do that."
Every year, Major League Baseball recognizes baseball fans who have been affected by breast cancer and who demonstrate a commitment to eradicating the disease.
Campbell, who was nominated by her family, was diagnosed in 2010 with breast cancer. Since her original diagnosis, Campbell and her support team raised over $20,000 for Making Strides Against Breast Cancer. Though she went into remission after her original diagnosis, Campbell was recently diagnosed with metastatic triple negative breast cancer.
Given what she has gone through and what she continues to experience in her fight, Campbell said that she gets a lift from all the work being done to promote breast cancer awareness.
"It's been hard," Campbell said. "Especially this last year. It's been really a battle. So it's really awesome that I get to do this. I don't have a lot on my bucket list, but this is really one of them."
The Honorary Bat Girl program was introduced in 2009 to raise additional awareness and support for the annual "Going to Bat Against Breast Cancer" initiative celebrated on Mother's Day. In seven years, thousands of unique testimonials have been submitted and more than 2 million fan votes have been cast. Going to Bat Against Breast Cancer is a Major League Baseball initiative supported by MLB charitable partners, Stand Up To Cancer and Susan G. Komen. This initiative raises awareness about the breast cancer cause, while also raising funds to support breast cancer research.
Bill Chastain is a reporter for MLB.com. This story was not subject to the approval of Major League Baseball or its clubs.