MLB.com Columnist
Phil Rogers
ASG debate: Is Pederson or Bryant the top rookie?
Dodgers outfielder has early power edge, but Cubs third baseman is on the rise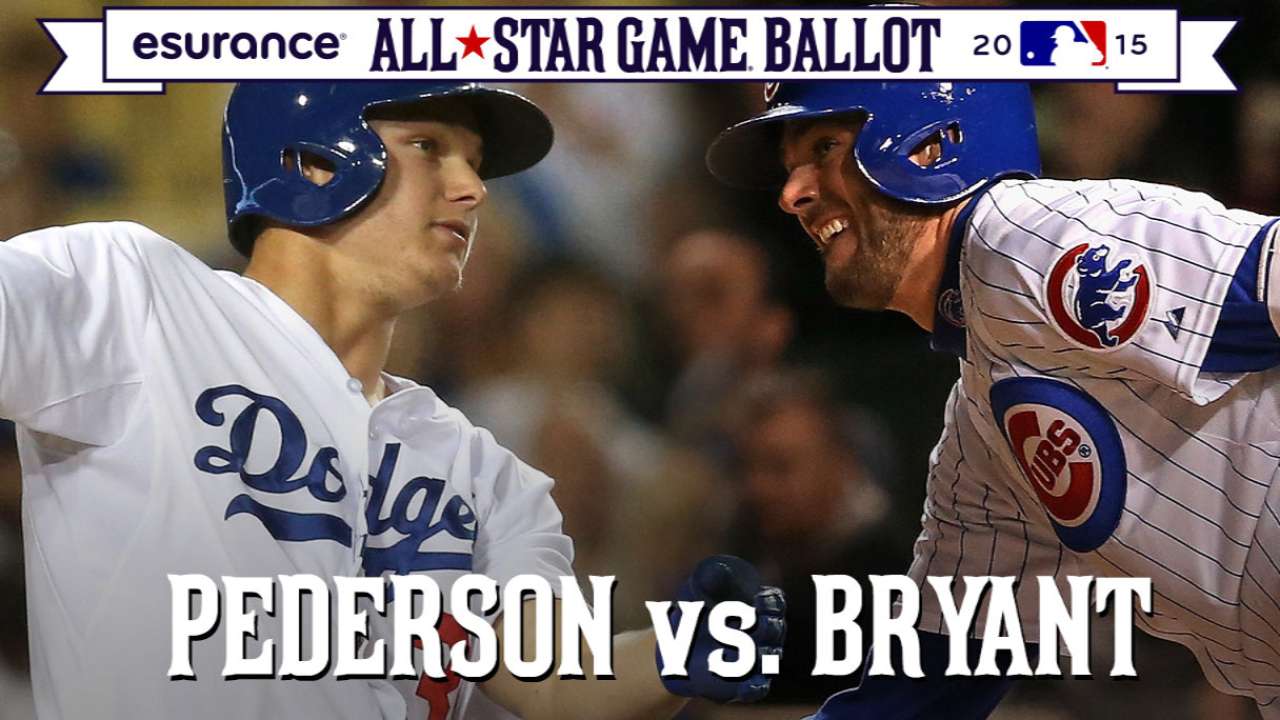 *** We will be doing daily ASG debates until balloting ends on July 2. We will frequently be pitting one player against another and have a writer make a case for one of them, but that doesn't mean there aren't other great candidates for that position. In fact, your comments could spark a new debate for us to tackle. So let us know what you think. ***
Maybe this summer's All-Star Game will be like the 2012 event in Kansas City, which featured Mike Trout and Bryce Harper among a wave of rookies and first-timers taking bows at Kauffman Stadium.
Baseball is riding another wave of young talent this spring, with big-name prospects turning into Major League stars before our wide-open eyes. Youth will certainly be represented at Great American Ball Park in Cincinnati on July 14.
But if you had to make a choice between the guy who was most breathlessly awaited and the one who has made the biggest difference in the early going, who would you pick? The Cubs' Kris Bryant or the Dodgers' Joc Pederson?
Really, you can only pick one? That would be a horrible development. But, for argument's sake, imagine that is true. You've got to click on one of those names, and only one. Which is it going to be?
(As an aside, what would you have done in this same exercise three years ago -- Harper, not Trout? Trout, not Harper? Trout was out-producing him even back then, so it would have been the latter, but Harper earned his spot, too.)
At this point in time, the Pederson-Bryant decision is even easier. It's Pederson, which is no knock on Bryant.
The Dodgers' center fielder, who just turned 23, has emerged as one of the most dynamic hitters in baseball over the last two weeks. He banged out seven home runs over a stretch of nine games, showing one of the reasons that Andrew Friedman was willing to trade Matt Kemp.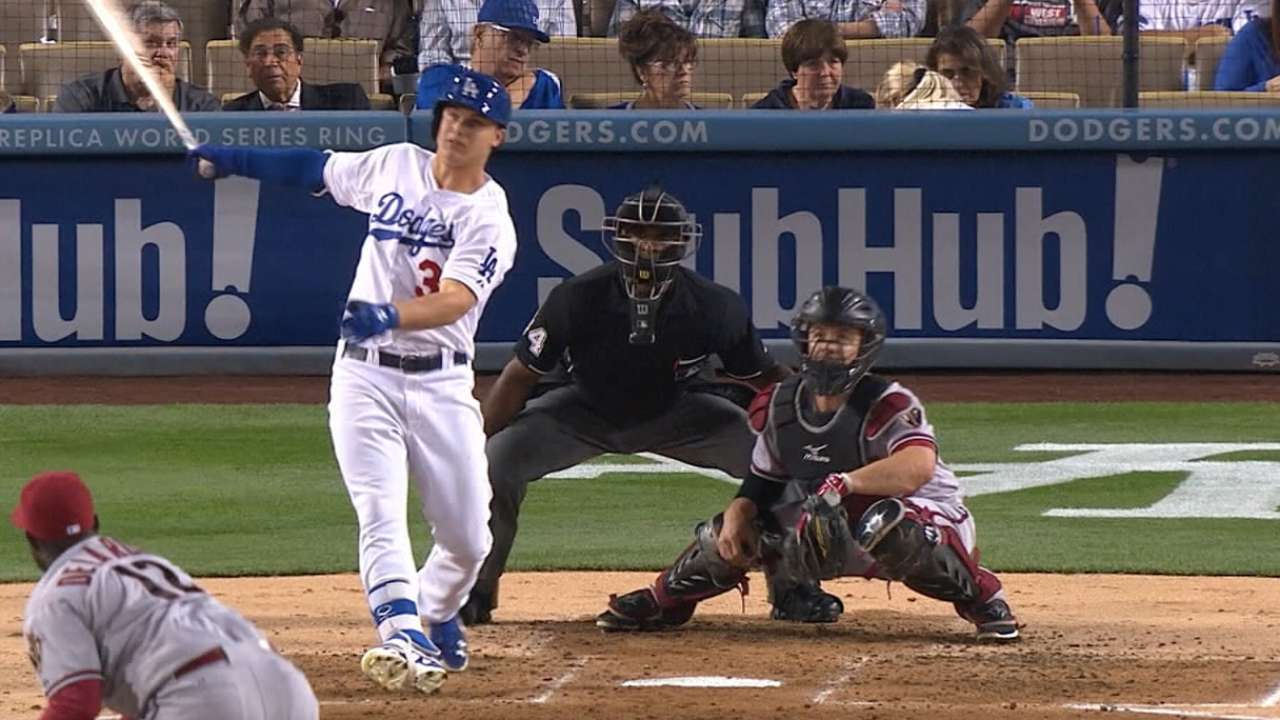 But Pederson is more than a power hitter. An 11th-round pick in the 2010 First-Year Player Draft from Palo Alto (Calif.) High School, he used a complete game to develop into MLB.com's No. 14 prospect heading into the 2015 season.
Pederson was the Pacific Coast League MVP last year, hitting 33 homers and stealing 30 bases to become the first 30-30 player in the PCL in 80 years. He also walked 100 times and had a .435 on-base percentage.
That game has traveled to Chavez Ravine with him. Through his first 29 games, Pederson hit .264 with a .425 OBP and a .632 slugging percentage. He strikes out a lot, but that hasn't kept him from being tied with teammate Adrian Gonzalez for third in FanGraphs' WAR rankings (1.9), behind only Dee Gordon and Trout.
"This is what we thought we'd get, but we didn't know the power would come this early," Dodgers manager Don Mattingly told MLB.com's Ken Gurnick. "Joc's a baseball player. He plays hard."
Bryant, like fellow rookies Jorge Soler and Addison Russell, is part of a Joe Maddon lineup that could make Wrigley Field the place to be this summer. This is no surprise whatsoever, as Bryant entered Spring Training ranked as MLB.com's No. 2 prospect, then tore up the Cactus League, hitting .425 with nine homers in 40 at-bats.
The 23-year-old, who grew up alongside Harper in Las Vegas, easily could have made the Opening Day roster. But he was sent to Triple-A Iowa for the first 12 days of the season -- giving the Cubs control of his rights through 2021 -- before joining a 5-3 team on April 17. Bryant struck out in all four at-bats in his Major League debut, but made a series of good plays at third base. Since then, he has regularly flashed his athleticism and surprisingly sharp instincts in a variety of ways, although most obviously in taking extra bases with smart baserunning.
Bryant, like Pederson, works deep counts and is willing to take walks. While it took until his 21st game for Bryant to hit his first Major League homer, he has been productive hitting behind Anthony Rizzo -- batting .276 with six doubles and 17 RBIs in over his first 76 at-bats. His on-base percentage is .415, which has put him in position to score 13 runs.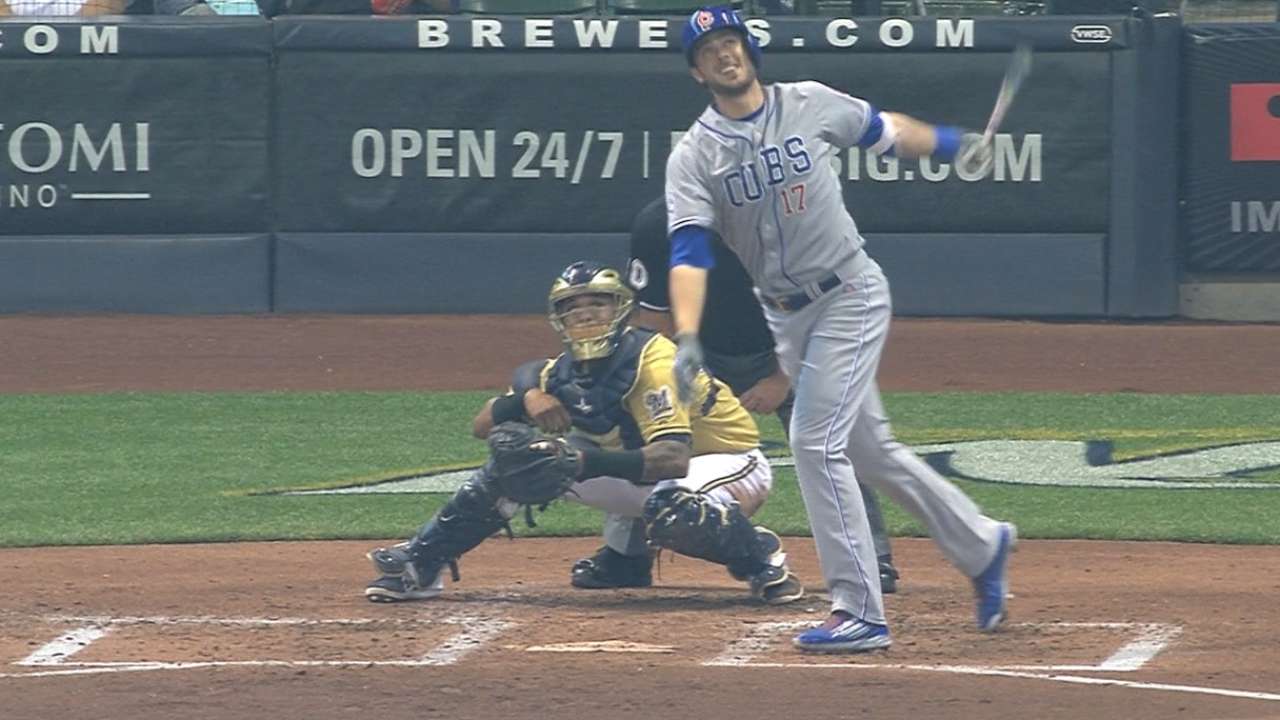 Unlike Pederson, Bryant hasn't had his power surge yet. It's coming, as he's still the same hitter who led the NCAA with 31 home runs in 62 games in his junior year at the University of San Diego, grabbing the Cubs' attention.
"I was Tony Gwynn's teammate [at San Diego State] and it was kind of the same thing as Tony's junior year," USD coach Rich Hill said. "Every AB, it was kind of jaw-dropping -- how he took pitches, even if he missed a pitch he fouled it back. It was special. The thing I noticed about Kris was his junior year, when he got a mistake, which he very rarely did -- they never pitched to him -- but when he got a pitch he could drive, he hit it out. That's the real sign."
Pederson or Bryant? There's no wrong answer in the big picture. But as we speak, it's Pederson who is optimizing his talent.
Phil Rogers is a columnist for MLB.com. This story was not subject to the approval of Major League Baseball or its clubs.