Upton haunts former team yet again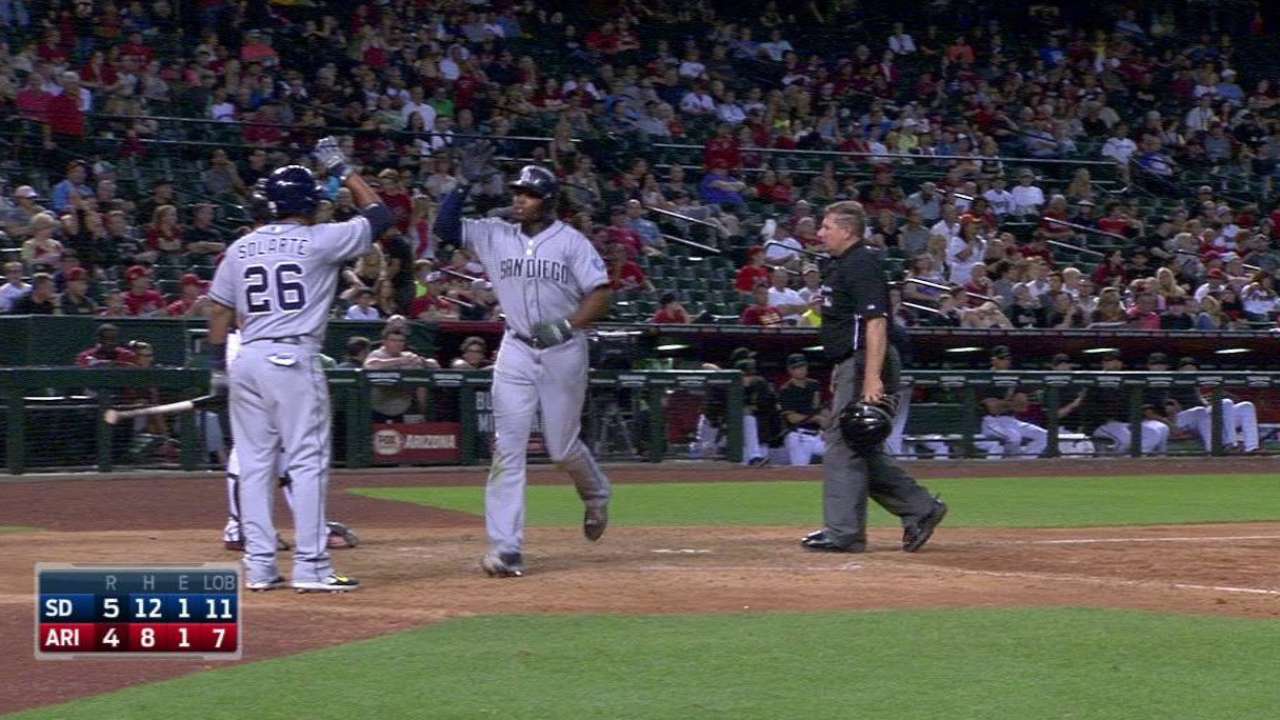 PHOENIX -- No matter what uniform Justin Upton is wearing, he just loves to come into Chase Field and do some damage.
It's Upton's first trip here as a member of the Padres and wouldn't you know that on Saturday he'd crush the homer off D-backs reliever Randall Delgado into the familiar left-field bleachers that sent the Padres on to a 6-4 victory in 12 innings.
"He's a big-time player," manager Bud Black said after the Padres won their second in a row and third in their last four overall. "And big-time players do big-time things."
Upton makes a habit of it against the team that selected him No. 1 overall in the 2005 First-Year Player Draft and traded him away to the Braves after much discord on Jan. 24, 2013. Including the homer and RBI single in the eighth inning that gave the Padres a short-lived 4-2 lead, Upton now has driven in 15 runs in the 18 games he's played against the D-backs in three-plus seasons for two different teams.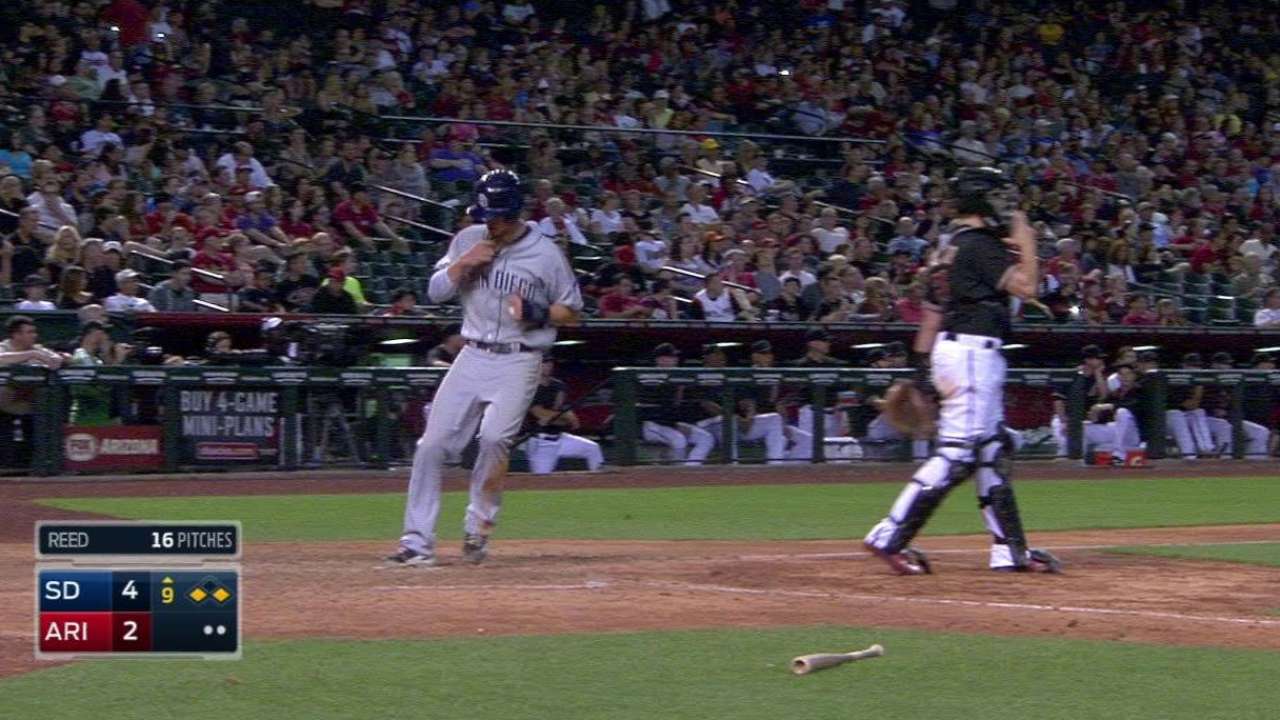 Upton acts like he's moved on from the Arizona days when he played in the All-Star Game hosted by the D-backs at Chase in 2011.
"All that is old hat now," Upton said. "I'm just trying to cheer on my teammates and play the game."
It's not the first time, though, that Upton has returned to Arizona and done well since the trade. In his first game back with the Braves on May 13, 2013, Upton went 4 for 5 with a two-run homer in a 10-1 win. Overall, Upton has hit 70 homers and knocked in 227 runs at Chase in any uniform.
"Really? I had no clue," Upton said.
Actually, it was the second time already in the 32 games he's played for the Padres that Upton has beaten Delgado with a late homer to win a game. It also happened on April 15 in the eighth inning at Petco Park, when his homer deep into the left-field pavilion won the game, 3-2.
Just as Saturday, the pitch was the same. A fastball.
"I was just looking for something up in the zone," Upton said.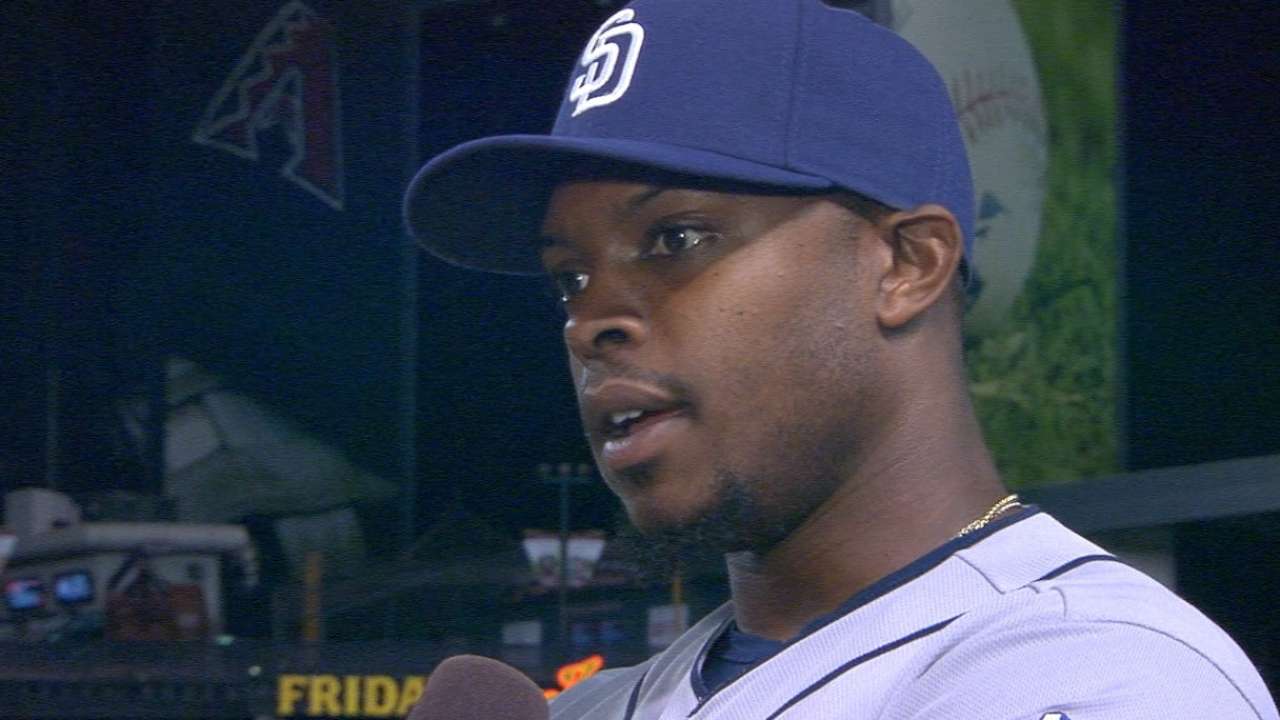 As in many games, there was a little bit of a dichotomy for Upton. The Padres were leading 1-0 in the fourth inning with a runner on first and two out when David Peralta hit a line drive to left field in front of Upton, who dove forward trying to make the catch. Instead, Upton missed it and the ball rolled behind him for a run-scoring triple.
"A single definitely would've been better, but hindsight is 20-20," Upton said. "I was just playing the game aggressively. I'm just trying to make the play for my pitcher."
Upton more than acquitted himself later. This is precisely why the Padres made the trade to get Upton from the Braves on Dec. 19.
Upton, in his walk year prior to free agency, has been everything that was advertised. At 27, he's not only the good player he's always been, but now he's reaching for the heights. He's batting .287 with eight homers and 24 RBIs.
"And that's why we went out and got him," Black said. "You go get Upton and [Matt] Kemp and then you get [James] Shields and then you go get [Craig] Kimbrel and they're all big-time players. These guys are All-Stars. That's a credit to our front office. That's how you become a good team. You get good players."
Barry M. Bloom is a national reporter for MLB.com and writes an MLBlog, Boomskie on Baseball. Follow @boomskie on Twitter. This story was not subject to the approval of Major League Baseball or its clubs.