Bullpen steps up after Shoemaker's early exit
Four Angels relievers combine for six no-hit, no-run innings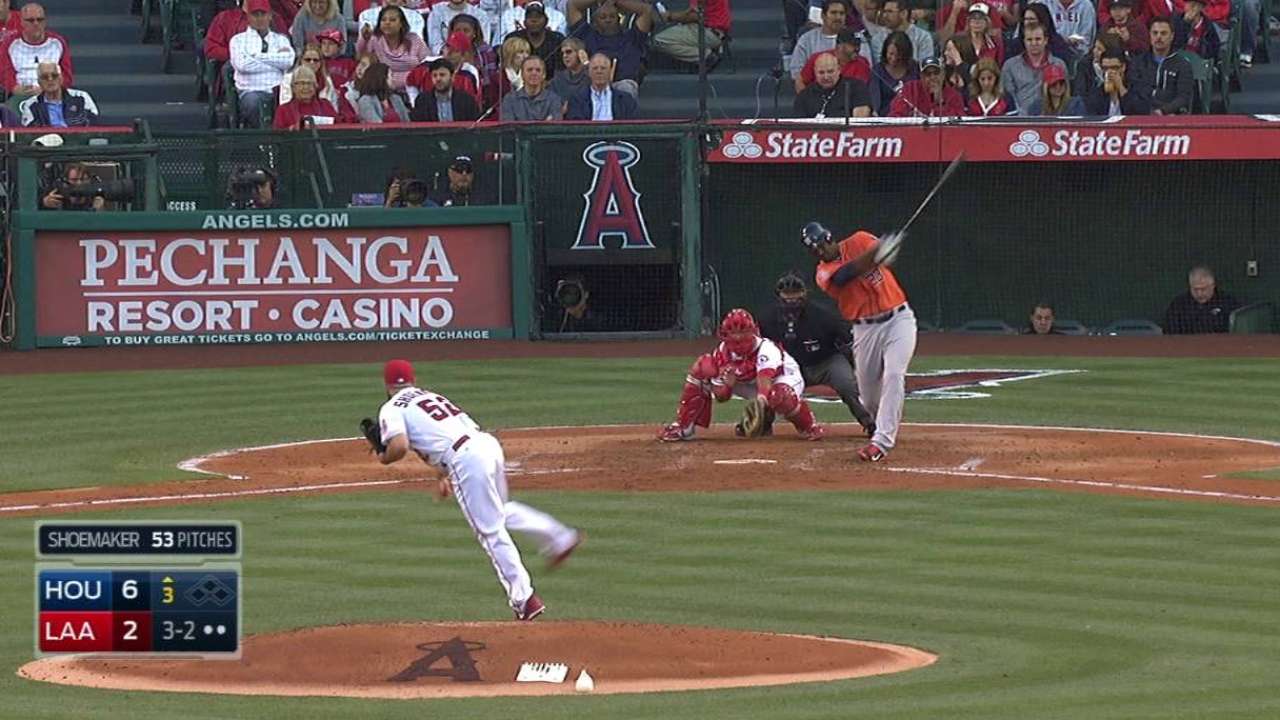 ANAHEIM -- If you told Mike Scioscia his team would score four runs against Astros starter Dallas Keuchel on any night, the Angels manager said he'd probably take it.
The Astros left-hander improved to 4-0 at Angel Stadium, and 5-1 overall against the Angels, whom he beat, 6-5, Saturday night.

But Keuchel, who struggled in the first inning, throwing 23 pitches and issuing his only two walks, didn't do it in his usual fashion. Although his season ERA jumped from 0.80 to 1.39, Keuchel (4-0) recovered after the first, and pitched into the seventh. He exited with a 6-4 lead, having struck out seven in 6 2/3 innings.
Meanwhile, Angels starter Matt Shoemaker (2-3) was hit for three home runs for the second game in a row. Against the Mariners on Monday night, he took a one-hitter into the seventh before Seattle converted missed locations into three homers, and a 3-2 Angels loss.

Against Houston, Shoemaker gave up home runs to Jose Altuve in the first, to Chris Carter (with a man aboard) in the second, and to Colby Rasmus (another two-run shot) in the third. Shoemaker didn't come out for the fourth with a 6-2 deficit.

"Just missing pitches," Shoemaker said. "This was my worst one (in the majors). I experienced this coming up through the minors. I've just got to find a way to overcome it. I didn't help my team out today."
Scioscia said: "From the get-go, I didn't know if he was trying to overthrow, or had trouble with his release point. It just didn't look like he was able to finish pitches, or finish hitters. Shoe will be better. He was coming off a great start. These guys [Astros] didn't miss a mistake. They didn't come back [to Shoemaker], they went a long way."
The Angels praised the opposing starter's performance.
"Keuchel's tough," Scioscia said. "I thought we had a real good approach against him. I think we did a good job, probably the best job we've done against him to this point."

"In the baseball world, you know how good he is," Scioscia said. "Outside the rest of the world, he's probably one of the best-kept secrets."

Angels second baseman Johnny Giavotella said: "Keuchel's a great pitcher. Great stuff. Stays low in the zone. It's hard to barrel him up."

The Angels bullpen work was in complete contrast to Shoemaker's. Given nine innings off Monday by Jered Weaver's six-hit gem, the relievers shut down Houston's offense.

Four Angels relievers combined for six no-hit, no-run innings to give their team a chance for a comeback that just fell short.
"They all threw the ball well, and kept us in the game," Scioscia said. "Down 6-2 early, if you're going to lose the game, you want to lose it 6-5, not 10-9."

Long man Jose Alvarez shut down the Astros in the fourth through sixth. Vinnie Pestano, Mike Morin and Ryan Mattheus -- making his Angels debut -- each pitched a scoreless inning.
Mattheus, brought up from Triple-A Salt Lake on Friday to expand the bullpen from seven to eight, showed tremendous promise with two fine seasons for the Washington Nationals (2011-12) before his career was derailed by injuries the past two seasons.

"It felt great," Mattheus, 31, said of his ninth-inning Angels debut, which featured an elusive slider, and strikeouts of Hank Conger and Marwin Gonzalez, around a walk to Preston Tucker.

Mattheus had a 2.84 ERA with 12 strikeouts in 12 2/3 innings for the Bees. He is out of options, so the Angels would probably lose him if they tried to send him back to Triple-A via the outright route.

"I'm healthy now," he said. Reminded of the adage that every time he pitches in the big leagues, he's also audtioning for 29 other teams, Mattheus said: "I'd like to stay here, make an impact and help this team win."
Earl Bloom is a contributor to MLB.com. This story was not subject to the approval of Major League Baseball or its clubs.