What's next for Rodon after impressive start?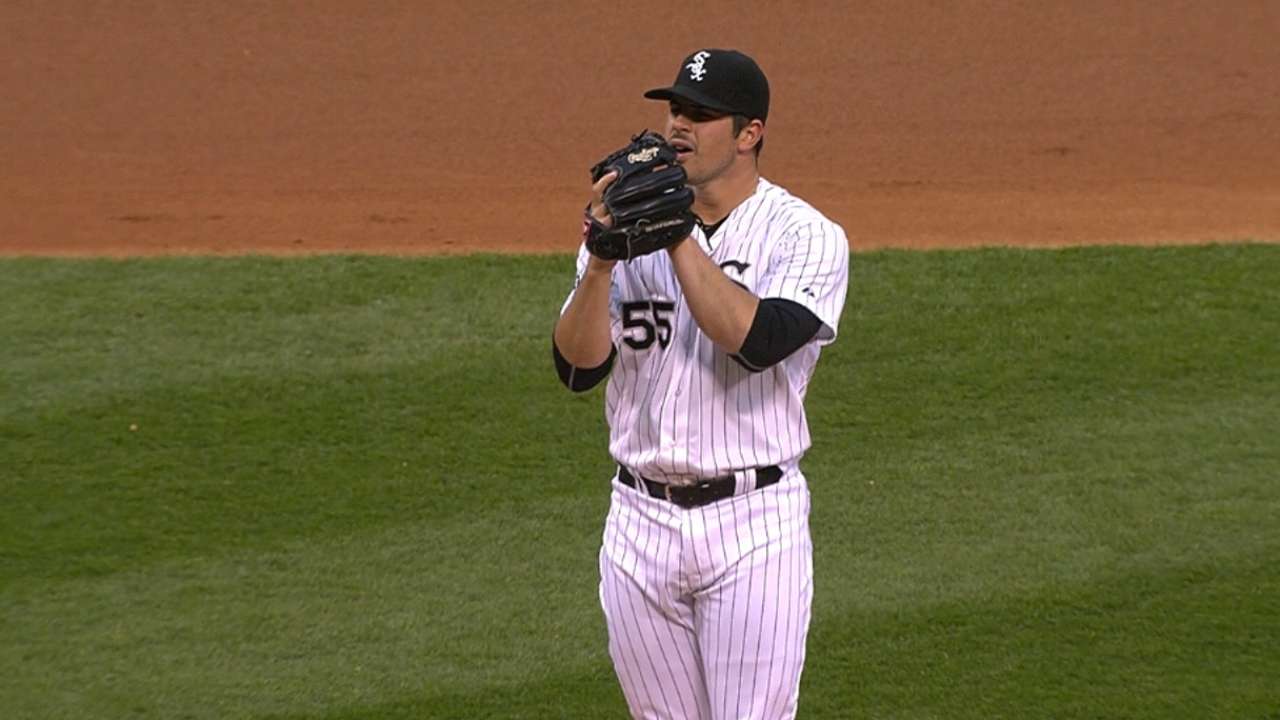 CHICAGO -- Carlos Rodon made his first Major League start during the nightcap of Saturday's doubleheader against the Reds at U.S. Cellular Field. Rodon was pretty close to dominant over six innings, striking out eight in the White Sox 8-2 victory to earn a split for the day.
As for the encore to Rodon's 108-pitch-effort, will he stick in the rotation or head back to the bullpen, where the team's top prospect had been for three previous outings?
"He's on the team, yeah. He stays on the team," said White Sox manager Robin Ventura, with a tongue-in-cheek response to the Rodon rotation question. "We're trying to just get through today and then we'll get through tomorrow."
That one day at a time approached has been espoused by Ventura since taking over as White Sox manager prior to the 2012 season. In the big picture of turning around this 11-16 start into playoff contention, the 22-year-old Rodon almost has to be part of the plan as a starter.
The White Sox certainly want to control his first-year innings total, with that mark being unofficially somewhere around 160. They also received a first-hand reminder of the impact he brings.
Rodon touched 99 mph once on his fastball, per MLB.com Gameday, while hitting 98 mph two other times. He featured that wipeout slider that contributed to all eight strikeouts being of the swinging variety and even pitched out of first-inning trouble, when he walked the first two hitters.
Being a starter comes natural for Rodon. It's a job he's performed most of his baseball life, although he basically subscribes to Ventura's same sort of approach -- simply be ready for anything.
"I've always been a starter and I think Robin and [White Sox pitching coach Don Cooper], they understand that I am a starter," said Rodon, who walked four and allowed four hits, including a two-run single to Joey Votto in the third. "It's just a transition. We're just transitioning into it and like I said, like Robin said, like everyone said, this game is about the next day or tomorrow.
"You're preparing for tomorrow after today and winning tomorrow. Tomorrow my job is to be on that bench and support the team, and we've got to win tomorrow."
Hector Noesi took a line drive just above his right hip in the 10-4 first-game loss, exiting in the second inning, and he reported after the second game that the area was tightening up a bit. The White Sox will need a fresh bullpen arm or two, with Rodon, Scott Carroll and possibly Dan Jennings out of action Sunday.
If Noesi is a potential disabled list candidate for a reliever, that move also would give Rodon a couple of extra trips through the rotation before the true final decision on the left-hander is made. As of Saturday, Rodon was going over the lineup card from his first victory and praising the defense behind him and the game-calling and words of wisdom provided by catcher Geovany Soto.
"Just relax," Rodon said of Soto's message. "He just told me, 'You're good enough, you're here for a reason. Stay focused.'"
"Lot of velocity and a real good slider," Reds manager Bryan Price said of Rodon, whom he was excited to watch pitch. "As he gets more and more comfortable at this level, I imagine he's going to be a real challenge for teams to have to face. He's got really good stuff."
Scott Merkin is a reporter for MLB.com. Read his blog, Merk's Works, and follow him on Twitter @scottmerkin. This story was not subject to the approval of Major League Baseball or its clubs.