Cardinals made Pirates work for their win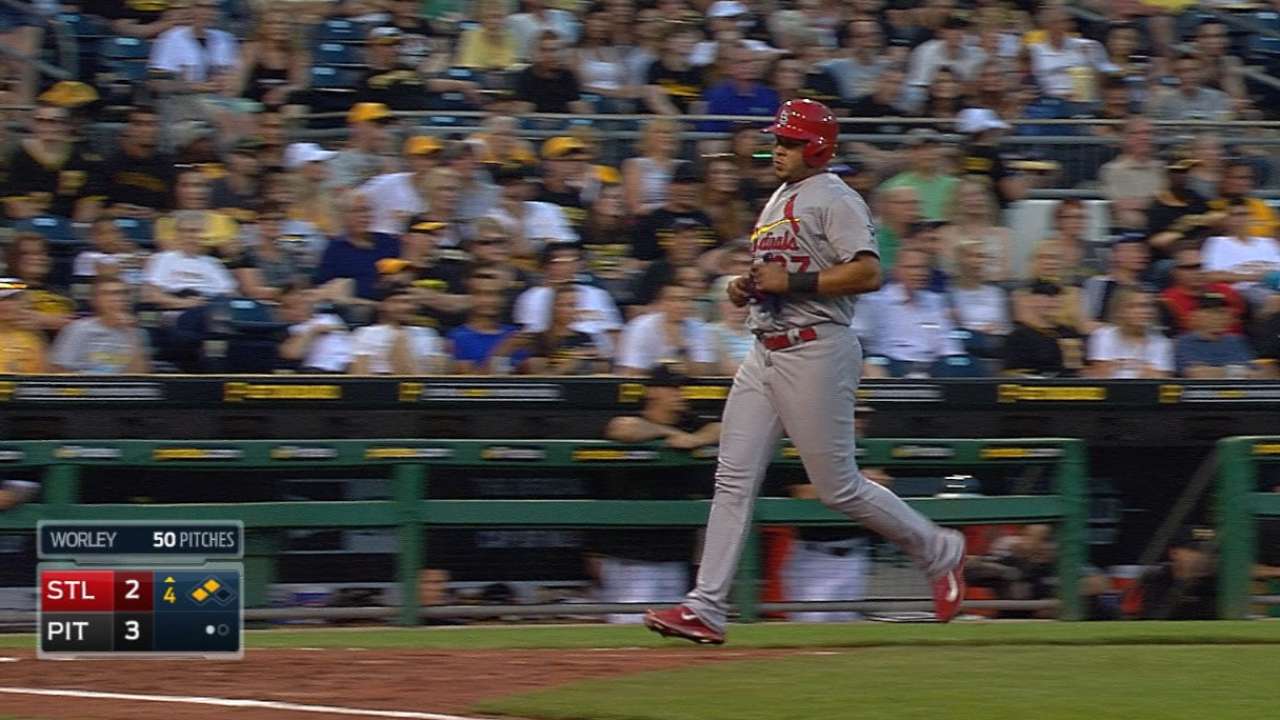 PITTSBURGH -- The fourth inning of the Cardinals' 7-5 loss to the Pirates at PNC Park on Saturday encapsulated why they've been able to keep every game -- even their eight losses through the first 30 games -- as close as they have.
Down by three runs and having seen an earlier scoring opportunity spoiled by a triple play, St. Louis sent 11 players to the plate and cobbled together five runs to take the lead.
Whereas the Cardinals relied on home runs to beat the Pirates on Friday night, they used a series of singles and doubles in a quick-strike attack against starter Vance Worley, who held them to one run on four hits last Sunday in St. Louis.
"Big five-run inning, and there we are," manager Mike Matheny said. "You can see that we've got a lot of guys who are just taking those tough at-bats and grinding through 'em and taking what they're giving us."
The Cardinals wound up surrendering that two-run lead, giving up one run in the fifth and three more in the sixth, but they made the Pirates work for their win, one of their goals every time they take the field.
"Everything's not going to fall in line. Everything's not going to be there every night, but that's part of the season," Jason Heyward said. "You just like to be in every game and make the other team feel like your presence is there to earn every one."
Worth noting
• Left-hander Marco Gonzales, who could claim a spot in the rotation with Adam Wainwright out for the season, pitched in a game on Saturday for the first time since April 20.
Sidelined by a tight left pectoral muscle, Gonzales gave up four runs on five hits and a walk over 2 1/3 innings for Triple-A Memphis. He threw 56 pitches -- he was expected to throw about 60 -- and didn't record a strikeout against the New Orleans Zephyrs.
Left-hander Jaime Garcia, who's been rebuilding his arm strength after being shut down late in Spring Training, will take the mound for the Redbirds on Sunday, and he's expected to throw 70 to 80 pitches.
• Second baseman Kolten Wong landed awkwardly on his left shoulder while diving for a ball in the second inning, but he remained in the game and said afterward that he feels fine.
"Just landed on it funny. It's the same shoulder I hurt last year, so it was kind of something that didn't really feel that comfortable," Wong said. "I stuck with it and played right through it."
Adam Berry is a reporter for MLB.com. Follow him on Twitter at @adamdberry. This story was not subject to the approval of Major League Baseball or its clubs.