Encouraging signs for Martinez despite loss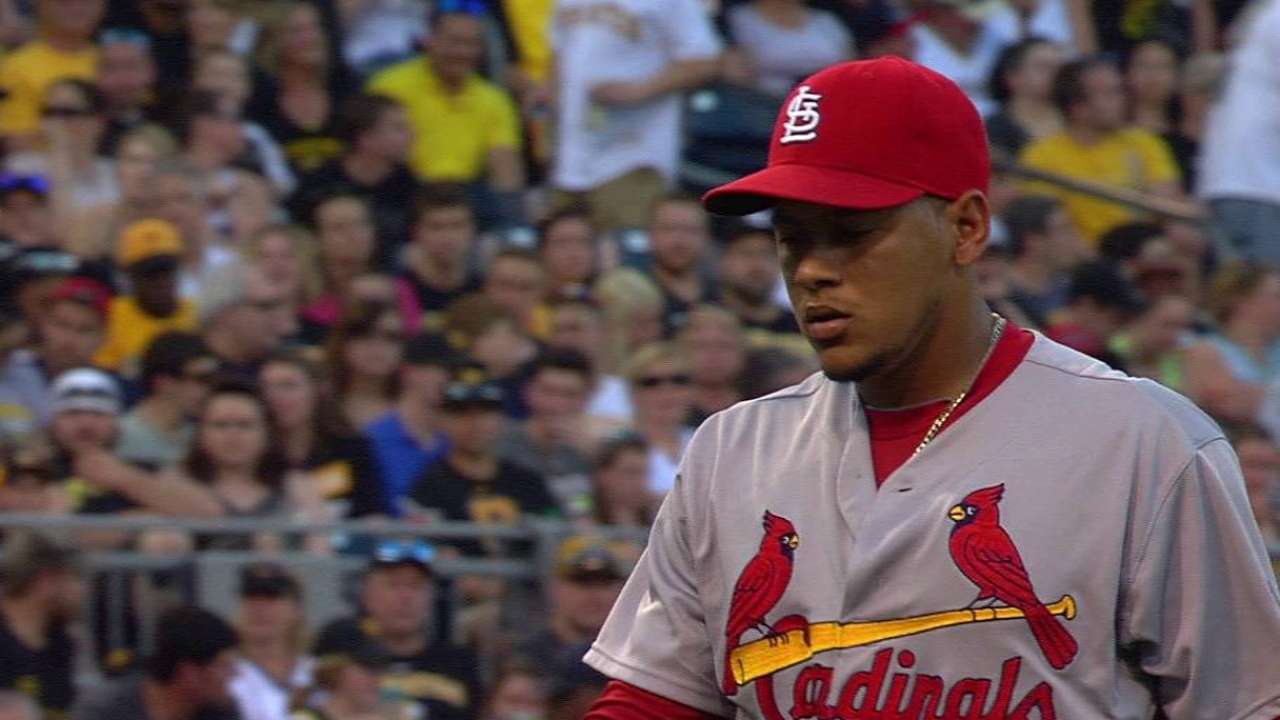 PITTSBURGH -- After an excellent first month of the season, Carlos Martinez has faltered over his last two starts. He struggled with his poise in Monday's rough outing against the Cubs, and he found trouble slowing himself down in key spots on Saturday night.
The end result in Saturday's 7-5 loss to the Pirates wasn't much better for Martinez -- seven runs on seven hits and four walks in 5 1/3 innings -- but there were encouraging signs, according to manager Mike Matheny.
"He was actually much better, even though he gave up some runs," Matheny said. "He had some periods where he really got that sinker going, and it was a very, very good pitch for him. There were other times where he got a little too much into his legs, maybe tried to fire it too hard."
Martinez agreed that he may have been trying too hard, attempting to blow pitches past hitters and ultimately rushing through his delivery as a result.
He'd then lose his command and fall behind hitters, at which point he'd either lose them entirely -- leading to walks -- or have to pitch back over the middle of the plate.
"The last two outings, I felt like I wanted to do it too good, so I would go and rush a little bit at times," Martinez said through an interpreter. "I'll try to be better for the next time, try to make the first pitch for a strike and try to be ahead in the count."
Martinez was dominant in April, going 3-0 with a 1.73 ERA and 1.04 WHIP in four starts and a one-inning relief appearance.
But he faltered on Monday against the Cubs, allowing seven runs on nine hits and four walks in 3 2/3 innings. He battled through two three-run innings on Saturday -- the second and sixth, with Neil Walker's solo shot in the fifth inning accounting for the other Pirates run -- but pitched effectively the rest of the way.
"He had great stuff when he backed off just a hair and got the downward sink," Matheny said. "He just has unique stuff when he's dialed in and using it right, but sometimes he gets to feeling good and wants to turn into another gear.
"And the other gear really doesn't play well for him. It turns into bad counts, turns into walks, turns into runs."
Martinez was particularly sharp in the third and fourth innings, after catcher Yadier Molina advised him to slow down.
"It caught up with him late, but [he was] definitely better than what we saw the last time out," Matheny said. "That's a young pitcher. You're going to have to keep working. He had a lot of positives to build on."
Adam Berry is a reporter for MLB.com. Follow him on Twitter at @adamdberry. This story was not subject to the approval of Major League Baseball or its clubs.