Phillies miss big chance with bases loaded
Mets turn crucial double play to quell 8th-inning rally
The Phillies came up empty.
"I had a chance to turn around the game," Ruiz said. "I didn't get it done."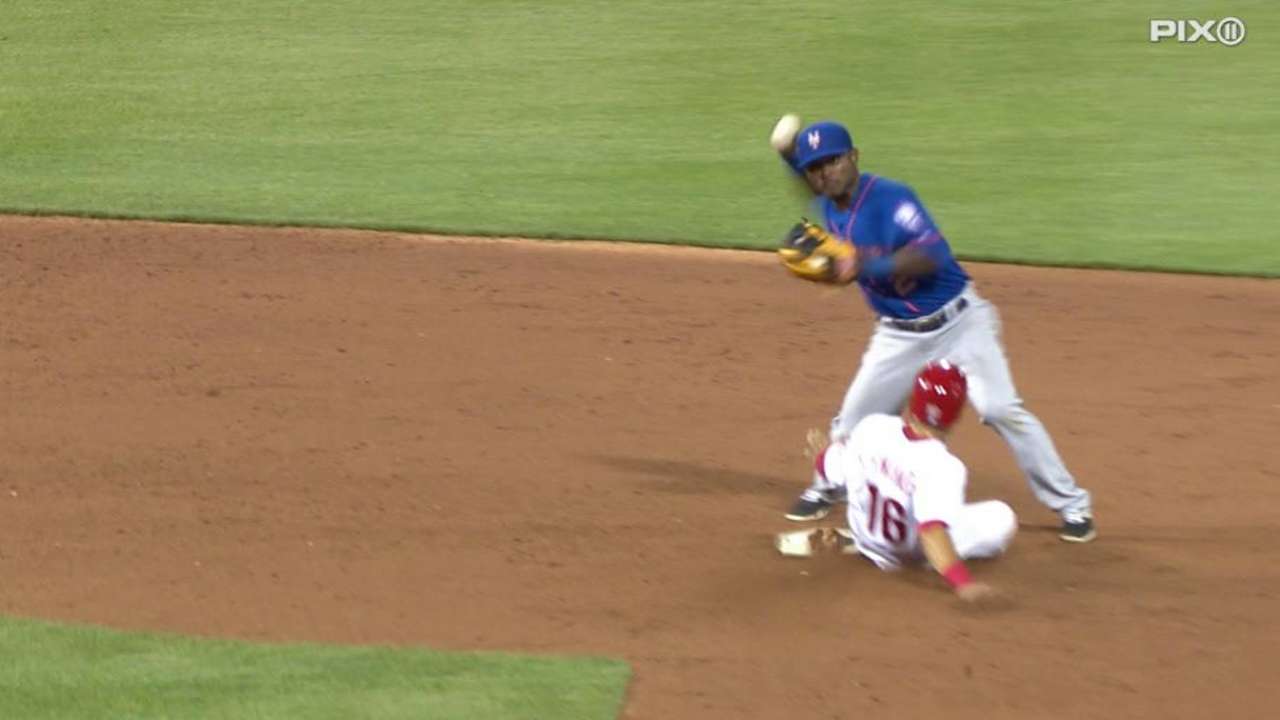 Phillies manager Ryne Sandberg had Ryan Howard and Chase Utley at his disposal in the inning. They started the game on the bench with the Mets sending out left-hander Jon Niese. Sandberg said he considered them but stuck with Ruiz.
"There was some thought there," Sandberg said. "We also knew we would like to have them in the ninth with the bottom of the order [coming up]. You know, [Ruiz] was already swinging the bat pretty well early in the game. He's also a contact-type of a guy with the whole field."
The inning was setting up nicely with Ruiz at the plate. He hit a hard grounder to the right of Mets shortstop Ruben Tejada, who made a nice backhanded grab. He threw the ball to Mets second baseman Dilson Herrera, whose throw just beat Ruiz to first base. One wonders if Herrera would have made such a perfect throw if Hernandez had slid through the bag instead of popping up.
"You're looking for a double-play ball there," Carlyle said. "Luckily, with [Ruiz] running down the line, he hit it pretty hard, so Ruben did a great job fielding it and Dillson turned it with someone right on him. You think double play off the bat because of the angle, but sometimes those are hits. This time it was a double play."
"He hit it pretty hard, so I tried to keep the ball down," Tejada said. "When I saw my glove, it's in there, so I threw the double play. Good play, in a good situation."
In the ninth, Utley snapped an 0-for-19 slump with a pinch-hit single to raise his batting average to .109. Howard, who has a 1.017 OPS in his last 16 games, flied out to center in the next at-bat.
Todd Zolecki is a reporter for MLB.com. Read his Phillies blog The Zo Zone. Follow him on Twitter. This story was not subject to the approval of Major League Baseball or its clubs.