Harang regrets throwing 2 gifts on birthday
Right-hander notches 6th quality start with Phillies in tough-luck loss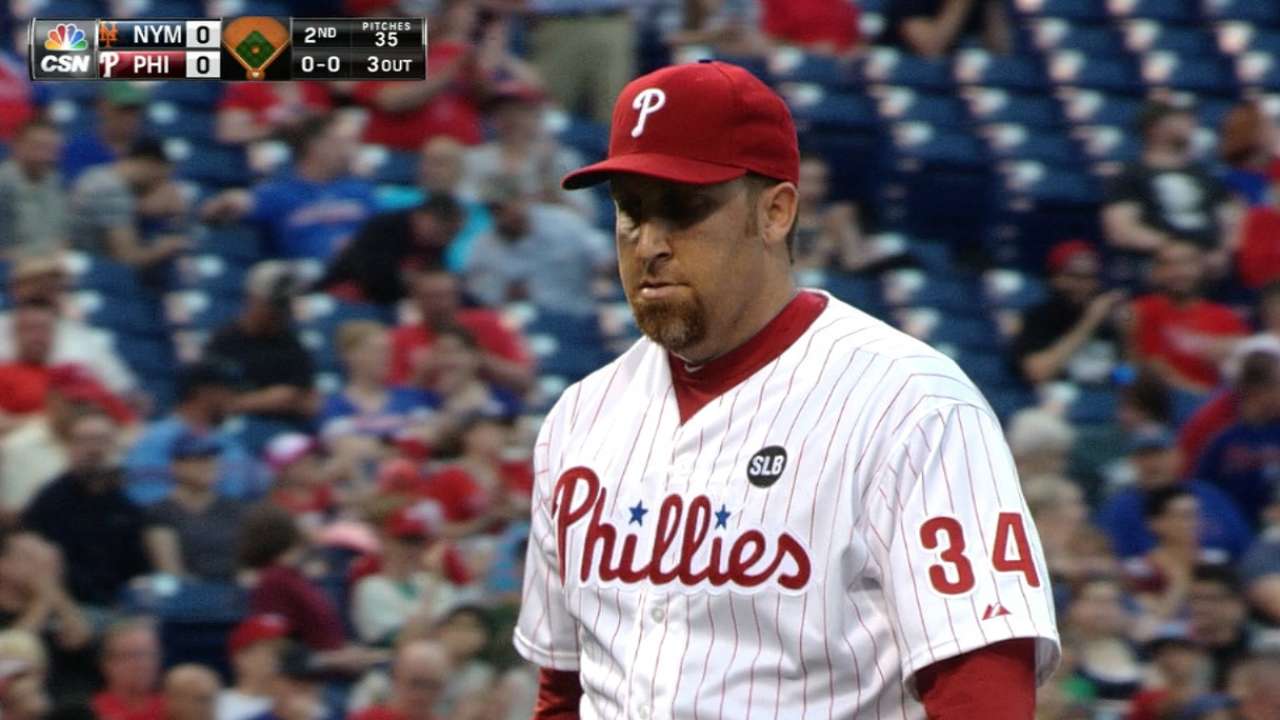 PHILADELPHIA -- Some birthday wishes don't come true.
In the Phillies' 3-2 loss to the Mets on Saturday night, right-hander Aaron Harang left two pitches over the plate in the seventh inning. One was a 72-mph curveball to pitcher Jon Niese. The other was a 90-mph cutter left higher in the zone than intended to center fielder Juan Lagares. After the game, Harang, who turned 37 Saturday, said he wished he could've had those two pitches back.
Harang worked Niese into a 1-2 count after throwing two fastballs and a changeup, none of which Niese even took a hack at. For the fourth pitch of the at-bat, Harang opted for a curveball, a pitch he had only thrown three times in the game.
In his mind, the mistake was the pitch selection, not location.
"I probably should've thrown a slider or just a fastball with him," Harang said. "Instead I threw my fourth-best pitch. I went back and watched it and it was down, and he just got it and was able to catch it out in front and hit it with the end of the bat and get it out of the infield."
With the pitch to Lagares, Harang also harped briefly on pitch type but said he believed that mistake was more an issue of location.
"It was supposed to be a cutter down and away, and I just totally missed my spot," Harang said. "You could tell by the swing he was looking fastball, he was looking something hard and straight. I think a straight four-seamer doesn't run out to the barrel and probably gets him to pop it up and he just wouldn't have hit it as well."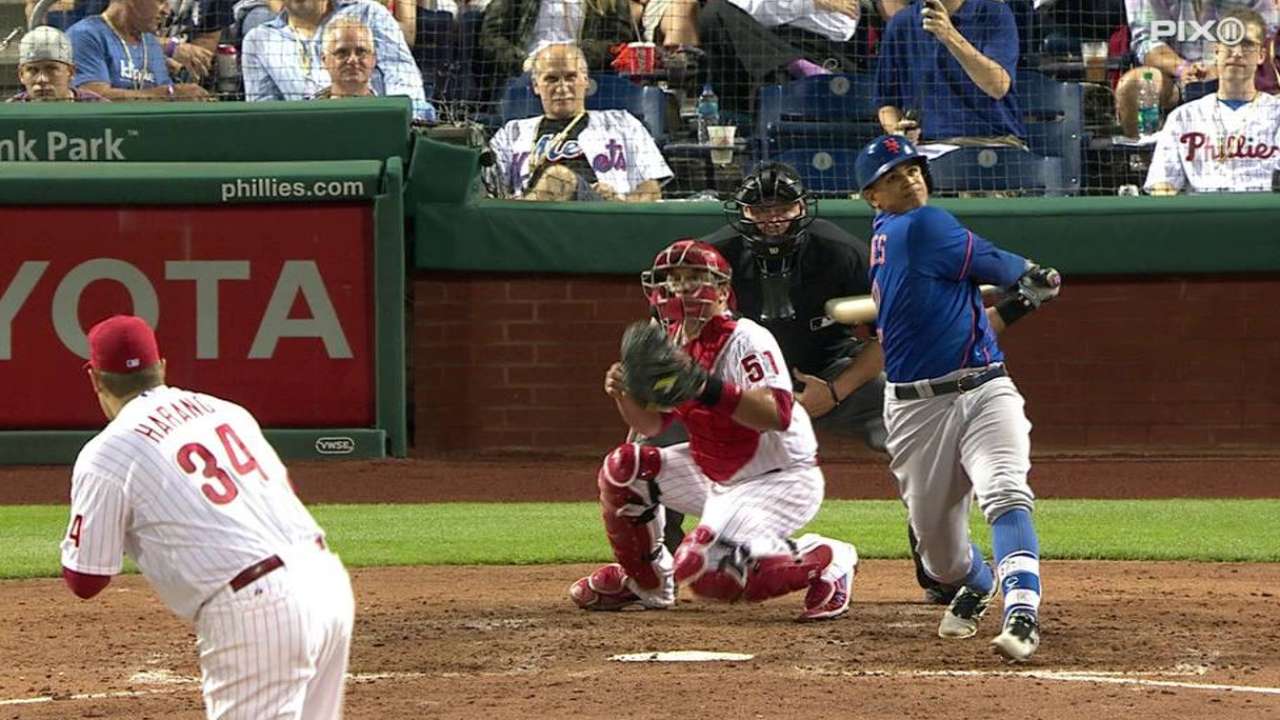 Coming off a sixth inning when the Phillies took a 2-1 lead, Harang said he thought Lagares was looking to swing the lead back the other way.
"Any other hitter in their lineup is probably taking that pitch," Harang said. "But playing down one, he was hunting a fastball and trying to do anything he could to change that game."
Those pitches aside, Harang (3-3, 2.38 ERA) continued the script of his season. In seven innings, he allowed only two earned runs, both on the home run, striking out two. The outing was Harang's sixth quality start of the season, a mark that ties him for the Major League lead.
In Phillies manager Ryne Sandberg's mind, one or two bad pitches shouldn't tarnish a strong outing.
"Harang was outstanding," Sandberg said. "One high fastball he would like to have back. Everything else was down at the knees and quality."
Nick Suss is an associate reporter for MLB.com. This story was not subject to the approval of Major League Baseball or its clubs.