MLB.com Columnist
Mike Bauman
Bryant's power adds to his complete arsenal
Cubs third baseman's first MLB home run is just a sign of things to come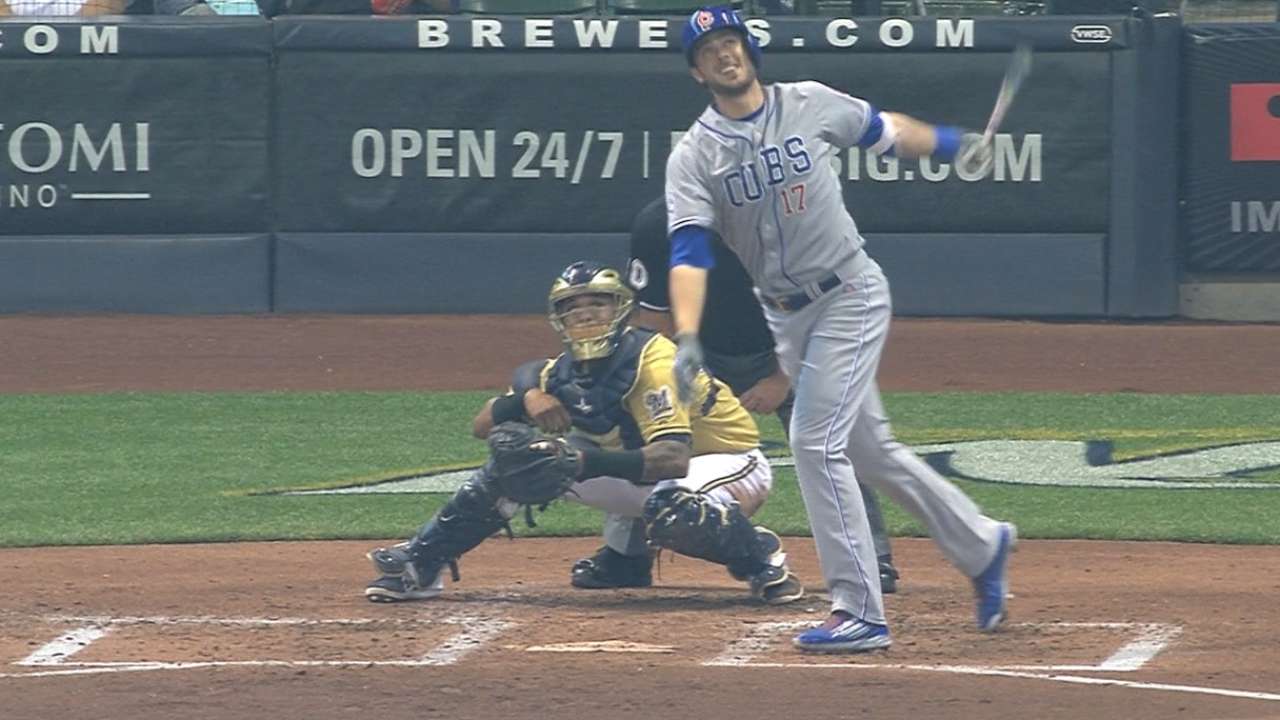 MILWAUKEE -- It had become obvious over the first 20 games of Kris Bryant's Major League career that he was not going to be a one-dimensional player.
Bryant could play third base. He showed good lateral quickness and his arm strength was impressive. Bryant's baserunning was, as Chicago Cubs manager Joe Maddon put it, "fabulous, just fabulous." Bryant was aggressive on the bases and his instincts were exceptionally good.
And in those 20 games, Bryant had an on-base percentage of .422. Taken together, all of these factors pointed toward a terrific future for a 23-year-old in just his third professional season.
But, but, but citizens wanted to know, where was that one dimension that had been so highly touted, not to mention anticipated?
Bryant had hit 43 home runs in the Minors last season. He was going to be a primary power source for the Cubs in a new and victorious North Side era. But where was all that power? And when would it arrive?
It was at Miller Park on Saturday night. Third inning, Cubs down, 2-0, one out, runners on second and third. The veteran Kyle Lohse on the mound for the Brewers.
Lohse throws a first-pitch slider that picks up much too much of the plate. Bryant blasts it into the bleachers beyond left-center, 392 feet away. Bryant has his first Major League home run and the Cubs have a 3-2 lead. This is largely where the good news ends for the Cubs on this evening.
The lead doesn't hold up. The Cubs don't win. There is no storybook ending. There is only a 12-4 loss to Milwaukee.
So the night wasn't exactly a collective triumph for the Cubs. Still, the 73 at-bat homerless streak at the beginning of Bryant's big league career had officially come to an end.
The rest of the Cubs celebrated the homer by vacating the dugout and retreating to the clubhouse, thus giving Bryant not only the "silent treatment" but also the "absent treatment" on the occasion of his first homer.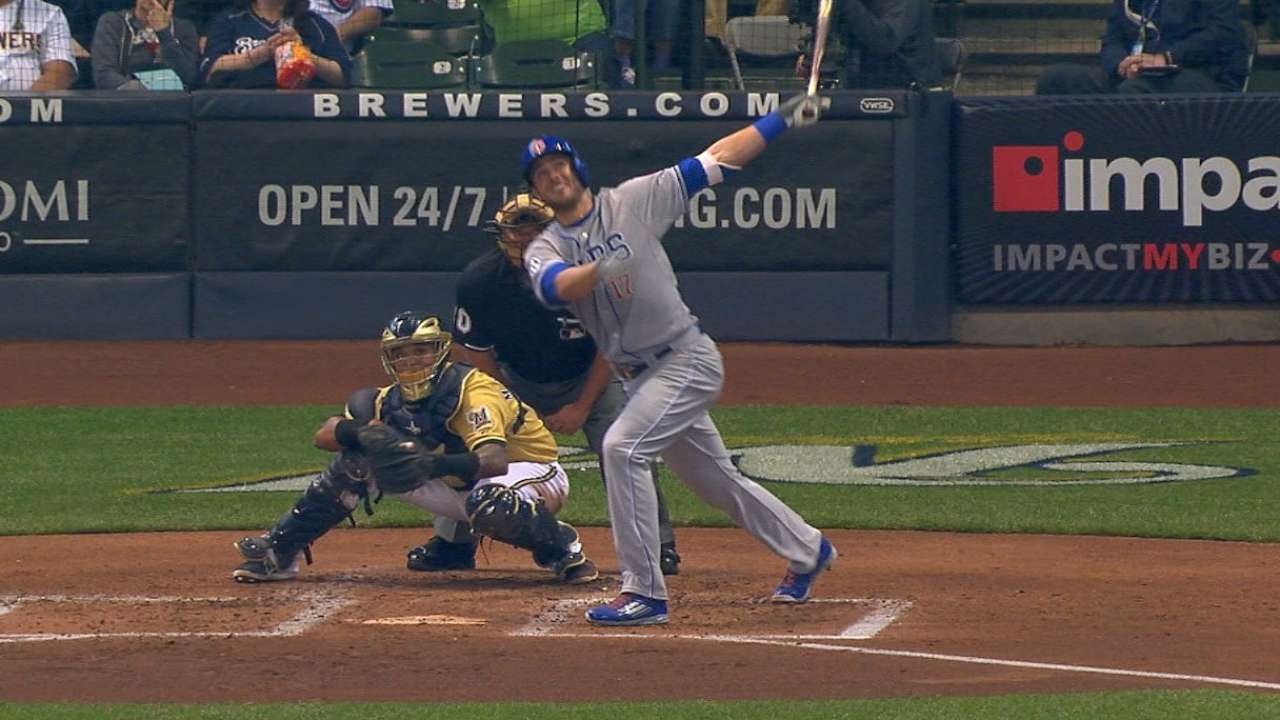 "[First baseman Anthony] Rizzo initiated it, saying, 'Get out of the dugout, get out of the dugout,' " Maddon said. "So I had to follow orders at that point. And this is the perfect ballpark for that, with the clubhouse so close to the dugout."
"It was pretty funny that they all came in here [the clubhouse]," a smiling Bryant said. "I come back to the dugout and nobody. They were all waiting by the door, and then it was kind of like a mosh pit, punching me and all that kind of stuff. It was fun."
Bryant was relieved to get the first home run.
"It was good to get the first one out of the way; it's kind of been a while," he said.
But the lack of home runs had not bothered Bryant. The quality of the rest of his play demonstrated that.
"I know the type of player I am," Bryant said. "I've always hit home runs in my life. Just because I hadn't hit one in my time up here, I wasn't pressing at all.
"I was just trying to do my job to help the team win. That's what I've said all along. I think so far I've been doing a pretty good job, but I think I can do even better."
Part of the previous lack of home runs can be explained by the fact that the opposition has been pitching to Bryant with persistent caution. He had been walked 17 times. In a game against St. Louis, with the Cardinals leading by two runs in the eighth inning, two out and nobody on, on a 3-2 count, Bryant was thrown a slider. It was ball four, but the slider in that situation showed a remarkable level of respect.
"For a young player, having his reputation precede him, he's been incredible," Maddon said.
Putting Bryant's first home run in context, yes, power will be a big part of his game. But his game will be so much more than that.
"Everybody wants to define this young man by just hitting home runs," Maddon said. "He's a good baseball player.
"It is an entire game. He definitely works the whole thing. It's not just hitting, it's not just trying to hit home runs. Good at-bats, looking over pitches. His defense has been really good, I think. Arm is well above average. His speed is above average. Everything is above average.
"Understand, he's going to figure this out. You've got a guy who plays to that level of mental acuity nightly, that young, with that kind of physical ability with the bat, it's going to get real good."
Bryant, home run hitter and complete player. It's the ultimate Cub-friendly concept, and it is already in progress.
Mike Bauman is a columnist for MLB.com. This story was not subject to the approval of Major League Baseball or its clubs.