Souza puts practice into play with key homer
After impressive pregame show off tee, outfielder takes Rays' lead in HRs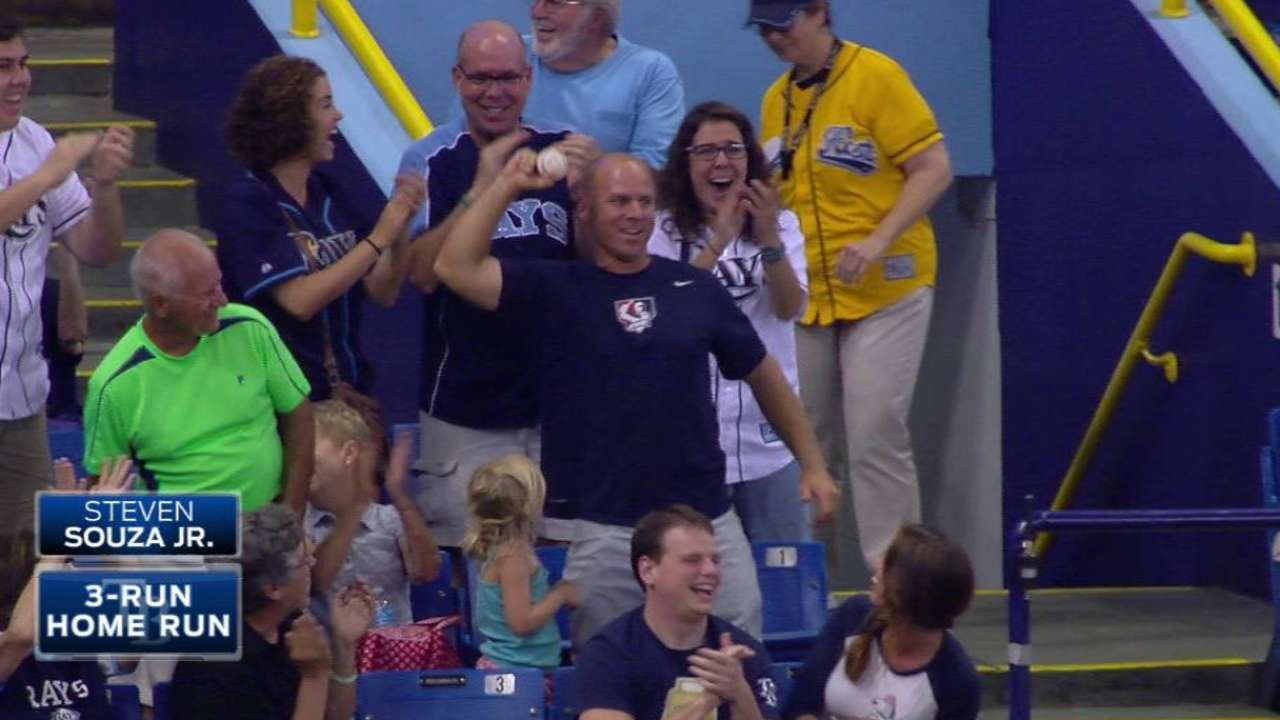 ST. PETERSBURG -- Hours before the start of Saturday night's Rays-Rangers contest at Tropicana Field, Steven Souza Jr. could be seen at home plate putting balls on a tee. What made that exercise interesting -- or shall we say awe-inspiring -- was the way the Tampa Bay slugger launched balls over the wall to all fields.
Then, like a PGA Tour professional, he successfully took his game from the range to the course when he slugged a three-run homer in the fifth to give the Rays a comfortable cushion in their 7-2 win.
"Squaring one up in a big situation like that when it's a 3-2 ballgame ... when we needed a couple of runs to put us up top, it definitely feels really good," Souza said.
The Rays held a 3-2 lead heading into the fifth inning, thanks to a three-run homer by Evan Longoria in the first. Rene Rivera led off the frame by drawing a walk from Texas starter Ross Detwiler. Brandon Guyer, who sank the Rangers with a three-run homer Friday night, followed with a single through the left side to chase the left-handed Detwiler.
Rangers manager Jeff Banister called for right-hander Anthony Bass to take over to pitch to Souza.
Facing a 2-2 count after trailing, 0-2, Souza re-routed a 91-mph fastball into the left-field stands, giving him five home runs on the season while putting the Rays up by four runs.
"Bass just made two really good pitches, and I'm down, 0-2, with runners on," Souza said. "So you just can't give in. That's what I've tried to do. That's been my game plan for most of my career and I've kind of abandoned it, so I'll try to get back to it.
For Souza, who leads the team in home runs, the blast was the first of his career with two or more runners on base.
Bill Chastain is a reporter for MLB.com. This story was not subject to the approval of Major League Baseball or its clubs.