MLB.com Columnist
Richard Justice
Harper wired for greatness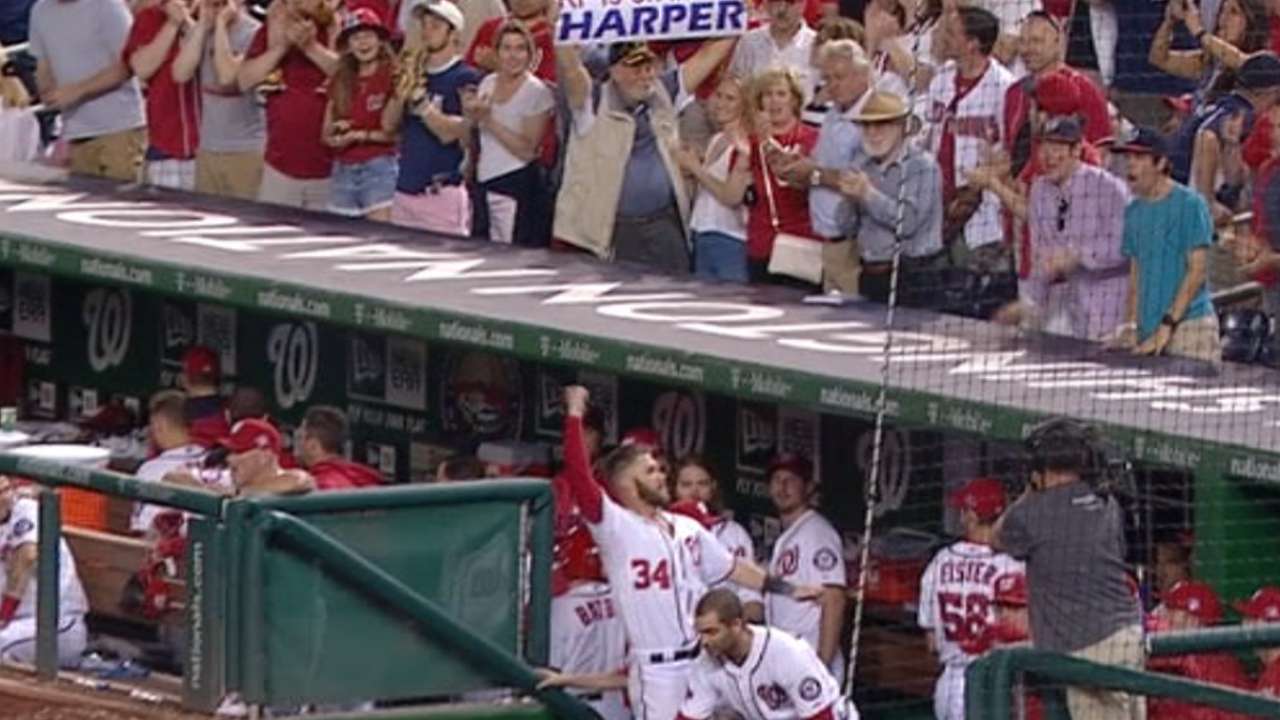 Bryce Harper stepped into the batter's box with the game on the line Saturday afternoon. Funny thing about a moment like this: It separates players -- the great ones from most of the rest.
Harper hasn't always been great. In fact, he may still be working on whatever level of greatness he finally achieves. That said, these are the moments when Harper has always been most comfortable. Some guys are just wired differently.
When a slider from Braves reliever Cody Martin caught a little too much of the strike zone in the bottom of the ninth inning, Harper's two-run home run turned a tie game into an 8-6 victory for the Washington Nationals.
It was one of those moments that can change the course of a season. Nationals Park rocked in celebration. Teammates poured into the field. Amid the craziness, Harper looked like the calmest man in the place.
Harper's sixth home run in three days looked like the others. That swing is such a sweet combination of power and quickness and precision, a thing of beauty. He did it with the confidence that comes with all that talent and with a swagger that only a certain few have.
Mark it down. This is the may be the week Harper finally has arrived. This is the stuff that has been forecast for him since he was 15 or 16. He's all of 22 now and in his fourth season in the Majors.
It was supposed to be easy for Harper. Indeed, when he's at his best, he makes it look that way. But at times, Harper has been his own worst enemy. He has been hurt some, in part, because he plays 100 mph almost every single play.
The Nationals have fretted about this. The thing they love most about Harper is the thing that scares them. They want him to know that banging into walls and barreling around the bases can exact a price. Washington may end up being the best team in baseball, but only if Harper can stay on the field.
And in the past few days, we've seen it, all the promise and all the talent, all on display. Those six home runs in three games could be Harper's way of introducing himself to the world all over again.
This may be exactly what the Nats need. On Opening Day, they were generally thought to be baseball's best team. They were expertly constructed, smartly managed. To find a weakness required some intense nitpicking.
And then Washington stumbled out of the gate. Errors came in waves. That great rotation looked mediocre. Even as the losses mounted, the Nationals showed up every day thinking this was the day the push began.
The Nats have won more regular-season games than any team in baseball the past three seasons. All they haven't done is win in October, and so this was the season that was going to change all that.
Sometimes, though, teams with October expectations have to be reminded about the importance of April, May and June. On April 27, Washington had dug itself a nice 7-13 hole. The Nationals were dead last in the National League East and eight games behind the New York Mets.
And then it happened. The next day, the Nats trailed the Braves 9-1 after two innings. And when they trailed 12-10 in the ninth, something happened that seemed to awake the entire team.
Second baseman Dan Uggla's three-run home run gave the Nationals a 13-12 victory, and nothing has been the same since. The Nats have won nine of 11, and Harper is leading the way.
Harper is hitting .342 in those 11 games. He has four doubles, six home runs and 16 RBIs. These past three games have been Harper at his breathtaking best, but he has helped lead a run that has gotten the Nationals over .500 for the first time all year. At 16-15, they've climbed all the way into second place in the NL East, trailing the first-place Mets by a mere 3 1/2 games.
Harper's brief legacy is a complicated one. Because he'd been so hyped, some expected he would be great the moment he stepped onto a Major League diamond. The Nats might have thought so, too, because Harper was in the big leagues at 19, after just one full season in the Minors.
Perhaps the most amazing thing is that Harper has never seemed overwhelmed. He began this season with a career .270 batting average and was only slowed down by his injuries.
Last season's playoffs seemed like a coming-out party of sorts -- Harper homered three times in four games and had a 1.251 OPS. The Nationals thought he might ride that hot finish right through 2015.
That may be what ends up happening. Harper's at-bats have become stop-and-watch moments. He has delivered one jaw-dropping swing after another. For those of us who love this stuff, this is as good as it gets. So let's sit back and enjoy wherever Bryce Harper's ride takes us. There appears to be plenty more ahead.
Richard Justice is a columnist for MLB.com. Read his blog, Justice4U. This story was not subject to the approval of Major League Baseball or its clubs.