MLB.com Columnist
Bernie Pleskoff
Plawecki displays advanced offensive potential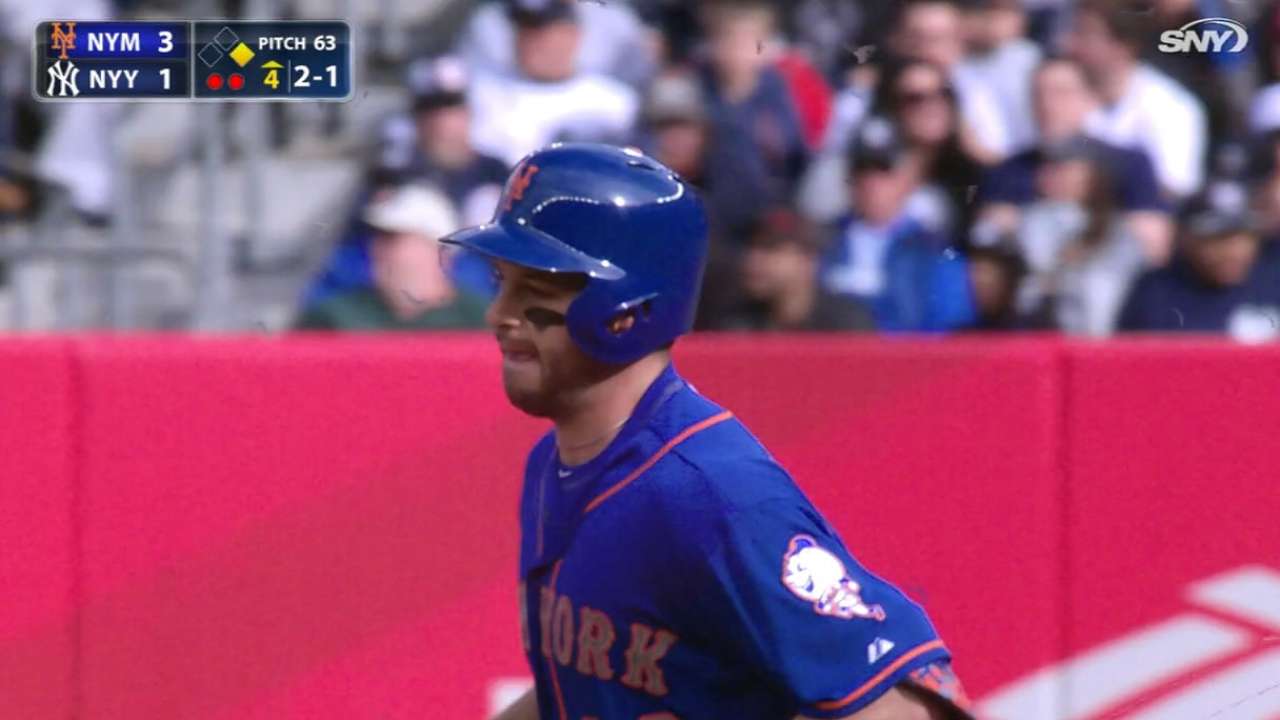 New York Mets catching prospect Kevin Plawecki is being given an opportunity to show his ability on the big league stage. An injury to Travis d'Arnaud has provided Plawecki a chance to show he belongs in the big leagues. If not full-time now, perhaps sometime in the near future.
Strong and well-proportioned, Plawecki is built like a catcher. The right-handed-hitting 24-year-old is 6-foot-2 and 225 pounds.
Plawecki went to Westfield (Ind.) High School, where he earned four varsity letters and won honors as an All-State Class 4A honorable mention catcher in his senior year.
Plawecki continued his baseball life at Purdue University, being named the 2012 Big Ten Conference Baseball Player of the Year. He was one of three finalists for the prestigious Johnny Bench Award, won by the Seattle Mariners' Mike Zunino.
While at Purdue, Plawecki made a name for himself as he played in 54 games, starting 52 times. He established a new freshman record with 53 RBIs. The amazing statistic that foreshadowed Plawecki's future was his 11 strikeouts in 229 plate appearances. His tremendous eye, excellent pitch selectivity and patience as well as his eye-hand coordination form the base of his very good offensive ability.
The litany of awards and accolades continued for Plawecki through his junior year at Purdue. His skill led to the Mets selecting him in the supplemental first round as the 35th player taken in the 2012 First-Year Player Draft.
Plawecki is No. 2 on the Mets' Top 30 Prospect list.
Plawecki's great eye at the plate leads to outstanding barrel-of-the-bat, line-drive-hitting contact. His approach allows Pawlecki to use the center of the field as his target, but he can take the pitch anywhere between the foul lines. Plawecki has enough power to be really dangerous, with enough strength to hit the ball out of any park. If he plays regularly, he could likely hit double-digit home runs. Plawecki took Yankees pitcher CC Sabathia deep for his first homer.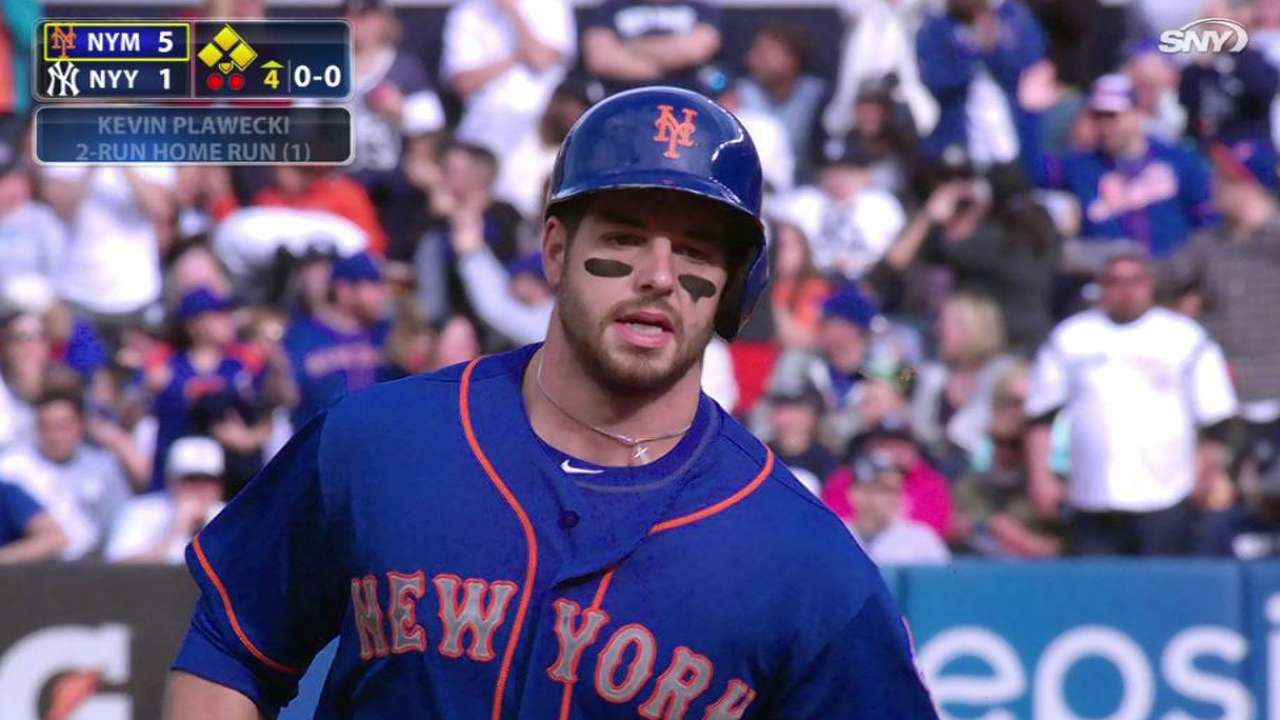 Plawecki's strong and trusted hands help keep his swing short and simple. He doesn't add length to hit home runs. Rather, Plawecki stays uncomplicated and quick to the pitch. He should continue to get on base a high percentage of the time, especially for a catcher.
Plawecki's offensive mechanics and plate discipline may exceed his raw tools and ability. While he may be a bit of an overachiever as a hitter, his results offer value for the Mets at a position where offense is prized, yet rather rare. Although Plawecki can really rake against left-handed pitching, his offensive production is consistent against both right- and left-handed pitchers. He is the type of hitter who will not have to be replaced for a pinch-hitter regardless of the arm side of the pitcher.
Defensively, Plawecki is average in his agility and footwork. He continues to improve with repetition. Plawecki's arm strength is average with sufficient accuracy on his throws. He does need to receive the ball, shift his weight and transfer the ball from glove to hand a bit quicker to improve his efficiency in throwing out potential basestealers. In parts of four Minor League seasons, Plawecki has thrown out 28 percent of runners trying to steal. He won't likely become a Gold Glove catcher, but he'll be good enough to eventually win a starting role in the right circumstance.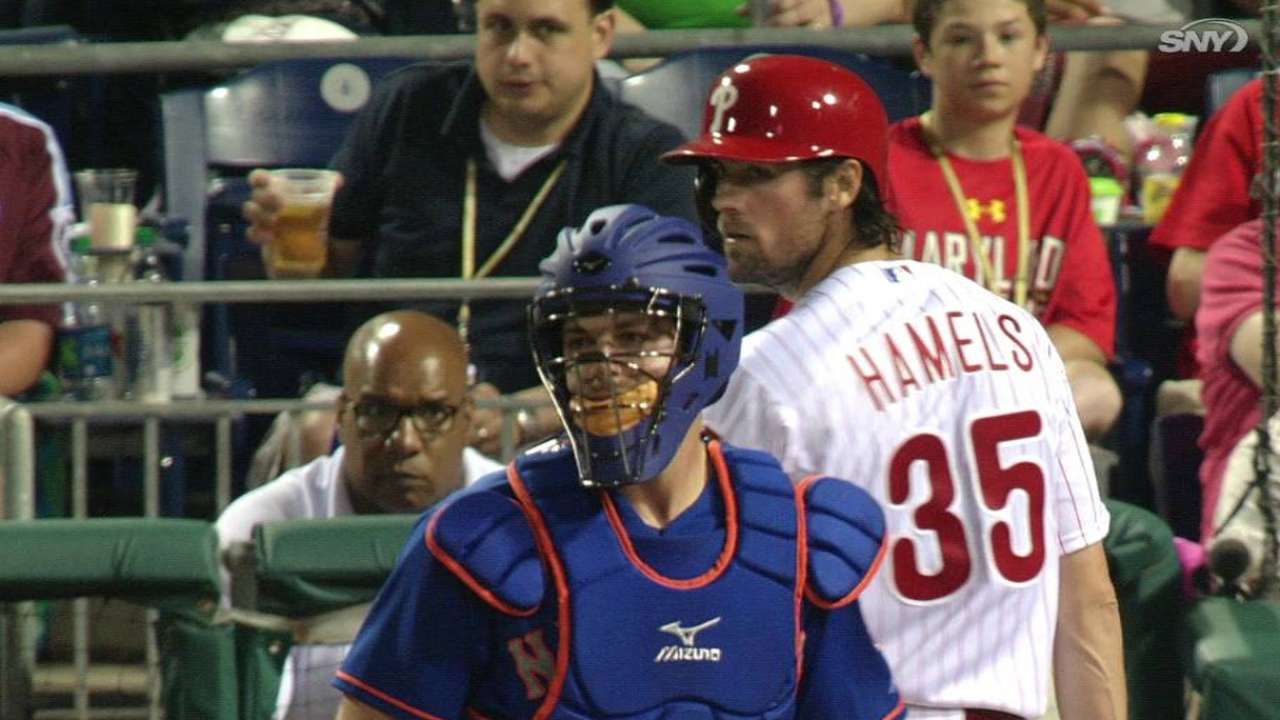 Plawecki handles and receives pitches well. He calls a good game and can be counted upon to make all the plays behind the plate.
Prior to being called to the Mets to replace d'Arnaud, Plawecki hit for a combined .292 batting average in 1,230 plate appearances. In all those times at the plate, he struck out only 129 times. The trend scouts saw in high school and college has continued as a professional -- Plawecki makes outstanding contact. That skill translates to a solid batting average as a prominent tool.
Plawecki isn't fast and he won't steal many bases, if any at all. He won't be retained on the roster for his speed. However, given his ability to hit quality pitching, Plawecki will continue to be a major asset to his team's roster.
Bernie Pleskoff has served as a professional scout for the Houston Astros and Seattle Mariners. Follow @BerniePleskoff on Twitter. This story was not subject to the approval of Major League Baseball or its clubs.