MLB.com Columnist
Fred Zinkie
DraftKings picks: McCann, Drew, Ellsbury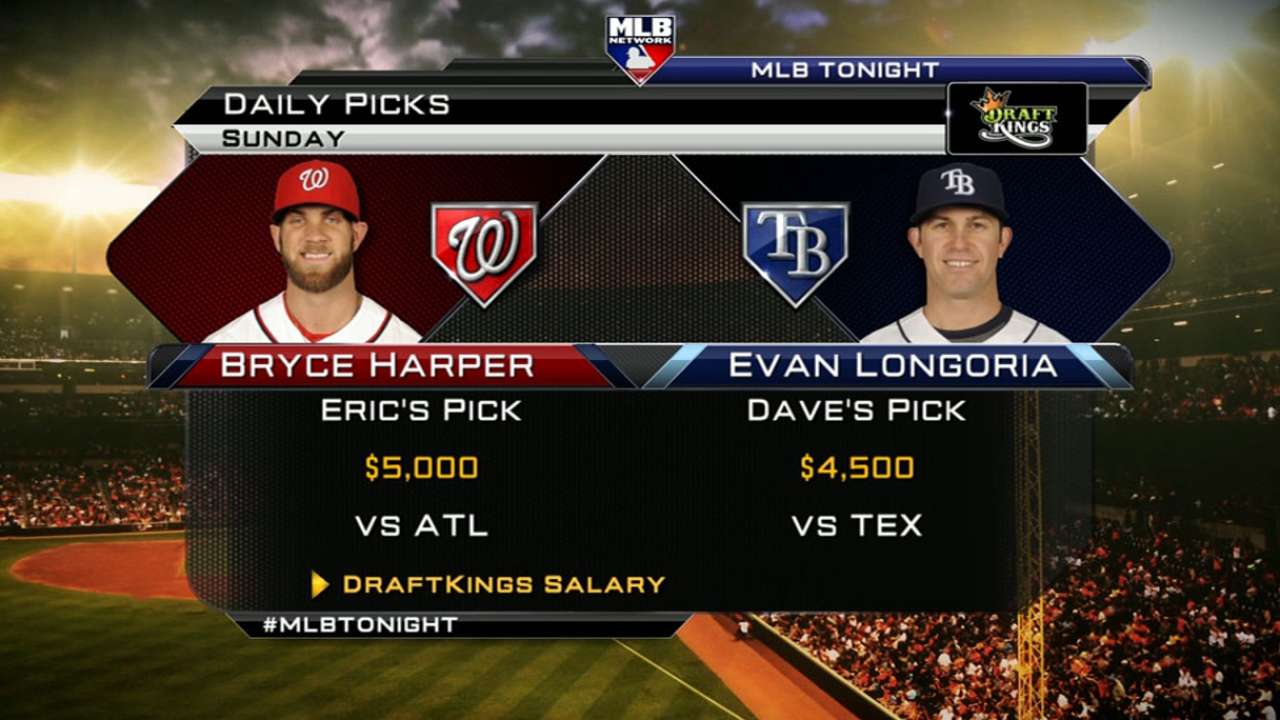 Welcome to DraftKings fantasy baseball, the Official Daily Fantasy Game of Major League Baseball.
The players listed below could provide difference-making stats for DraftKings participants on Sunday.
Brian McCann (Yankees): With a career .831 OPS against right-handers (.749 vs. lefties), the catcher could drive in multiple runs against Orioles righty Bud Norris (career 4.38 ERA) at homer-happy Yankee Stadium.
Stephen Drew (Yankees): Because of his current .179 batting average, Drew could be a low-cost shortstop option for DraftKings participants on Sunday. Specifically, he could improve on his career .773 OPS against right-handers (.668 vs. lefties), as Norris in his career has allowed left-handed hitters such as Drew to post an .809 OPS (.697 OPS allowed to righty hitters).
Jacoby Ellsbury (Yankees): With a lifetime .798 OPS against right-handers (.754 vs. lefties), Ellsbury could be part of a Yankees stack against Norris (career 1.39 WHIP) on Sunday. With 291 career steals, he also has the speed to run aggressively once on base.
Brett Gardner (Yankees): Gardner could give DraftKings participants four left-handed-hitting Yankees against Norris, who in his career has allowed batters from that side of the plate to record an .809 OPS. For his part, the outfielder has compiled a career .749 OPS against right-handers that slightly exceeds his .722 mark vs. lefties.
Jason Kipnis (Indians): On a 12-for-29 (.414) hot streak at the dish across his first seven May contests, Kipnis owns a lifetime .783 OPS against right-handers (.646 vs. lefties). On Sunday against Twins righty Trevor May (career 6.53 ERA), the second baseman could score multiple runs from atop Cleveland's lineup.
Michael Brantley (Indians): Brantley is hitting .337 this season, and he has compiled a lifetime .788 OPS against right-handers (.697 vs. lefties). The outfielder on Sunday could reach base often vs. May, who has posted a career 1.62 WHIP.
Lucas Duda (Mets): On Sunday, the first baseman could improve on a career .260/.361/.480 slash line against right-handers when he faces Phillies righty Chad Billingsley at hitter-friendly Citizens Bank Park. The right-handed starter allowed five earned runs (six total) across five innings on Tuesday, which marked his first start since 2013 following multiple elbow surgeries.
Curtis Granderson (Mets): Granderson in his career has produced 180 of his 239 homers and 117 of his 132 steals against right-handers, and he could add to those totals when he escapes Citi Field for Philadelphia's offense-inducing venue on Sunday. With a career .855 OPS against righties that exceeds his .702 mark vs. southpaws, the outfielder could thrive against the right-handed Billingsley.
Brandon Phillips (Reds): A regular near the middle of the Reds' lineup, Phillips could drive in multiple runs when he brings his lifetime .805 OPS against left-handers (.719 vs. righties) into a Sunday matchup with White Sox starter John Danks. The lefty hurler has accumulated a 4.96 ERA since the outset of the 2012 season.
Todd Frazier (Reds): Joining Phillips and possibly Zack Cozart should the latter return from wrist and finger injuries, Frazier could be part of a Reds infield stack against the lefty Danks on Sunday. The third baseman has compiled a lifetime .823 OPS against left-handers (.770 vs. righties), and Danks has posted a 6.20 ERA and a 1.54 WHIP this season.
Howie Kendrick (Dodgers): Kendrick has produced well at the plate with his new team, batting .280/.347/.458 in his first 28 games as a Dodger. The second baseman could excel at hitter-friendly Coors Field on Sunday when he matches up against southpaw Jorge De La Rosa. Kendrick owns a lifetime .791 OPS against lefties (.744 vs. righties), while De La Rosa has allowed an .801 OPS to right-handed hitters in his own career.
Jimmy Rollins (Dodgers): Rollins may have started off the season cold, but he could turn things around in Colorado. Not only will the switch-hitter get the benefit of teeing off at Coors Field, but his relatively even platoon splits could come in handy against the left-handed De La Rosa, who owns a modest 4.65 ERA and 1.45 WHIP in his career.
Felix Hernandez (Mariners): After six starts in 2015, the right-hander is 5-0 with a 1.73 ERA and a 0.84 WHIP. The elite rates are not surprising, as Hernandez has long been one of baseball's best hurlers. On Sunday, he should continue to excel when he faces the A's at his pitcher-friendly home park.
Jordan Zimmermann (Nationals): Zimmermann has bounced back from a rough beginning to 2015 by notching three consecutive quality starts. If he can repeat that success on Sunday, the right-hander could notch a win vs. an Atlanta club that will counter with Alex Wood, who has allowed a .313 opponents' average this year.
Danny Salazar (Indians): With 222 strikeouts across 188 career innings, the right-hander possesses the immense upside that DraftKings participants often covet in tournaments with a larger number of entrants. On Sunday, Salazar could rack up whiffs and a win during a home start against the Twins. For its part, Minnesota will counter with May, the owner of a lifetime 6.53 ERA.
All statistics are accurate through the completion of Friday's games.
Fred Zinkie is the lead fantasy baseball writer for MLB.com. Follow him on Twitter at @FredZinkieMLB.
This story was not subject to the approval of Major League Baseball or its clubs.