Twins delivering big on two-strike counts
Down 0-2, young lineup coming through with clutch hits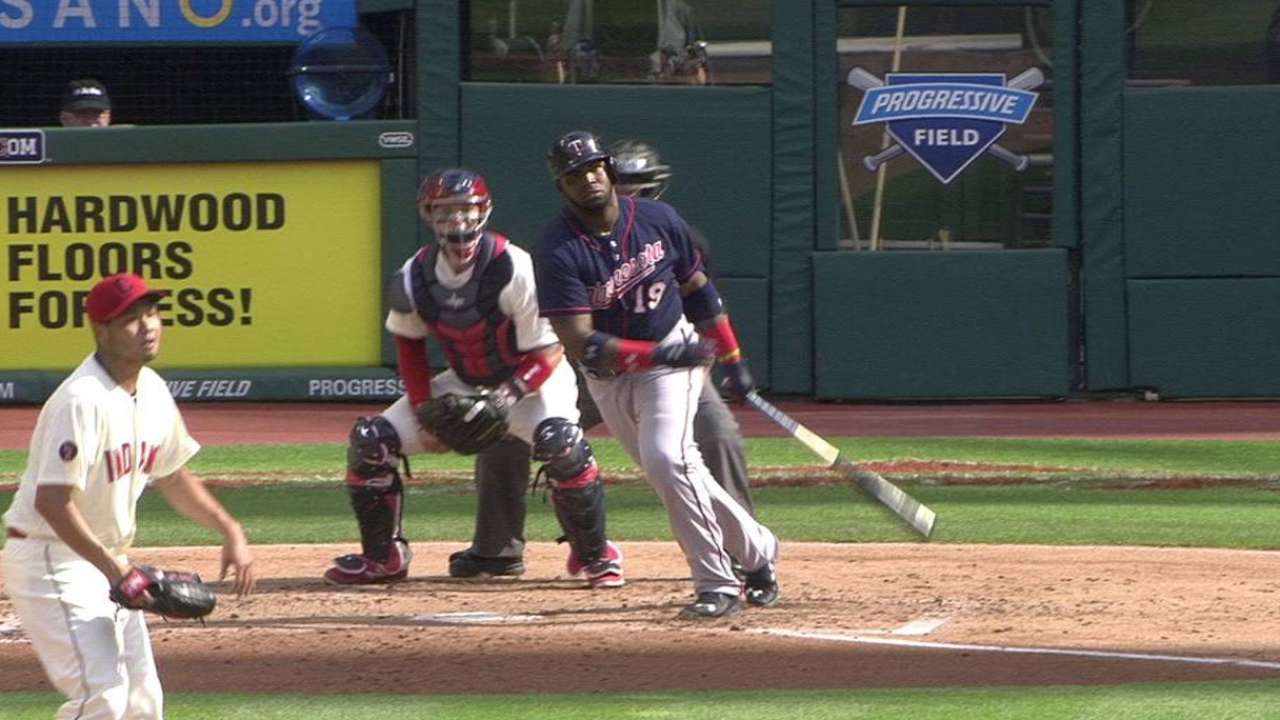 CLEVELAND -- There's no worse spot for hitters than a two-strike count. They've got their backs against the wall. They've got to protect.
In two-strike counts, the league is batting .173 with a .502 OPS this season. The Twins, evidently, don't care much for that statistic. They reached a two-strike count 22 times in Saturday's 7-4 victory in Cleveland. They got 11 hits. One was a homer. Another was a double.
Making it more impressive is the clutch hitting from a relatively inexperienced lineup the Twins are currently trotting out. Rookie Eddie Rosario, 23, collected a pair of 0-2 knocks. Same for 26-year-old Eduardo Escobar. Kennys Vargas, 24, had a two-strike single in the seventh.
"The game is about striking people out a lot more than it used to be, and we have guys that are obviously still learning about two-strike approaches," Twins manager Paul Molitor said. "I think some of the things that [hitting coach Tom Brunansky] was trying to incorporate with these guys to get results was by shortening their swings and trying to use the whole field and seeing the ball a little bit longer. Any time you're rewarded for trying to implement that, hopefully it makes you realize that's a good plan to have when you get deeper in the count."
Torii Hunter, a 19-year veteran, knows a thing or two about situational hitting. His first-inning homer came with two strikes, as did his third-inning single and a well-struck ball that resulted in reaching base on an error in the sixth.
Hunter also had an interesting theory as to where all this two-striking hitting is coming from. Brunansky deserves his credit, of course, but Hunter thinks Joe Mauer deserves some, too.
"With two strikes, we try to bear down and have good at-bats and give ourselves a chance," Hunter said. "I think everybody does a great job of doing that on this ballclub, but it starts with Mauer. Mauer has great at-bats and it just trickles down like a domino effect. It's kind of contagious when you have a guy like Mauer up there battling at the plate, then the next guy wants to do the same thing. Right now we have that domino effect going, and it's a good thing."
Mauer himself had a first-inning single and a fifth-inning double, each with two outs. He's used to it by now. And by the looks of it, the young guns are getting used to it as well.
"This team, man, they know how to have good at-bats, grind out at-bats and just put the ball in play," Hunter said. "Anything can happen. Of late, that's what we've been doing. We've been coming through in clutch situations, runners in scoring position. We've just got to ride that bike until the wheels fall off, and I think that's what we're going to do."
August Fagerstrom is an associate reporter for MLB.com. This story was not subject to the approval of Major League Baseball or its clubs.