Game slips out of Detwiler's grasp after big walk
Rangers lefty charged with five runs as Souza homers two batters after free pass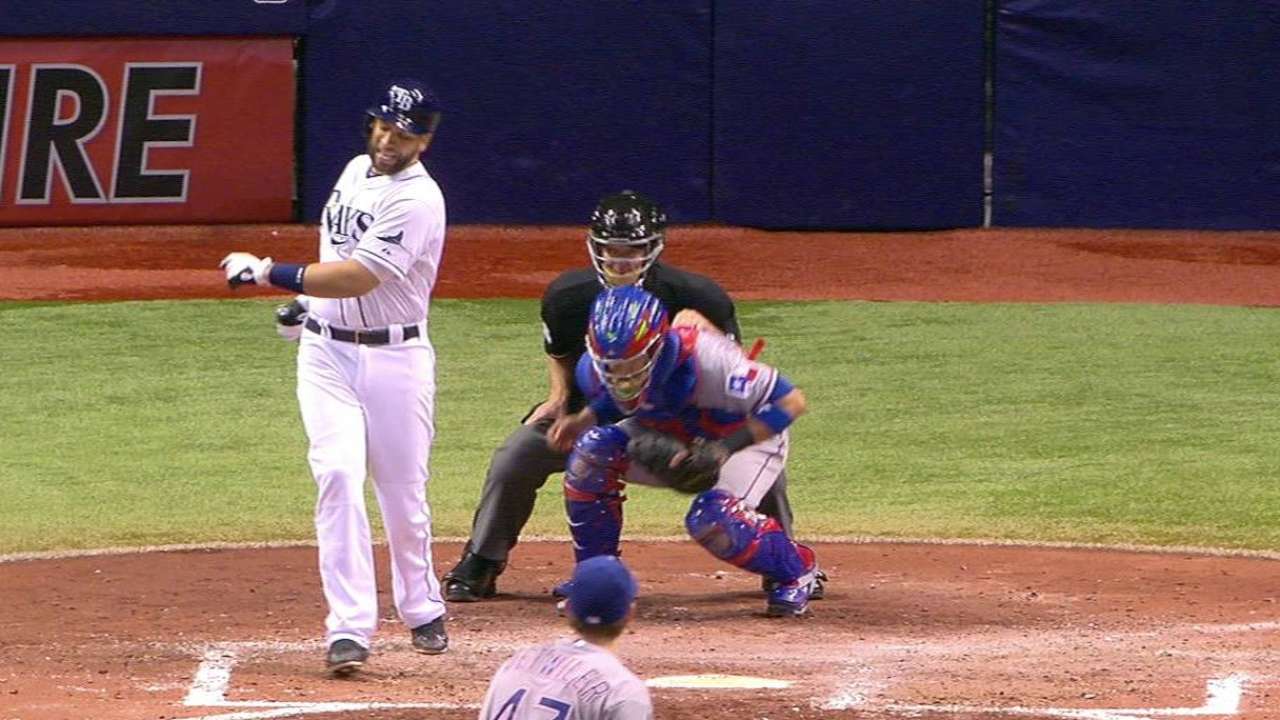 ST. PETERSBURG -- Rangers pitchers gave up three home runs on Saturday night. Two of them were three-run homers.
But it appeared that Ross Detwiler's start turned on one ill-timed walk to begin the fifth inning, and that spurred his downfall in a 7-2 loss to the Rays. Detwiler is now 0-4 with a 7.22 ERA in six starts for the Rangers.
"I just felt like I couldn't throw a strike," Detwiler said. "I got behind everybody and threw a lot of pitches up. When you're out there and just hoping you're going to throw a strike, you know it's going to be a long night."
Detwiler gave up a three-run home run to Evan Longoria in the first inning. But Carlos Peguero pulled Texas within one with a two-run home run in the fourth. At that point, Detwiler seemed to be settling down and the Rangers were poised to finish the comeback.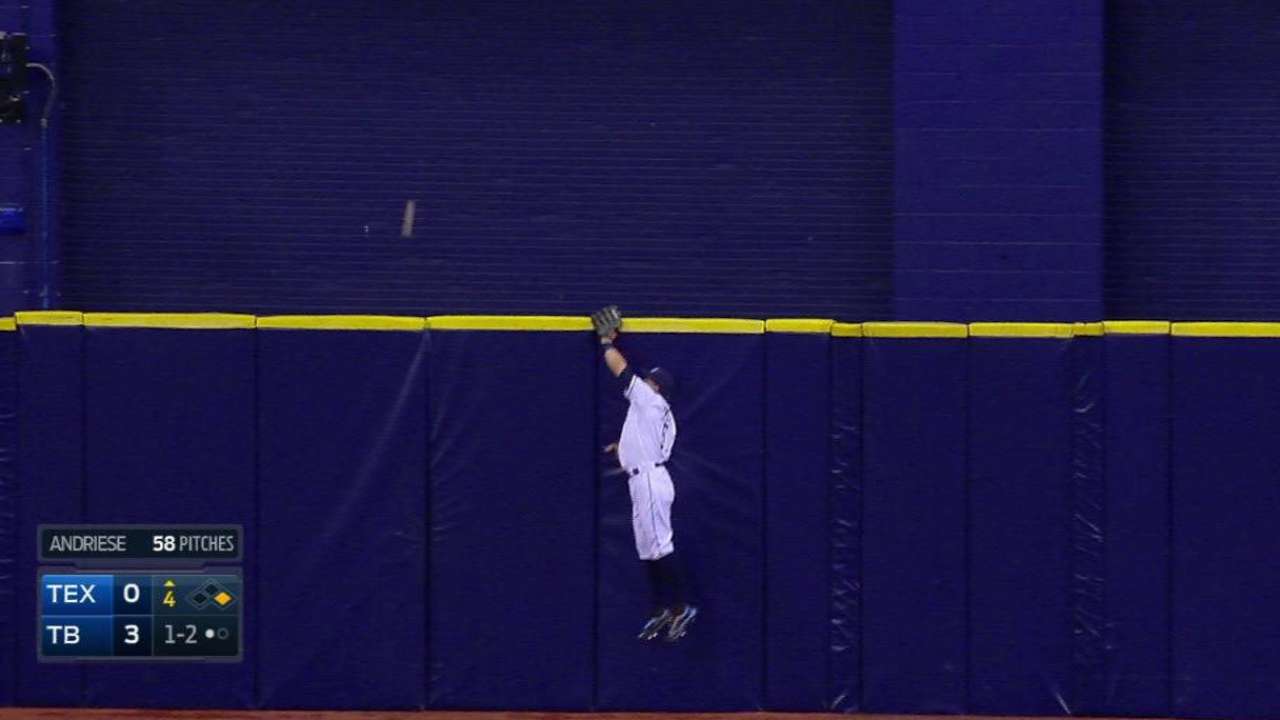 Then came the crucial walk that changed everything.
Detwiler had thrown 86 pitches going into the fifth, and up first was Rene Rivera, the Rays' No. 9 hitter who was batting .129 coming into the game and had struck out in his first at-bat.
This time, Detwiler got ahead in the count, 1-2, then threw three straight balls to walk him. It was just Rivera's fourth walk against 27 strikeouts over 91 plate appearances this season.
"You don't want to walk hitters like that," manager Jeff Banister said. "You don't want to walk anybody. In that situation, you want to get ahead and then put him away."
Detwiler admitted the walk was a big turning point.
"Yeah, absolutely," Detwiler said. "All walks hurt, but especially that one. When you get ahead of somebody, you've got to make pitches. When the ball leaves your hand and they know it's going to be a ball, then it becomes a meaningless pitch. I threw a lot of those tonight."
Detwiler then gave up a single to Brandon Guyer, and Banister brought in right-hander Anthony Bass to face Steven Souza Jr. Bass got ahead in the count, 0-2, but he couldn't put Souza away. He missed with the next two pitches, then threw a fastball that Souza hit into the left-field seats for a three-run home run.
It's the second straight night Banister has brought in a reliever to replace a starter, only to have him give up a three-run home run to the first batter he faced.
"We've got to make pitches," Banister said. "Guys come in like that, they have to make pitches. Two three-run home runs are tough to come back from."
Rangers pitchers have given up a trio of three-run home runs in the last two games. Their hitters have hit three all year.
T.R. Sullivan is a reporter for MLB.com. Read his blog, Postcards from Elysian Fields, and follow him on Twitter @Sullivan_Ranger. This story was not subject to the approval of Major League Baseball or its clubs.