Swisher making immediate impact for Indians
Veteran off to strong start in return from disabled list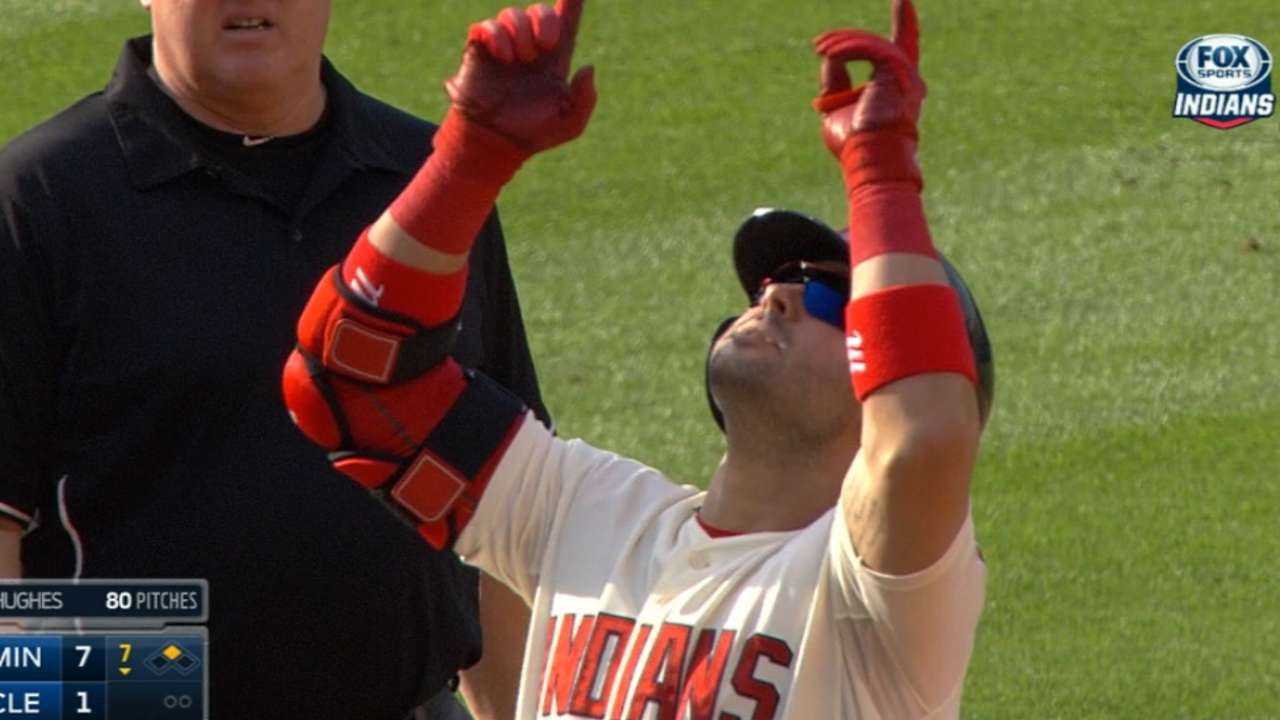 CLEVELAND -- Nick Swisher collected four hits on Saturday and helped ignite a late comeback attempt for the Indians. When the time came to discuss his strong day at the plate, though, the Indians veteran was in no mood to discuss his personal success.
"We lost. Who cares?" Swisher said. "Yeah, I swung the bat great today, but we lost. I would've traded them all back for a win in a heartbeat."
During the 7-4 loss to the Twins, Swisher went 4-for-4 with a double and a run scored in his fifth game since being activated from the disabled list. It marked the first four-hit game for the 34-year-old outfielder and designated hitter since Sept. 19, 2013, and only the fifth four-hit performance of his 12 seasons in the Major Leagues.
Facing Twins right-hander Phil Hughes, Swisher connected for a single the second and fifth innings, and then opened Cleveland's three-run seventh with a double. Immediately following that two-base hit, Indians center fielder Michael Bourn pulled a pitch down the right-field line for a double of his own, providing enough time for Swisher to score from second base.
It was a good test for Swisher, who underwent surgery on both knees on Aug. 20, 2014.
"That was nice, rather than just running to first base and coming back to the dugout," Swisher said with a laugh. "It was just one of those games where you want to try to get something going."
Swisher has hit .316 (6-for-19) in his first five games back with the Indians and is hoping to help be part of the solution for a Cleveland club that currently resides in last place in the American League Central. The veteran said that does not include just contributing on the field, but stepping up as a leader in the clubhouse and dugout.
"I feel like I'm trying to do a better job of leading by example," Swisher said. "Instead of talking about it, just do it. It's rough, man. It's rough losing. I don't think anybody does [enjoy it]. I don't care whether we're playing checkers or playing baseball. I think, just with where we are right now, we've got a big road ahead of us and we have the characters in here, we have the talent in here, to turn this thing around."
Jordan Bastian is a reporter for MLB.com. Read his blog, Major League Bastian, and follow him on Twitter @MLBastian. This story was not subject to the approval of Major League Baseball or its clubs.