Reds get innings, win from Cueto in Game 1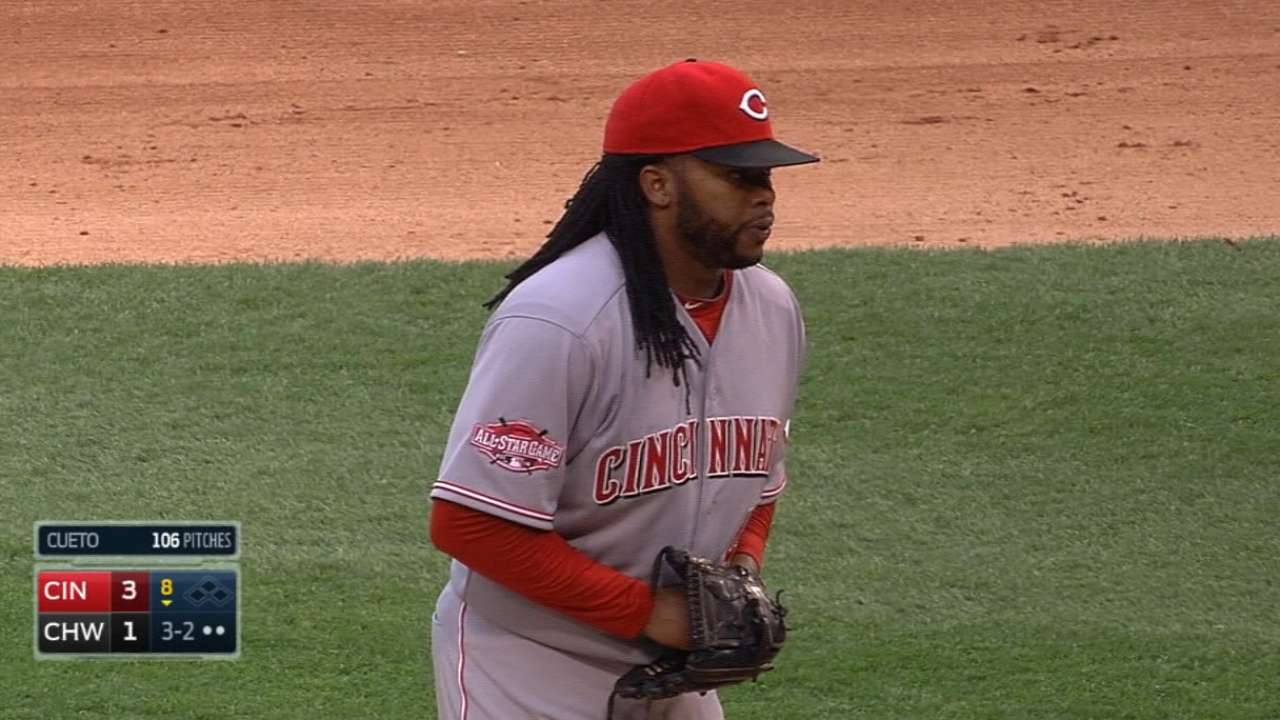 CHICAGO -- For the first game of a doubleheader like the Reds had against the White Sox on Saturday, it's no small favor for the bullpen when the starting pitcher can work well into the late innings and preserve relievers for Game 2.
Ace Johnny Cueto was the perfect guy to get the assignment. Cueto gave the Reds a season-high 8 1/3 innings during a 10-4 victory over the White Sox.
"I felt great," Cueto said via translator Tomas Vera. "It felt good all the way until I sat down a long time. I was waiting. That's part of the game. That's the way it is."
Cueto had 107 pitches after eight innings and had the good problem of waiting out his offense that sent 10 men to the plate and scored seven runs in the ninth. Aroldis Chapman warmed up but sat as Cincinnati blew the game open. When Cueto did return, he gave up a leadoff homer to Jose Abreu before a walk, a double and sacrifice fly led to J.J. Hoover getting the final two outs.
The quality start was missed as Cueto gave up four earned runs and six hits with two walks and seven strikeouts. He finished with 123 pitches.
"That seven-run ninth was big for a lot of reasons," Reds manager Bryan Price said. "Johnny was going to go back out with Chapman behind him in that situation, because he was throwing the ball so well."
It was still a very nice bounceback for Cueto, who came off his roughest start of the season last Sunday at Atlanta. In a 5-0 loss, he allowed a season-high five earned runs and nine hits in six innings.
"You can't take the bad things to the game," Cueto said. "I feel good. The past is the past. Whatever happened before this outing, I was not going to bring it into the new game."
This time, Cueto was in full command. He did give up Adam Eaton's leadoff double and a two-out walk in the first inning. But after Conor Gillaspie's leadoff single in the second, Cueto retired nine in a row and 17 of 18 until Alexei Ramirez hit a two-out solo homer on a first pitch in the seventh. Cueto had a seven-pitch third inning and an eight-pitch fourth to help him last longer in the game.
Cueto was originally slated to start Saturday night, but when Friday's game was rained out, Price moved him up to start the makeup game. Friday starter Jason Marquis took Game 2 instead.
"I think it made sense. Not that Jason can't do exactly the same thing and throw a great ballgame for us, but it's Johnny Cueto," Price said. "He's one of the top pitchers in baseball and one of the top innings eaters. When you think about what you have to do -- if you've got guys getting up and down and back and forth with your matchup guys in the first game, and then have to do it again in the second game, rarely do they have the same stuff -- even if they didn't get into the game but had to get hot. He saved us that."
Mark Sheldon is a reporter for MLB.com. Read his blog, Mark My Word, and follow him on Twitter @m_sheldon. This story was not subject to the approval of Major League Baseball or its clubs.