Starters get extra rest with off-days this week
Angels won't alter rotation to accommodate breaks in schedule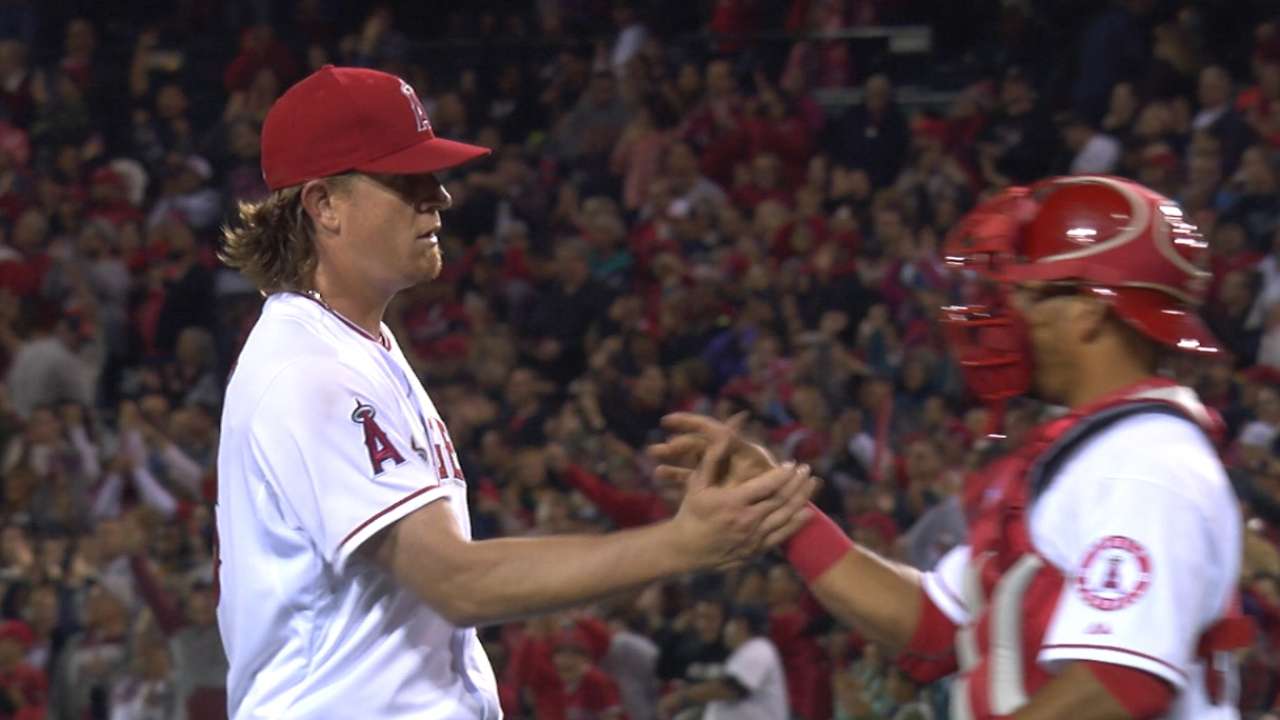 ANAHEIM -- With off-days coming Monday and Thursday, the Angels had a number of ways in which they could realign their rotation. But, manager Mike Scioscia said Saturday, before the Angels met the Astros in the third game of a four-game series at Angel Stadium, that he's leaning strongly toward keeping the rotation in order, and letting all five starters benefit from extra rest.
"We're looking at a couple of things," he said. "Most games recently, we've got a lot of length [innings] from our starters. Most likely, we'll give them all time to rest and recover." That means left-handers C.J. Wilson and Hector Santiago will probably pitch against the Rockies on Tuesday and Wednesday, respectively, with each picking up an extra day of rest from Monday's off-day.
Then, after Thursday's off-day, the rotation's three right-handers, Jered Weaver, Matt Shoemaker and Garrett Richards, will start against the Orioles in Baltimore during the weekend, each with an extra two days of rest.
"When guys are pitching well, you want to get them out there with some type of regularity," Scioscia said. "I don't think any club can reach its goals without five guys going out there and giving their team a chance to win every night. "This week has been incredible, with the length and quality we've got [from the starting rotation]."
As a reward, and with the rare cooperation from the 162-game schedule that Scioscia labels "a beast," they're getting added recovery time. Inserting a right-hander to break up the back-to-back left-handers can sometimes throw the opposition off.
Any thought of having Weaver pitch on regular rest Wednesday in the Colorado series went out the window Friday, when he delivered a six-hit shutout against the Astros -- on a night when the Angels were giving the back end of their bullpen, Joe Smith and Huston Street, a much-needed game off.
But Weaver threw 120 pitches in his gem. At age 32, and with 1,731 1/3 Major-League innings on his resume, two extra days off would seem to be more beneficial than restoring any left-right-left balance at this juncture. The Angels began the season with Wilson following Weaver, providing that balance, but a tender elbow forced Wilson to rest two extra days before one of his turns last month.
Earl Bloom is a contributor to MLB.com. This story was not subject to the approval of Major League Baseball or its clubs.