MadBum takes rare loss with strikeout stuff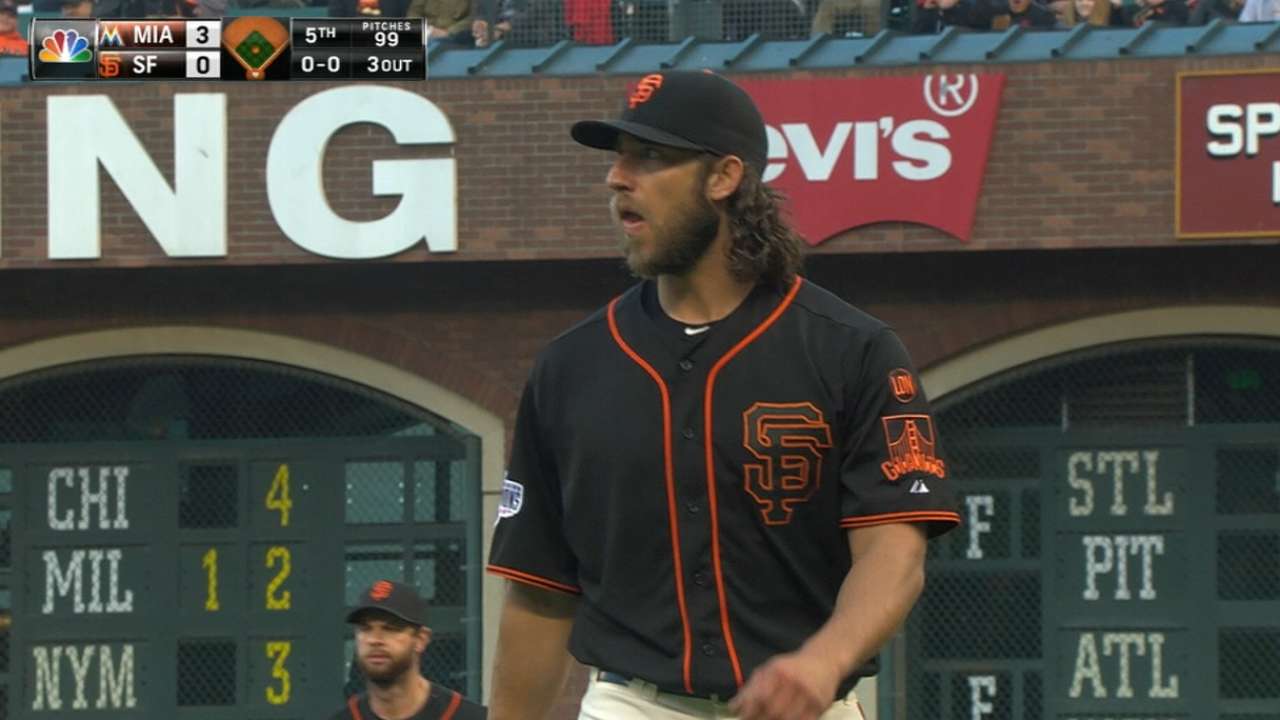 SAN FRANCISCO -- Few of the patrons at AT&T Park probably realized that they saw a rarity Saturday night. The Giants would rather not witness this aberration again.
Madison Bumgarner struck out 10 batters in five innings, an admirable ratio under any circumstance. But the Giants' ace allowed three fourth-inning runs, which was far too much for San Francisco's dormant offense to overcome in its 6-2 loss to the Miami Marlins.
Bumgarner therefore received the decision, marking his first setback in 20 career double-digit strikeout games during the regular season. Until this luckless evening, he had compiled a 17-0 record with a 1.15 ERA and two no-decisions.
"I just let the strikeouts come," said Bumgarner (3-2). "I'm not trying to get them unless the situation calls for it."
Giants manager Bruce Bochy acknowledged that Bumgarner looked formidable even in defeat. The strikeouts proved that. But, he added, "One thing that goes with that is, the pitch count goes up, too."
Thus, Bumgarner could relish fanning Miami slugger Giancarlo Stanton in all three of their confrontations. Displaying his versatility, Bumgarner flung different pitches each time to record strike three: curveball, fastball, cutter.
Asked if he senses the challenge of facing an accomplished hitter such as Stanton, Bumgarner said, "You better. You have to make sure you're on your game facing somebody like that, especially with guys on base."
But the strikeouts also inflated Bumgarner's pitch count, which reached 99 and doomed him to his second-shortest outing of the season.
"We have to do a better job of getting quicker outs," Bumgarner said. "That's way too many pitches."
By Bumgarner's own admission, he didn't throw enough quality pitches. After Marcell Ozuna homered to open the fateful fourth, Bumgarner walked J.T. Realmuto, which preceded Jeff Baker's RBI double. One out later, Adeiny Hechavarria doubled home Baker. Just like that, the Giants' night unraveled.
"He missed his spots a few times, and they took advantage of it," Bochy said. "Just three or four mistakes there, and they didn't miss them. You give them credit there."
Said Bumgarner, "They might not have been bad pitches, but they were the wrong pitch. We got away with some stuff, too. It kind of evens itself out."
Often a grim competitor, Bumgarner allowed himself a brief smile in the second inning when he faced Marlins first baseman Michael Morse, one of the top hitters on San Francisco's 2014 World Series-winning club. Quickly turning serious, Bumgarner struck out Morse and induced a fourth-inning groundout from his ex-teammate.
"It's hard not to smile when you see him," Bumgarner said. "He knew I was coming after him, though. I'm not going to let up just because of what he did for us and how good of friends we are. If anything, that gives me a little extra [incentive] to want to get him out."
Chris Haft is a reporter for MLB.com. Read his blog, Haft-Baked Ideas, and follow him on Twitter at @sfgiantsbeat. This story was not subject to the approval of Major League Baseball or its clubs.