MLB.com Columnist
Bernie Pleskoff
Barnes a fit in Boston's 'pen or as spot starter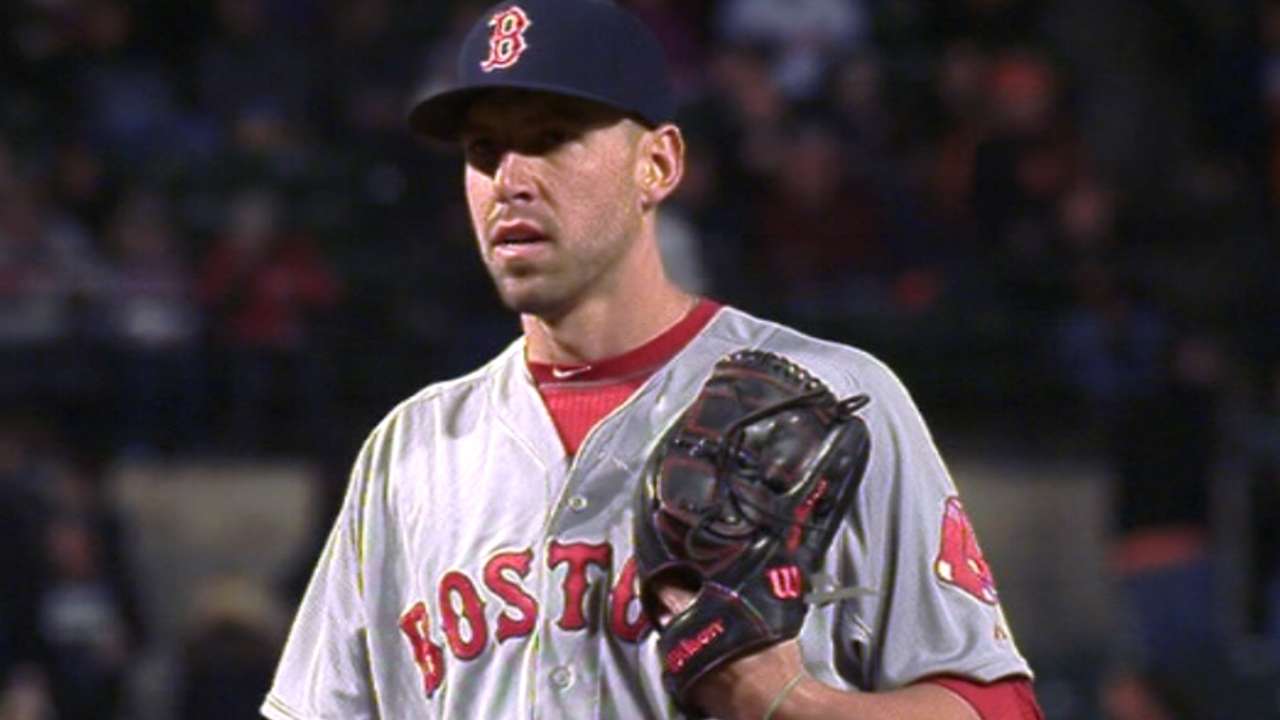 The Boston Red Sox have the luxury of plenty of organizational pitching depth that can be classified as Major League ready. Among those prospects is Matt Barnes, a lanky 6-foot-4, 210-pound right-hander, who was recalled on Saturday.
Barnes was an All-State pitcher at Bethel (Conn.) High School. He then went to the University of Connecticut, where he earned Big East Pitcher of the Year and College Baseball All-America honors in 2011, his junior season. In 14 starts for the Huskies, Barnes went 11-3 with a 1.11 ERA. He had 247 career strikeouts. Barnes really got the attention of scouts in the 2010 Cape Cod League, and his stock rose after that summer.
The Red Sox selected Barnes with the 19th overall selection in the 2011 First Year Player Draft. My first scouting look at him took place at the 2012 All-Star Futures Game.
Barnes is No. 9 on Boston's Top 30 Prospect list.
Barnes has pitched parts of four seasons in the Red Sox's Minor League system, working in 75 of 77 games as a starter. He has a career record of 21-24 in 373 2/3 innings pitched. Barnes' Minor League ERA is 3.66 with a WHIP of 1.27. Last year at Triple-A Pawtucket, he made 22 starts and earned a September promotion to Boston, where he made five relief appearances.
Barnes returned to Pawtucket to start this season, but he was recalled in April to take the roster spot of Shane Victorino, who was placed on the team's disabled list. Barnes worked in a game immediately, pitching well in relief against the Orioles on April 25. His stay was brief, however, as he was returned to Pawtucket the following day to continue his development.
Barnes primarily uses a powerful fastball and curveball, but he mixes in an occasional changeup to keep the hitter off balance. His four-seam fastball sits at about 93 mph, but he can increase the velocity to 95 or 96 mph with ease. However, when Barnes' velocity increases he tends to elevate his pitches a bit as well. His arm strength and his size are his primary assets.
In his Minor League career, Barnes has averaged 9.4 strikeouts per nine innings. However, his strikeouts have declined this year and last year, when he has been facing higher classification hitters. Barnes has walked an average of 3.1 hitters per nine innings.
Barnes can still be considered a work in progress. There are some wrinkles in his development that still must be addressed. Overall, Barnes has average command of all his pitches. His secondary offerings are generally efficient and effective, but occasionally there are moments when his mechanics elude him. At times, Barnes loses the consistent release point, resulting in a lack of command. When he "finishes" his pitches, following through with his arm action, he can be very effective.
Barnes' curveball varies greatly in velocity. I have seen him throw the pitch in the mid-70s to the mid-80s with late breaking action, making timing difficult for the hitter. Barnes' changeup is at about 82 mph as well. Both his secondary offerings are behind his fastball in development and reliability. I would like to see Barnes use his changeup more often, as I believe that pitch can be really effective against left-handed batters. But to date in his career, he has been even more effective and efficient against left-handed hitters than righties.
Barnes can continue to rely on his fastball/curveball combination coming out of the bullpen. If he returns to the rotation, he will have to expand his repertoire and include his changeup more often. Barnes may also have to incorporate a fourth pitch such as a slider or a cutter to add more deception and depth to his arsenal.
It remains to be seen what Barnes' role will be in the long term, but so far, the team has used him out of the bullpen each time he has been promoted to the big league club. He can work out of the bullpen at any point during the game. Or Barnes can certainly serve as an emergency spot starter if needed.
Bernie Pleskoff has served as a professional scout for the Houston Astros and Seattle Mariners. Follow @BerniePleskoff on Twitter. This story was not subject to the approval of Major League Baseball or its clubs.