Rare homers sting Whitley in first loss of season
Righty gives up 3 home runs at Yankee Stadium, matching his 2014 total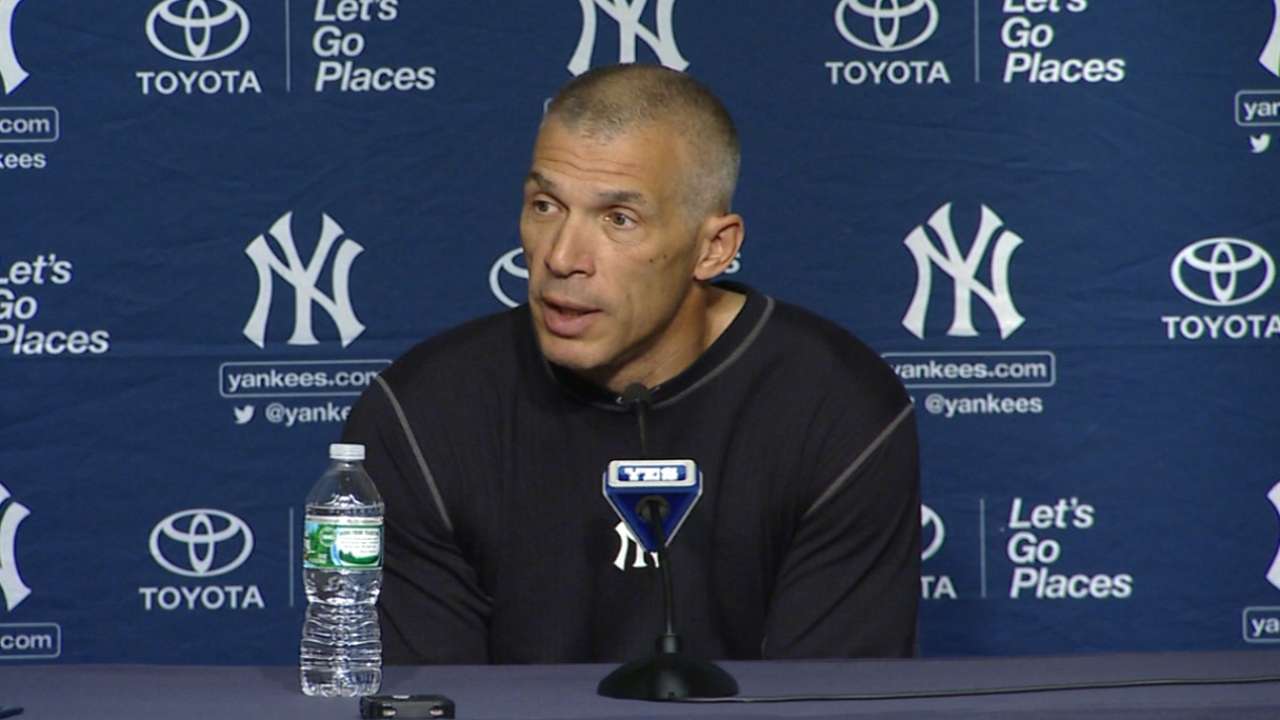 NEW YORK -- Before Saturday, Chase Whitley had faced 143 batters at Yankee Stadium, and only three of them hit home runs.
So Whitley wasn't about to blame the ballpark for what happened against the Orioles, as he allowed three homers in a seven-batter span in the Yankees' 6-2 loss.
"The thing is, I've got to get those balls down," Whitley said, after his first loss in three starts since joining the Yankees' rotation. "Hopefully, those fans' hands are OK."
Whitley, who replaced Masahiro Tanaka in the rotation when Tanaka went on the disabled list, allowed just one run in 12 innings in his first two starts, against the Rays and Blue Jays. He started off well on Saturday, too, striking out four of the first six batters he faced, but ran into trouble when Jimmy Paredes jumped on a first-pitch fastball and ripped it into the right-field seats with two out in the third inning.
The Orioles added three runs in the fourth on a solo home run by Chris Davis (also on a first-pitch fastball) and a two-run shot from Alejandro De Aza.
"I was trying to be aggressive, trying to pound the zone," Whitley said. "They're an aggressive team. The Blue Jays are, too. I've got to pitch to that, and it was working early."
Whitley is hardly overpowering, but he has found success by throwing strikes and hitting spots. When it works, he can have consistent stretches, as he did in three straight wins last June and in two strong starts after he was called up in late April of this year.
When he doesn't hit his spots, though, the results can be what they were on Saturday.
"He just made some mistakes," Yankees manager Joe Girardi said. "[The Orioles] are a club that hits the ball out of the park. He was just a little off. Pitchers sometimes aren't going to be perfect."
And on a day when the Yankees' offense was thrown off its game by Orioles left-hander Wei-Yin Chen, the three home runs off Whitley were too much for them to overcome. Chen allowed just one run in seven innings, on a fifth-inning sacrifice fly from John Ryan Murphy. Chase Headley, who scored on the sacrifice fly, was the only Yankee to advance as far as third base against Chen.
Whitley was able to make it into the sixth inning, keeping Girardi from burning out his bullpen a day after Adam Warren was unable to finish the fifth. Girardi had said before the game that he didn't plan to use Andrew Miller or Dellin Betances, and he was able to get through this game using just David Carpenter for four outs and Chasen Shreve for the last six.
Tanaka isn't due back yet, so Whitley will get another shot, doing what he does.
"I'm going to try to let them hit it," he said. "Hopefully, it doesn't go out of the ballpark."
Danny Knobler is a contributor to MLB.com. This story was not subject to the approval of Major League Baseball or its clubs.