Red Sox hold meeting, may shake up roster
Bradley scratched from club's Triple-A lineup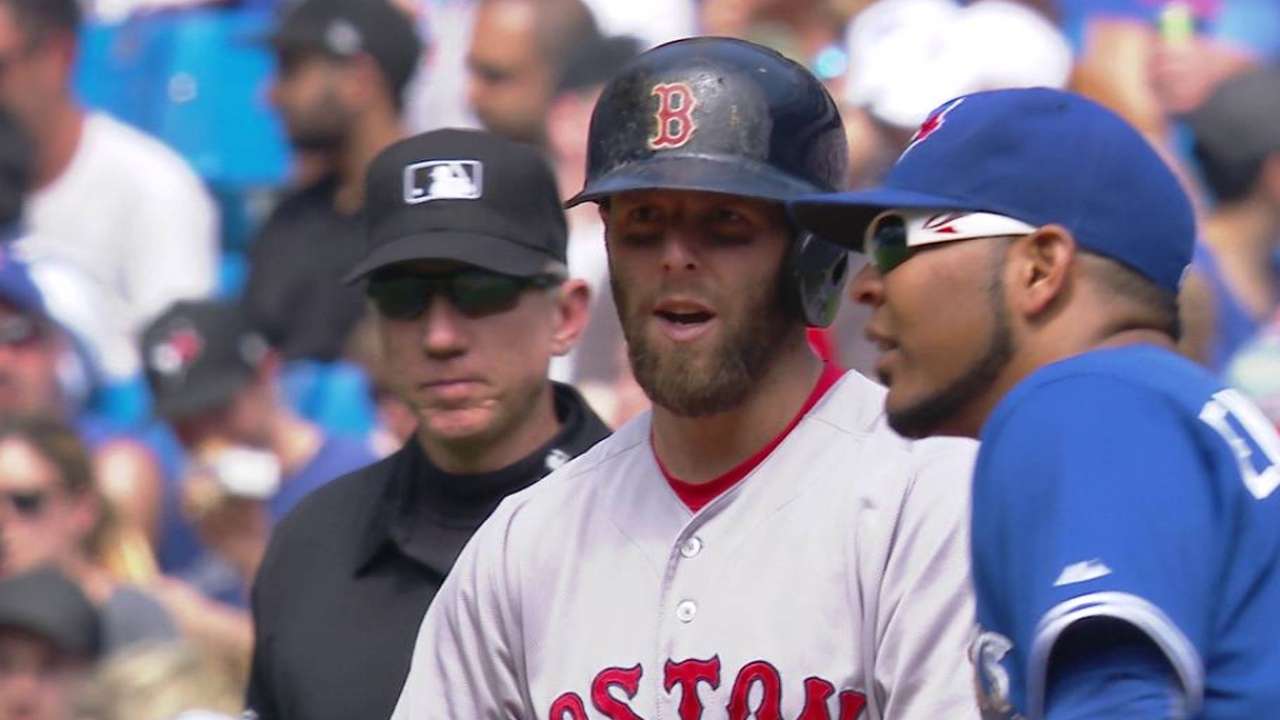 TORONTO -- After their 7-1 loss to the Blue Jays on Saturday, the Red Sox find themselves on the verge of being swept for the second time in 10 days.
The recent skid prompted a team meeting following the loss, during which veteran second baseman Dustin Pedroia spoke.
Pedroia didn't share what was said amongst the players, but the Red Sox's frustrations were palpable after the team fell to 1-7 in its past eight games, over which Boston has been outscored, 39-16.
Asked whether roster moves could be coming to shake things up, manager John Farrell offered a terse response.
"That's always under review and I can't say we're status quo," he said.
Outfielder Jackie Bradley Jr. was a late scratch from the Triple-A Pawtucket lineup Saturday against Columbus.
Bradley was slated to lead off and play center field, but the club swapped him out for Quintin Berry a few hours later. That could be an indication that Bradley is on his way to join the Red Sox.
Bradley could potentially help the Red Sox offense, which up until the fifth on Saturday hadn't scored a run in 14 innings.
The 25-year-old is hitting .343 (34-for-99) with one homer in 24 games for Pawtucket. He's yet to appear in a game with the Red Sox this year.
Since going 3-0-1 in their first four series, the Red Sox are 1-5-0 in their last six. The offense has been unable to produce with runners in scoring position, going 5-for-50 in that category dating back to May 3 -- a span of six games.
"We have to get back to an offense that's reliant and trusting of one another, not reliant on one swing of the bat," Farrell said. "Sometimes that's where you see a popup in an RBI situation. Or pulling off and rolling over on a ground ball. We did it in the fifth inning. We strung together some base hits. That has to become more of the norm than the one-dimensional approach."
Jamie Ross is an associate reporter for MLB.com. This story was not subject to the approval of Major League Baseball or its clubs.