Kelly's inability to harness control costs him
Red Sox righty issues career-high seven walks, gives up six runs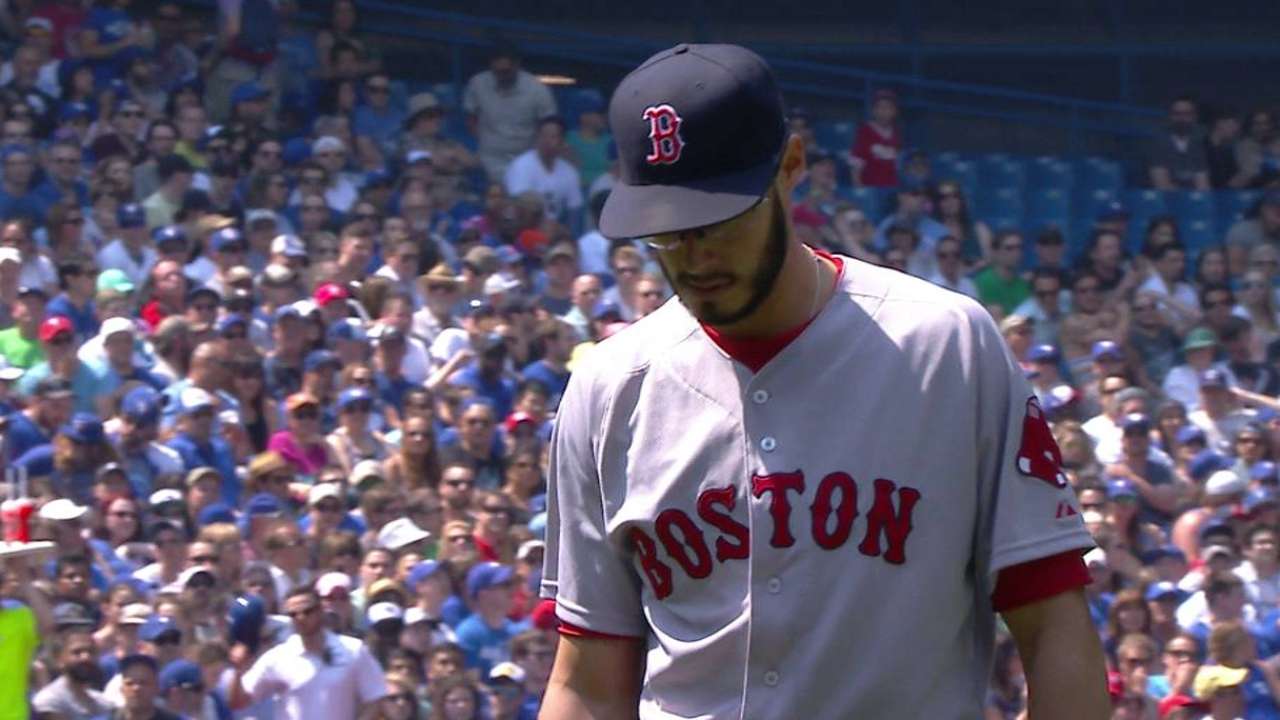 TORONTO -- The rate at which Red Sox right-hander Joe Kelly walked batters Saturday against the Blue Jays was due to catch up with him. It finally did in the fourth inning.
Down by two runs, Kelly walked Devon Travis and Jose Bautista before before Edwin Encarnacion belted a home run, effectively putting the game out of reach in the Red Sox's 7-1 loss to the Blue Jays at Rogers Centre. The right-hander issued a career-high seven walks as his record fell to 1-2.
"The one that really hurt us was the three-run homer," Kelly said after allowing a season-high six earned runs. "Hanging breaking ball ... just a bad pitch overall."
The decision marks the first for Kelly loss on the road against an American League opponent in nine career starts. He's allowed five or more earned runs in four consecutive starts, and a homer in five straight.
Kelly got into trouble early, walking three in the first. After Josh Donaldson hit a one-out single, he issued back-to-back walks to Bautista and Encarnacion, loading the bases for Russell Martin. His sac fly scored Donaldson for a 1-0 Blue Jays lead.
Chris Colabello walked and scored in the second, then everything came unraveled in the fourth.
"Despite the number of walks early on, we're in a two-run game," Red Sox manager John Farrell said. "But still, puts a couple of guys on via the walk, and then the third consecutive breaking ball to Encarnacion kind of spreads things to a five-run game."
Kelly also made a pair of defensive miscues. He was charged a throwing error in the first when he tried to pick off Donaldson, followed by an interference call in the second when he blocked Travis as Toronto's second baseman neared the bag trying to beat out a ground ball.
Jamie Ross is an associate reporter for MLB.com. This story was not subject to the approval of Major League Baseball or its clubs.