Bellatti excellent in Major League debut
Callup tosses 3 1/3 scoreless frames to pick up first career victory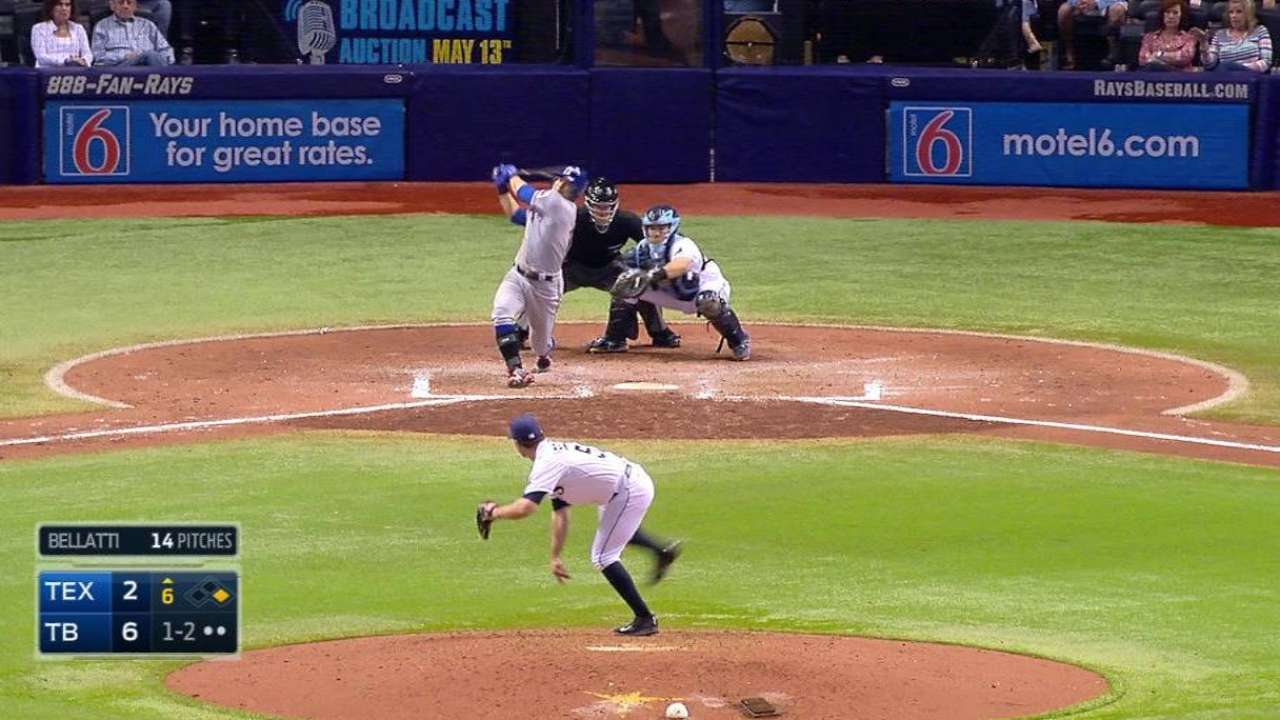 ST. PETERSBURG -- In the flurry of Rays roster moves that took place Friday came the announcement that Andrew Bellatti had been selected from Triple-A Durham.
Bellatti didn't have to wait long to see some action, as he got the win in his Major League debut in Saturday night's 7-2 Tampa Bay victory over the Rangers by pitching 3 1/3 innings of scoreless relief. He gave up one hit, walked run and struck out two. In doing so, Bellatti became the 10th Rays player to win his Major League debut, the third non-starter and the first since Doug Waechter on Aug. 23, 2003 at Seattle.
"What a performance," Rays manager Kevin Cash said. "Gets off a plane and picks up a win. Extremely deserving [of the win] for what he provided.
"Seemed pretty much unfazed by the lineup he was facing and the guys that are in it. ... He pitched really well against a good lineup and kept us from having to go through our entire 'pen. ... [He showed] poise. The command of the fastball, willingness to just get strike one and kept attacking."
Bellatti, whose parents were in attendance, along with his girlfriend, managed to keep his emotions in check to accomplish his task.
"I definitely calmed down," Bellatti said. "The first inning I was pretty pumped, I was kind of looking at the crowd, and then I kind of got in the zone. I did start to feel very comfortable out there."
Bellatti said he was "just being aggressive" with his fastball.
"I did notice I was pulling off on a few, but I definitely was getting through my changeup really nice tonight," Bellatti said. "Slider was decent; it could have been better."
The Rays selected Bellatti in the 12th round of the 2009 First-Year Player Draft. He is 2-0 with a 2.11 ERA in five appearances (four starts) for the Bulls this season.
Alex Cobb, who will have Tommy John surgery on Thursday, was moved from the 15-day disabled list to the 60-day to make room for Bellatti on the 40-man roster.
Bill Chastain is a reporter for MLB.com. This story was not subject to the approval of Major League Baseball or its clubs.