Escobar unleashes on aggressive approach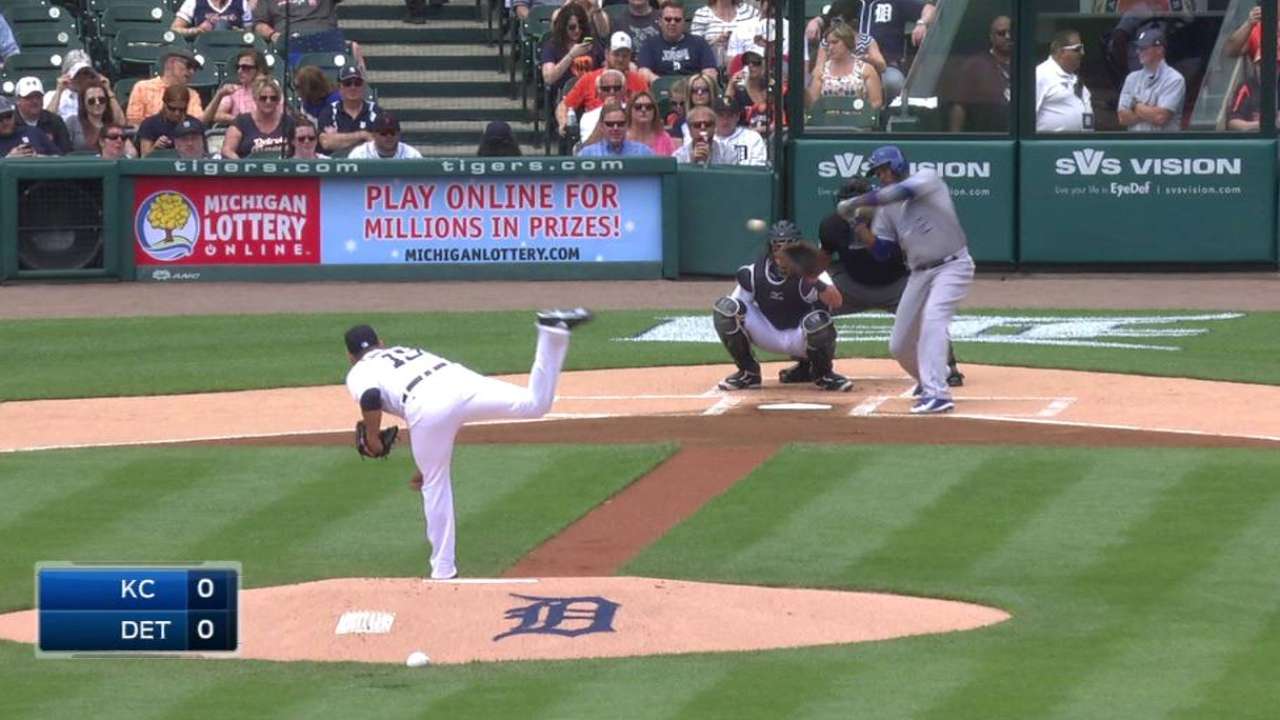 KANSAS CITY -- Royals shortstop Alcides Escobar had a plan all along with the first pitch he saw from Tigers starter Anibal Sanchez.
He was going to swing at anything close.
"Yeah, I was looking for a fastball on the first pitch," Escobar said. "And I said to myself, 'If he throws a fastball, I'm going to swing no matter what.'"
Escobar swung at the high fastball, and launched a home run to left that jumpstarted the Royals' offense on the way to a 6-2 win on Saturday at Comerica Park. It was his first career leadoff homer.
"It feels good," Escobar said. "He threw it right down the middle and I knew it was gone."
The Royals, Escobar said, had a game plan to be aggressive.
"That guy always throws strikes," Escobar said. "So if he gets a pitch up in the zone, you just swing at it."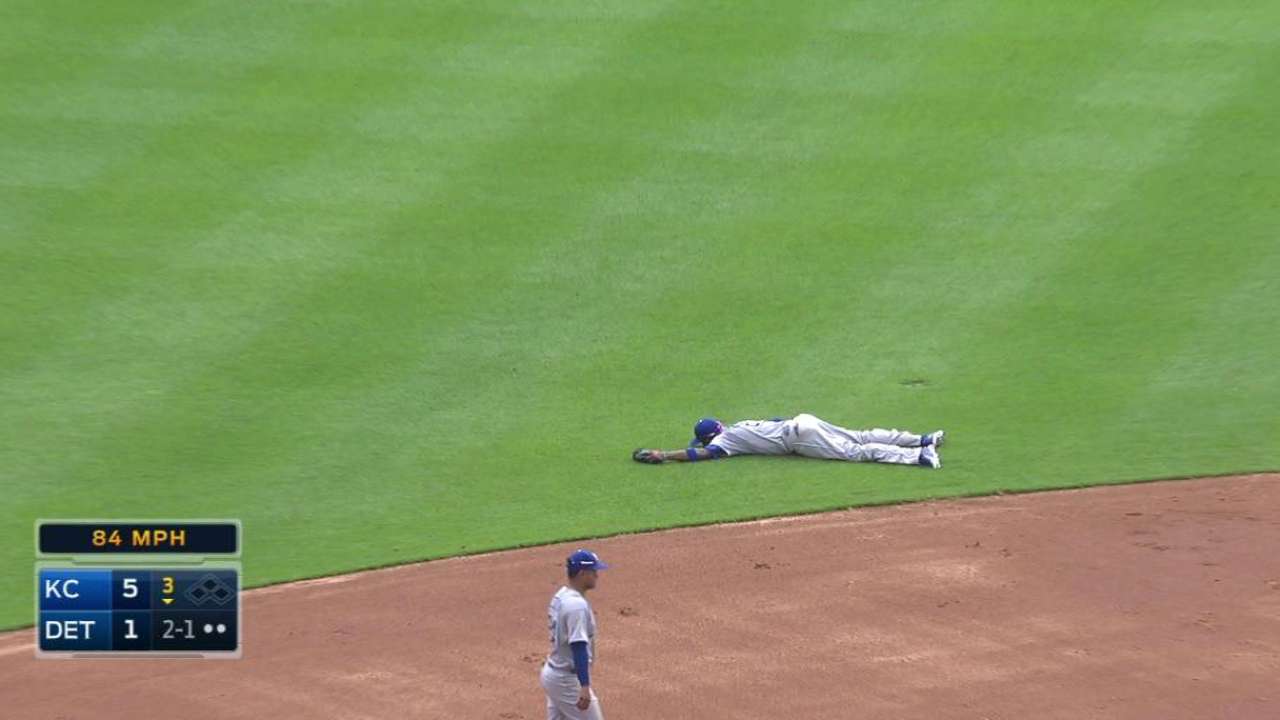 Escobar singled and scored in the second, and made waves with the glove, too.
Two innings after the leadoff homer, Escobar flashed some defense on back-to-back plays to finish off the third. First, Escobar made an impressive play on an Ian Kinsler grounder toward the hole, then he robbed Tigers slugger Miguel Cabrera of a hit with a diving catch to his right.
On the Kinsler play, Statcast™ shows that it took Escobar just 0.245 seconds to take his first step after the hitter made contact. Thanks to his quick first step, Escobar was able to loop behind the ball a bit, helping him to avoid needing to throw off his back foot. Instead, he was able to gather himself and fire the ball across the diamond at 62.6 mph to retire Kinsler.
While that reaction time is certainly respectable, Escobar stepped up his game even further for the next batter.
Following the Kinsler out at first base, Cabrera stepped in and ripped a line drive destined for left field that came off the bat at 92.7 mph -- more than 16 mph faster than the exit velocity on Kinsler's grounder. Escobar, however, shaved a fraction off his reaction time, taking his first step in just 0.226 seconds before sprawling to his right to make the catch.
All in all, not bad for a guy who just came off the seven-day concussion disabled list, and who was spiked a few weeks ago at second base.
"He's just as tough as they come in this game," manager Ned Yost said. "A lot of times when guys get hit in the head there's a little trepidation in there when they come back. But Esky stuck his nose right back in it last night and right back at it today."
There was one scary moment for Escobar. A Sanchez slider got away and headed for Escobar's head -- but he ducked and avoided it successfully, his helmet flying off.
"Yeah, a little bit [scary]," he said. "But I'm OK."
Jeffrey Flanagan is a reporter for MLB.com. Follow him on Twitter at @FlannyMLB. This story was not subject to the approval of Major League Baseball or its clubs.