Anibal beaten to punch against AL Central rivals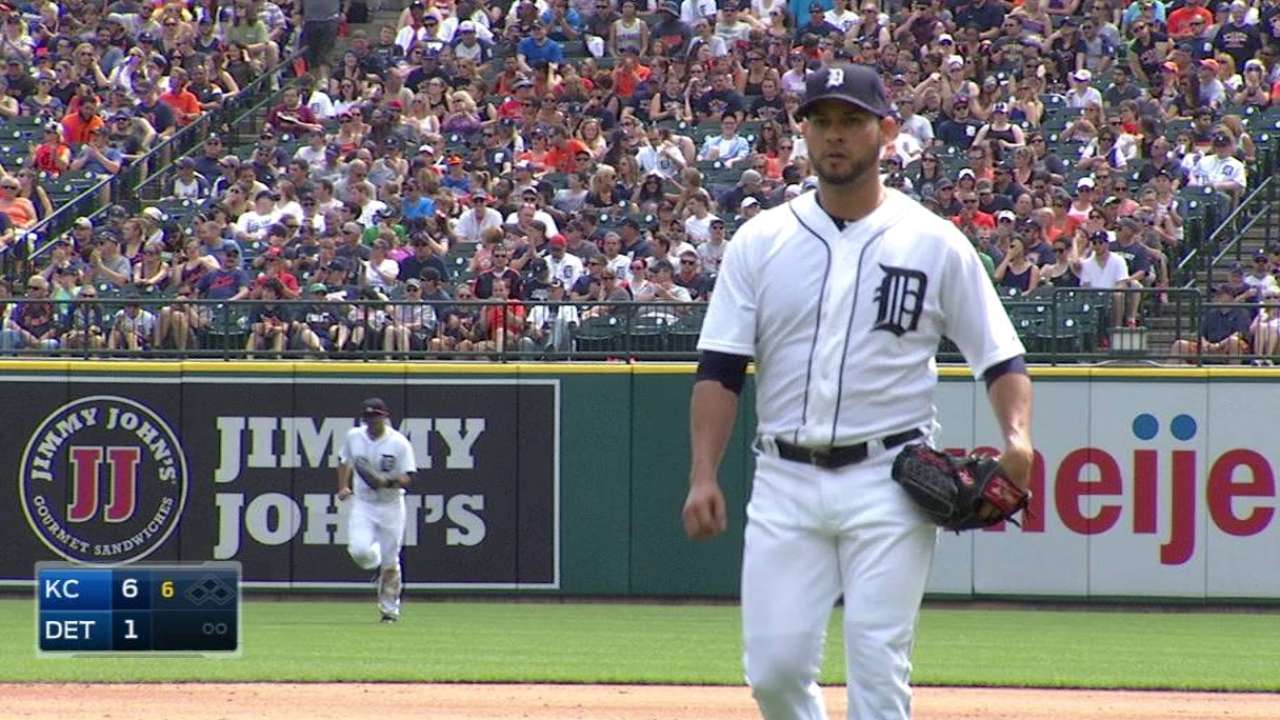 DETROIT -- Anibal Sanchez had a feeling about what kind of Saturday afternoon he was in for after throwing the first pitch. It wasn't that Alcides Escobar hit it out for a leadoff home run, despite Sanchez's April stretch of homers allowed. It was that Escobar went after it in the first place.
"The first pitch for Escobar I think was way high," Sanchez said of his first home run allowed in 57-plus career innings against the Royals. "It's not like a good pitch. It's a ball. He's just jumping at that fastball. He just got good contact and that's why he got a homer."
The Royals jumped on Sanchez for six runs -- five earned -- on nine hits over his first four innings in the Tigers' 6-2 loss, yet he lasted six innings with fewer than 100 pitches for the game. Most of the hits came on either on the first pitch or with Sanchez ahead in the count.
Sanchez had a 1-0 deficit after his first pitch of the game, and trailed, 2-0, after nine pitches. His first pitch of the second inning was a double by Jarrod Dyson, 2-for-22 against him previously, before Escobar struck again to single home Dyson three pitches later for a 3-0 lead. Four pitches later, Eric Hosmer's single made it a 4-0 game.
The Royals had watched Sanchez toss at least seven innings in six of their previous seven meetings, including 7 1/3 frames of three-run ball in 104 pitches last Sunday at Kauffman Stadium. Instead of waiting him out, trying to run up his pitch count and then getting to him late, they did the opposite and attacked his early strikes.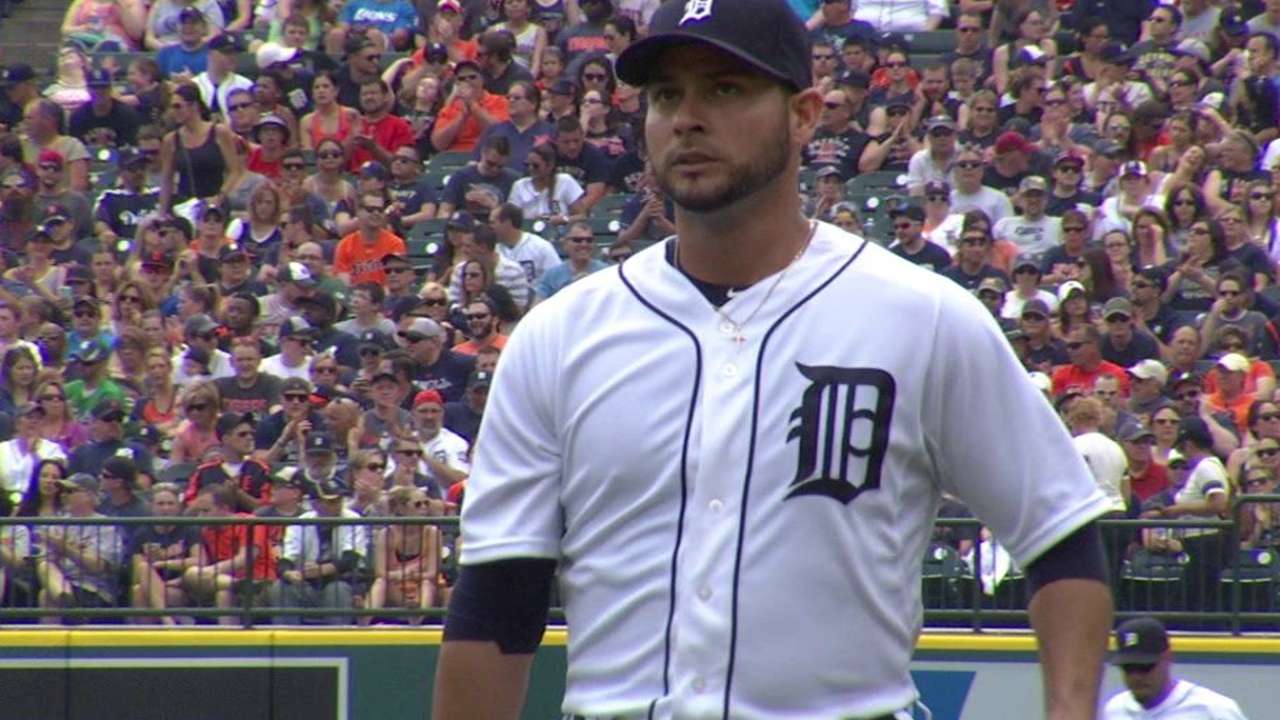 Fifty of Sanchez's 72 strikes last Sunday were not put in play, according to brooksbaseball.net. On Saturday, it was just 38 strikes not in play out of 64 strikes. Eight of the first 12 Royals to bat on Saturday swung at the first pitch. They had just six swings-and-misses over Sanchez's entire outing.
"They were really aggressive early on," catcher James McCann said. "We just mixed it up a little bit better [later]. They're very aggressive with the fastball. That's kind of how they are as a team, and we did a better job of mixing it up and changing it up."
For most games against Jeremy Guthrie, it would've been enough to give the Tigers a chance. The way Guthrie pitched on Saturday, and with Alex Avila (10-for-32, three doubles, three homers, 13 RBIs off Guthrie) unavailable, the lead became too much.
From 2012-14, Sanchez threw 50 1/3 innings against Kansas City and gave up just six earned runs. Since the Royals' seventh-inning rally last Sunday, they've scored nine runs -- eight earned -- over Sanchez's last 6 1/3 innings.
Jason Beck is a reporter for MLB.com. Read Beck's Blog and follow him on Twitter @beckjason. This story was not subject to the approval of Major League Baseball or its clubs.