Statcast: 3rd inning, 2 plays, 1 quick Escobar
On back-to-back outs, KC shortstop's first step clocks at 0.245 seconds, 0.226 seconds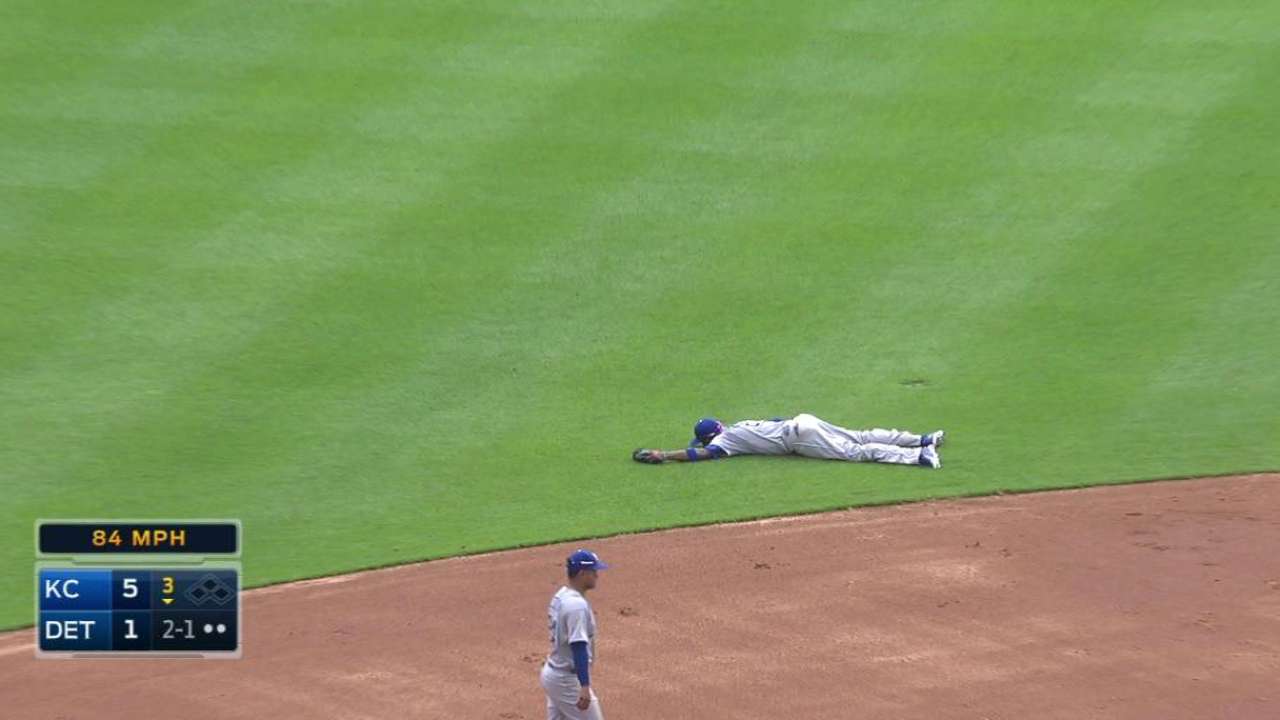 Royals shortstop Alcides Escobar certainly kept Statcast™ busy in Saturday's 6-2 win over the Tigers, particularly in the third inning, when he put his full defensive arsenal on display.
Two innings after starting the day with a leadoff homer, Escobar flashed some defense on back-to-back plays to finish off the third. First, Escobar made an impressive play on an Ian Kinsler grounder toward the hole, then he robbed Tigers slugger Miguel Cabrera of a hit with a diving catch to his right.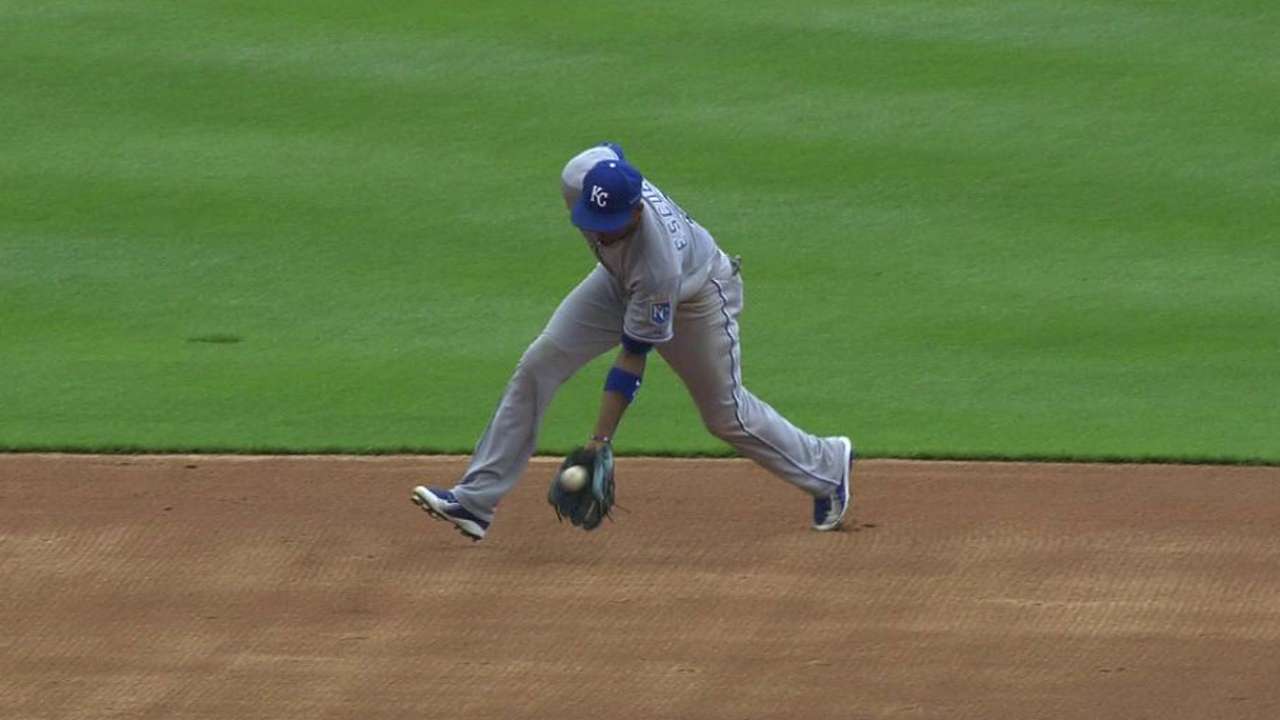 On the Kinsler play, Statcast™ shows that it took Escobar just 0.245 seconds to take his first step after the hitter made contact. Thanks to his quick first step, Escobar was able to loop behind the ball a bit, helping him to avoid needing to throw off his back foot. Instead, he was able to gather himself and fire the ball across the diamond at 62.6 mph to retire Kinsler.
While that reaction time is certainly respectable, Escobar stepped up his game even further for the next batter.
Following the Kinsler out at first base, Cabrera stepped in and ripped a line drive destined for left field that came off the bat at 92.7 mph -- more than 16 mph faster than the exit velocity on Kinsler's grounder. Escobar, however, shaved a fraction off his reaction time, taking his first step in just 0.226 seconds before sprawling to his right to make the catch.
Though he reacted only approximately two one-hundredths of a second quicker on the Cabrera play, it likely made all the difference in his ability to make the full-extension grab.
Veteran right-hander Jeremy Guthrie was the beneficiary of Escobar's highlight-reel plays on Saturday, but this type of defense is nothing new for the Royals.
Kansas City entered play Saturday with a whopping 36 Defensive Runs Saved (DRS), according to Fangraphs -- nearly double the amount of any other team. The D-backs were second in that category, with 19 DRS.
As for Escobar, in particular, he led all shortstops at the start of Saturday's action with a 4.3 Ultimate Zone Rating, even besting the 3.7 UZR put up so far by Braves shortstop -- and back-to-back NL Gold Glove winner -- Andrelton Simmons. Escobar certainly backed up those numbers on Saturday, and Statcast™ helped explain exactly how he was able to do so.
Paul Casella is a reporter for MLB.com. This story was not subject to the approval of Major League Baseball or its clubs.